What's coming up soon in expedition cruising? In one snazzy "reveal," Silversea Cruises announced this week that it will enhance suite choices for guests on its nearly new expedition ship Silver Endeavour (shown in the photo above; photo by Silversea Cruises).
We're intrigued that the ultra-luxury line will add two new suite categories — Master and Signature. Guests will have a choice of six of those new suites on Deck 8.
In addition, the line plans to add four other new Classic Veranda suites on Deck 5. Those additions will give guests a better choice of accommodations when heading out for adventure on an expedition voyage.
Beyond the suite additions, other enhancements to the 200-passenger vessel are also planned (keep reading for a bit more detail).
Heading to Drydock
Here's the scoop. After it completes its Antarctica season of sailings this month, Silver Endeavour will head for drydock refurbishments. The expedition ship will arrive at the San Giorgio del Porto shipyard in Genoa, Italy, on April 3, 2023.
Then, presto, the ship will emerge a month later sporting an array of updates as it begins a summer season of Arctic expedition sailings.
We're eager to learn more as The Meandering Traveler enjoyed sailing on Silver Endeavour in Antarctica late last year. Check out this blog about our White Continent experience.
Silversea's parent company, Royal Caribbean Group, had only acquired this nearly new expedition ship, the former Crystal Endeavor, a few months earlier. While we loved the ship and it looked fresh, the line hadn't had a lot of time to put its own mark on the ship prior to the Antarctica season.
Two New Suite Categories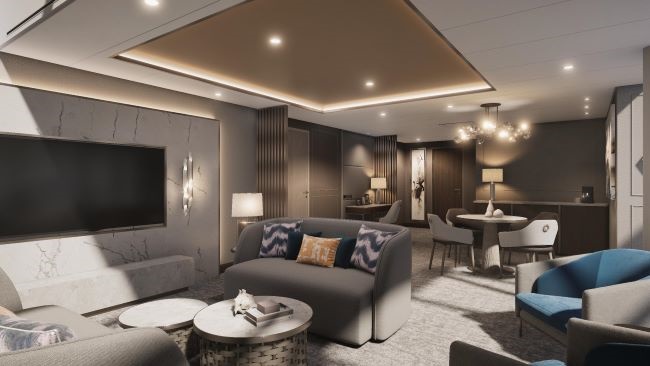 Now, in creating two new suite categories aboard Silver Endeavour, Silversea is responding to guest demand for more upper suite categories on this ship. The line will install the new Master and Signature Suites in an area where Crystal previously had a helicopter hangar amidship.
Two Master Suites
Silver Endeavour's two new 1,163-square-foot Master Suites will offer 270-degree views from their 312-square-foot verandas and large living areas, thanks to panoramic, vaulted glazing. They'll feature living and dining areas, and the living room's convertible sofa will accommodate a third guest, if desired.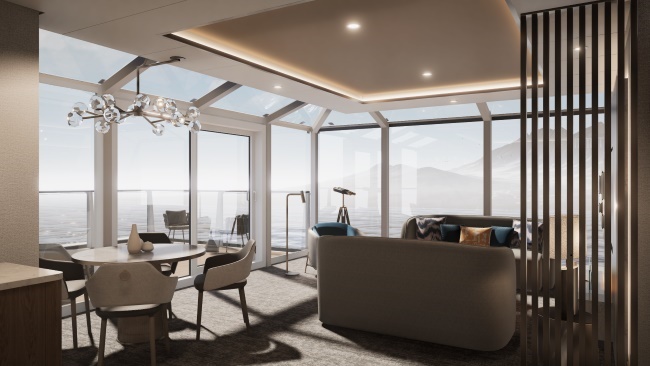 Master Suite bedrooms will have a king-sized bed or twin beds, and a walk-in closet. A roomy bathroom will offer both a walk-in shower and separate whirlpool bath.
Signature Suites
Ranging from 721 square feet to 850 square feet, the four new Signature Suites will offer an open living room and dining area. The living room will include a convertible sofa to accommodate a third guest, as well as floor-to-ceiling glass doors.
Signature Suite bedrooms will feature a king-sized bed or twin beds, plus floor-to-ceiling windows and a walk-in closet. The bathroom will have both a walk-in shower and whirlpool bath.
Spacious private verandas for Signature Suites will range between 167 square feet and 269 square feet.
More Refurbishment Details
In another planned change during the Silver Endeavour drydock, the Medical Center will be moved from its current location on the starboard side of Deck Five, to the "currently empty" space on Deck Four (behind Explorer Lounge).
That was originally Crystal Cruises' former casino space. However, Silversea opted to not offer a casino on Silver Endeavour.
So, in that former casino area, Silversea will carve out space for both the Medical Center and four new crew cabins. That means the ship can carry seven additional crew members, bolstering the ship's hotel team and enlarging the expedition team to 22 experts.
Primary benefits? As the line brings more specialists onboard, it will enhance the guest experience for destination immersion. It will also help the line maintain one of the industry's highest crew-to-guest ratios.
Four Classic Veranda Suites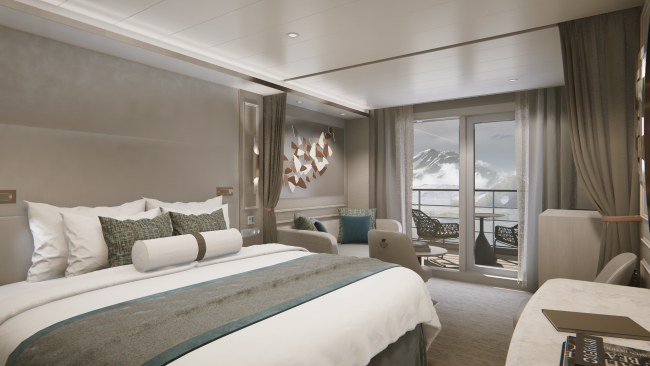 In turn, four additional Classic Veranda Suites (shown in the photo above) will be created in the space that previously housed the Medical Center.
For those new 356-square-foot suites, Silversea tells us that guests can expect the traditional layout, features and amenities of its existing Veranda Suites. Each Classic Veranda Suite will have a 52-square-foot veranda.
"Silver Endeavour's refurbishment will strengthen her status as the world's most luxurious expedition ship," says Roberto Bruzzone, Silversea's senior vice president of marine operations.
He notes that in addition to broadening the ship's range of accommodations and adding more crew, other updates will also be made. For example, Silversea will install handcrafted Lalique crystal panels in La Dame, the ship's signature French restaurant.
Arctic Bound 
Following the refurbishment in Italy, Silver Endeavour will sail two voyages that touch the British Isles and Iceland. Then, starting on June 3, the expedition ship will embark upon an inaugural Arctic season.
"The beauty of this vacation experience is that guests can couple an ultra-luxury, small-ship experience with eco-adventure and expedition activities," says Shelby Steudle, president, Pavlus Travel. "Every day will bring new possibilities for exploring, yet guests will still travel in the lap of luxury."
As travelers head out by Zodiac cruises or go kayaking or hiking, they'll view spectacular, remote scenery. In addition, "sightings of birds, whales, reindeer and polar bears are always a possibility, a big plus on any Arctic expedition," she emphasizes.
Nine Silver Endeavour cruises will include many of the Arctic polar region's most remote destinations including Pond Inlet, Nunavut, Canada, as well as Cape York and Qaanaaq, Greenland, among others.
For example, on July 31, 2023, Silver Endeavour will depart Kangerlussuaq, Greenland, for a 10-day cruise to Pond Inlet.
At press time, fares for that expedition voyage started at $17,500 per person, double occupancy, for all-inclusive, door-to-door service. Alternatively, the port-to-port fare started at $13,950 per person, double occupancy. 
For More Information
For more information on Silversea, Silver Endeavour and its portfolio of ultra-luxury, expedition cruises,
visit this Silversea page.
Want to know even more or have questions? Be sure to contact your personal travel planner to learn more. You'll not only find great deals but amazing service too!
Important Information from Pavlus Travel
If anything tweaks your interest in this blog and you'd like to talk about a future vacation, please DO call us at 800-528-9300.
Definitely, if you have questions about specific pricing, brochures, savings, itineraries, dates of travel, accommodations, accessible options and so on, please contact us. Again, call us at 800-528-9300 or visit and "live chat" at Pavlus Travel's official agency Web site.
Note to Readers: Please do not use the reply section of this site to ask questions about potential vacation options. Instead, call the number above or visit the Pavlus Travel website. This blog site offers "basic, general information" about travel; it's not designed to provide specific pricing nor is it staffed by travel advisors. Any personal views expressed reflect the anecdotal perspective of the author — simply one opinion by a frequent traveler. The views expressed in the blog above should not substitute in any way for use of a professional travel advisor.