During March 2023, top travel suppliers and destinations announced new options for globetrotters. So, without further ado, here are three enticing travel news updates from March 2023. (Buckingham Palace in London, U.K., is shown above. Photo by Visit London)
Disney Cruise Line is Singapore Bound
If you're a fan of "The Mouse" and you'd like to travel within Southeast Asia, here's enticing travel news to digest. In late March, Disney Cruise Line and the Singapore Tourism Board announced exciting plans for the line's first homeported ship in Southeast Asia.
Starting in 2025, Disney will use Singapore as a year-round cruise home port. Now that's enticing travel news for many consumers including multi-generational family groups. 
The joint announcement was made by Josh D'Amaro, Disney parks, experiences and products, and S. Iswaran, Singapore's minister for transport and minister-in-charge of trade relations.  
The duo recently signed a "Memorandum of Understanding," in which Disney agreed to home port a new Disney cruise ship in Singapore for at least five years.
"This is a very exciting year for The Walt Disney Company — 2023 marks our 100th anniversary," D'Amaro says. "As part of this, Disney Cruise Line is currently undergoing an ambitious expansion with new ships and new destinations around the world.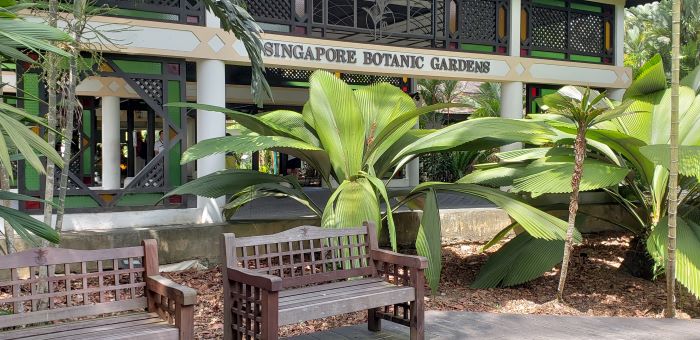 "We are incredibly excited to make Singapore the home port to our seventh-launched ship," he adds. The line's travel news announcement said that "more details about the maiden voyage, itineraries and onboard experiences will be announced at a later date."
So, while those details aren't yet available, the thought of a Disney vacation at sea in Southeast Asia coupled with a Singapore land stay, is something we're looking forward to in 2025 or beyond.
It's an enticing travel news development. But if you desire to travel earlier, give your personal travel planner a call to discuss Asia cruising or a Singapore land stay.
Travel News: London Hotel Update 
For many travelers, spending time in London, U.K., is a fantastic vacation experience. Certainly, the buzz is building for King Charles III's coronation in early May 2023. But truly, the best time to visit London is, well, almost anytime!
For those considering a long weekend getaway to London or an even more robust trip to explore both the city and other spots in the English countryside, here's a list of some of the hottest London hotel openings expected this year. These were among those provided to The Meandering Traveler in late March as part of a Visit London update.
The luxurious Peninsula London will open to guests in spring 2023. Overlooking Hyde Park Corner and the Wellington Arch in the heart of Belgravia, this elegant hotel will showcase the best of British culture, art and cuisine.
Arriving guests will encounter a stately entrance and colonnaded courtyard reception. The Peninsula London will offer 189 exquisitely-styled guest rooms and suites, plus multiple restaurants and The Peninsula Spa.
Other New London Hotels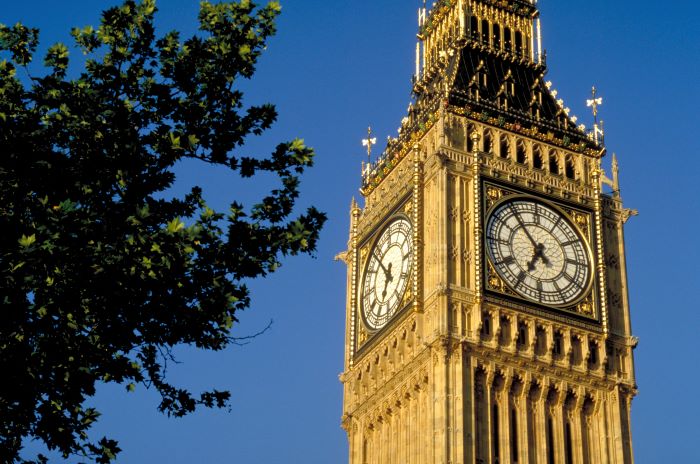 On the horizon, French luxury goods company LVMH Moet Hennessy Louis Vuitton is expected to bring its exclusive Cheval Blanc brand to London. It's launching an 83-bedroom luxury hotel in Mayfair.
In fact, the Mayfair property will be the first U.K. outpost of the Cheval Blanc brand. Look for an underground spa with large pool. In addition, the hotel will offer two restaurants, a bar and a roof terrace. 
Sometime this year, Six Senses London will take over the iconic building and former London department store — Whiteleys. Offering 110 guest rooms and suites, it's the first Six Senses brand hotel in the U.K.
Accommodations will be spacious — starting from 355 square feet of space. The hotel's design will tap into the building's origins while also creating a pampering space for modern living.
Modern Design in Mayfair
Nestled within Mayfair and overlooking Green Park, 1 Hotel London Mayfair will be operated by SH Hotels & Resorts. Guests will discover eco-conscious, modern design in a nine-story property.
Fielding 184 guest rooms, the hotel will allow guests to enjoy a luxury lifestyle but in a sustainable way. For example, they'll dine at a farm-to-table restaurant with garden seating. The hotel will also offer a fitness and wellness center, as well as a communal lobby bar, designed to inspire socialization.
Exact opening dates in 2023 and other specifics for the hotels listed above weren't available in the travel news update we received from Visit London at press time.
So, what if you're ready to go now, or anytime in 2023 or 2024?  Then chat with a professional travel advisor about your vacation desires and learn about all the options.
Here's a link to the Visit London website as well.  London awaits!
Travel News: The Next Love Boat 
"The Love Boat soon will be making another run…The Love Boat promises something for everyone."
So go the lyrics to the 1970s-era song that accompanied the popular "Love Boat" TV series. On March 8, the latest ship of love touched water.
In March travel news, Princess Cruises announced that it had "floated out" its new, next-generation ship, the 4,300-passenger Sun Princess. The action happened at the Fincantieri Shipyard in Monfalcone, Italy.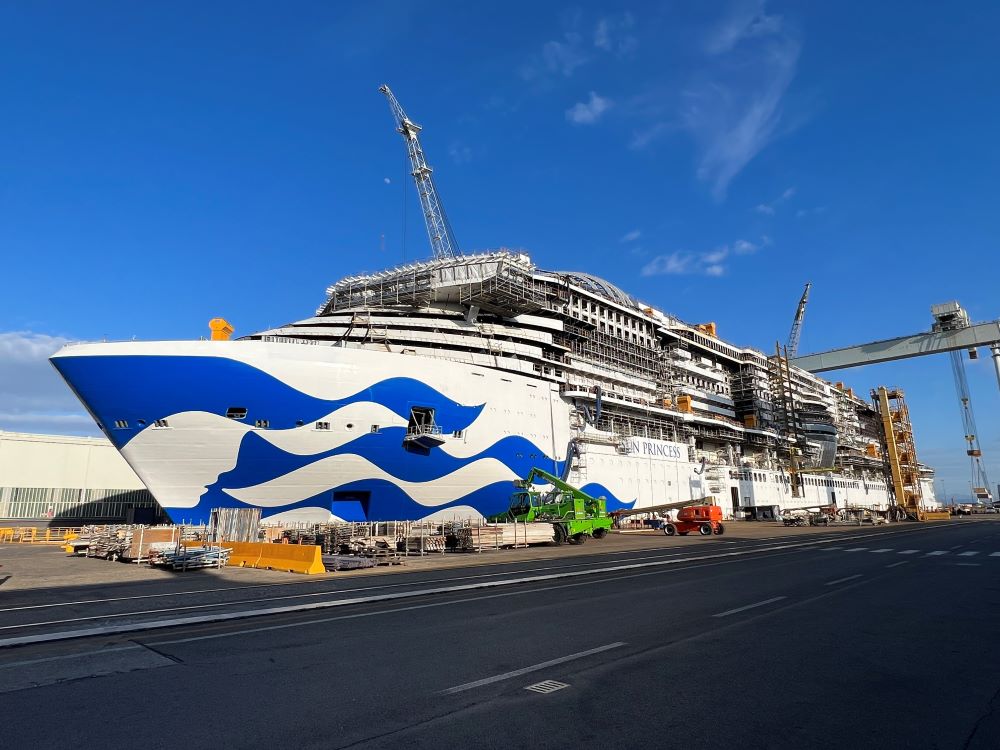 Following the Italian shipyard's tradition, the float out is marked by a special ceremony. Simona Stumberger, hotel general manager, Princess Cruises, served as "madrina." In that honorary role, she offered blessings and best wishes for the 175,500-ton vessel as water flowed into the ship's building dock.
As the vessel floated for the first time, it marked the completion of Sun Princess'  first construction phase. Moving forward, efforts will focus on building the ship's interiors and outfitting the vessel.
A New Era 
"Sun Princess will usher in an exciting new era for our company and the industry," believes John Padgett, president of Princess Cruises. 
Princess also announced the appointment of Gennaro Arma as captain. He'll lead Sun Princess' shipbuilding operations, readiness and delivery. He'll also oversee the final construction stages.
The ship has a legacy name. Did you know that the new build is the third such ship called Sun Princess? The first ship with that name sailed for Princess from 1974 to 1988. The second offered cruises from 1995 to 2020.
Ship Features
The new 21-deck Sun Princess will offer many new dining, entertainment and activity offerings, plus luxurious staterooms and suites. The vessel will have 1,500 private balconies, the most of any Princess ship.
As for public spaces, those will include some never-before-seen venues for Princess. Among them is The Dome, an entertainment venue inspired by Santorini's terraces. The ship will also have a next-level Piazza and three-story Horizons Dining Room.
Plus, the newest Sun Princess is Princess' first ship powered with LNG (liquid natural gas). It can also plug into shore power while in port. So, the new vessel offers many eco-friendly features.
Travel News: Sailing the Med  
Where will the new ship sail? Inaugural 2024 cruises to the Mediterranean and Europe are open for booking now.
For example, one itinerary is a seven-night "Mediterranean with Greece and Italy" itinerary between Piraeus (Athens), Greece, and Barcelona, Spain. This cruise calls at four ports — Kotor, Montenegro; Corfu, Greece; Messina, Sicily, Italy; and Naples (for Pompeii and Capri), Italy.
Guests can depart on multiple dates starting in April 2024 and throughout summer 2024. At press time, pricing started at $1,100 per person, double occupancy.
For more information about the ship and its itineraries, visit this Princess website page. For questions and booking, contact your professional travel advisor to discuss options, accommodations and more.
Stay tuned for more travel news tidbits in our upcoming blogs. For now, though, you can mull over a new Disney Cruise Line option from Singapore, a London getaway in a new luxury hotel, or perhaps a sailing on the newest "Love Boat" vessel, Sun Princess.
So, set your course for pampering, fun, luxury and adventure!
Important Information from Pavlus Travel
If anything tweaks your interest in this blog and you'd like to talk about a future vacation, please DO call us at 800-528-9300.
Definitely, if you have questions about specific pricing, brochures, savings, itineraries, dates of travel, accommodations, accessible options and so on, please contact us. Again, call us at 800-528-9300 or visit and "live chat" at Pavlus Travel's official agency Web site.
Note to Readers: Please do not use the reply section of this site to ask questions about potential vacation options. Instead, call the number above or visit the Pavlus Travel website. This blog site offers "basic, general information" about travel; it's not designed to provide specific pricing nor is it staffed by travel advisors. Any personal views expressed reflect the anecdotal perspective of the author — simply one opinion by a frequent traveler. The views expressed in the blog above should not substitute in any way for use of a professional travel advisor.