Suite guests on two of Princess Cruises' modern "Love Boat" ships, Discovery Princess and Enchanted Princess, are in for a treat if they choose to attend the new multisensory 360: An Extraordinary Experience.
It's truly a masterful work of visual and storytelling artistry. It's an authentic, 90-minute "deep dive" into Mediterranean culture, heritage, cuisine and lifestyle. Guests not only immerse themselves in the tales, visuals and sounds, they also sample the local wines and specialty dishes of Greece, Italy, Spain and France.
The Meandering Traveler had the good fortune to participate in this experience at the Port of Los Angeles earlier this year. Here's "our take."
Masterful Storytelling, Vibrant Filmmaking
Before showcasing more details about the individual destinations, here's a look at five top facets.
First, the 360: An Extraordinary Experience draws upon storytelling by actress and model Brooke Shields. She portrays Bethany, a cruise guest who sits on her Princess cabin balcony and writes in her diary about a Mediterranean culinary voyage.
Guests also hear tales about local culture and traditions from entrepreneurs, vintners, culinary experts and other locals.
Second, vibrant film scenes extend across gigantic LED screens that encircle the room (hence the 360 reference). It's an artistic, visual masterpiece that takes guests deep into the heart and soul of Greece, Italy, Spain and France.
Think being "up close" to quaint fishing harbors, colorful markets, cascading vineyards and more. The video scenes "in the round" put guests in the center of the action. They also hear sounds and music reflective of the region.
More Perks from 360: An Extraordinary Experience
Third, a tasteful amount of sporadic, creative animation unfolds across the two semi-circular tables at which guests are seated. Perfect in substance and style, the animation is fun and creative.
For example, animated bees scooted across our table at the same time that we sampled a Provencal dish with lavender and honey (the fruits of the bees' labor).
Fourth, a Princess host directs all the action — standing amid the circular room much as a conductor. He or she offers interesting "live" commentary about regional traditions and culinary specialties. Simultaneously, servers deliver small dishes, wine and other beverages to guests.
Over the course of the 90 minutes, guests enjoy a seven-course gourmet experience, plus regional fine wines (often not widely distributed globally). Hints of aroma such as lavender surfaces at times.
In case you're wondering, the venue's personalization is possible via the OCEAN platform that powers MedallionClass on all Princess ships.
Fifth, there is no "hard sell" about Princess in this experience. It's totally destination-focused and it makes one "want to go."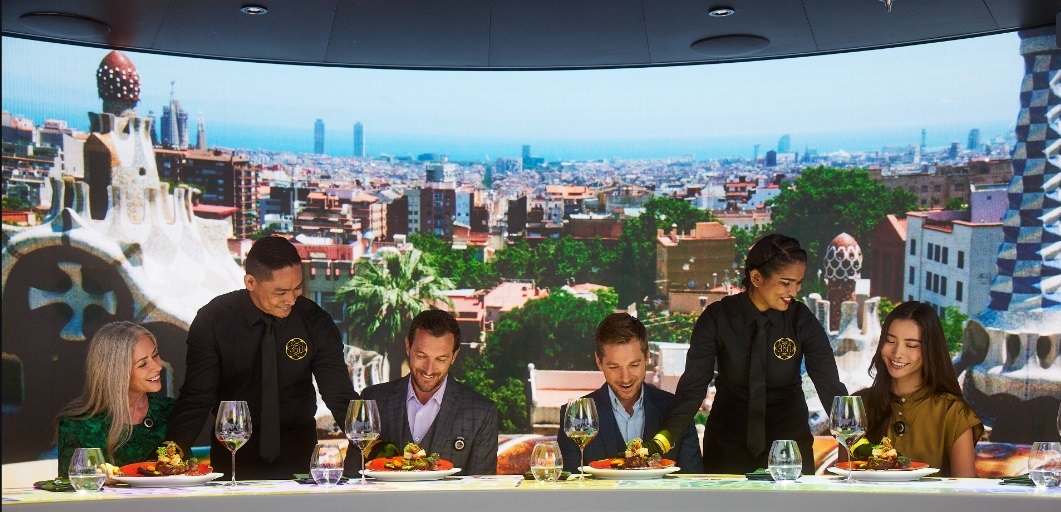 Modern Love Boats: Getting an Invitation
Given the intimate nature of the experience, with only 20 people able to participate at each session, Princess says that this experience is almost exclusively for suite guests and it's by-invitation only.
Still good to know? There are a few exceptions. For instance, you might garner an invitation — based on availability — if you're sailing (in any category of accommodations on either of the two ships) and if you book a future cruise with suite accommodations on any Princess ship. That includes Princess Premier at a non-cancelable rate.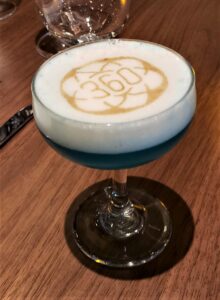 At times, the line also may extend an invitation to certain guests participating in designated "VIP" sailings for casino play or retail events.
Let the Extraordinary Experience Begin
Invited guests gather for the start of the experience in a public atrium area. Just as on the Hollywood red carpet, they're invited to pose in front of a Princess backdrop for photos.
They're also served a 360 welcome drink (see photo at right). What's it made of?
Well, this pretty cocktail is concocted using Blue Curacao, Riesling wine, Grey Goose vodka, cachaca, apple syrup, lemon juice and pear puree. Need a nonalcoholic drink? Just ask as options are available.
While guests await fellow invited guests to arrive in the atrium or other designated gathering space for the 360: An Extraordinary Experience, they can relax, get acquainted with fellow participants and enjoy light musical entertainment by a violinist or two.
Then, it's a hoot when the host asks the group to move to the private room where the experience begins. Why so? The violinists launch into a fitting, upbeat rendition of  "The Love Boat" theme song as guests head out.
Entering the 360: An Extraordinary Experience Room
After navigating a bit behind-the-scenes to reach an interior space that guests typically don't see, participants are seated in a small, windowless room with two semi-circular dining tables and large screens encircling the room.
Animation leads guests to their seat — as the guest's name is projected onto the table.  As guests take their seats, the space erupts with film sequences, sound, music and action.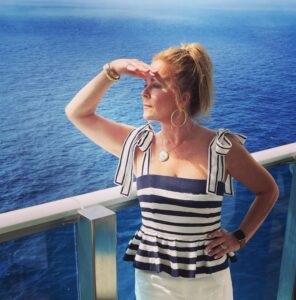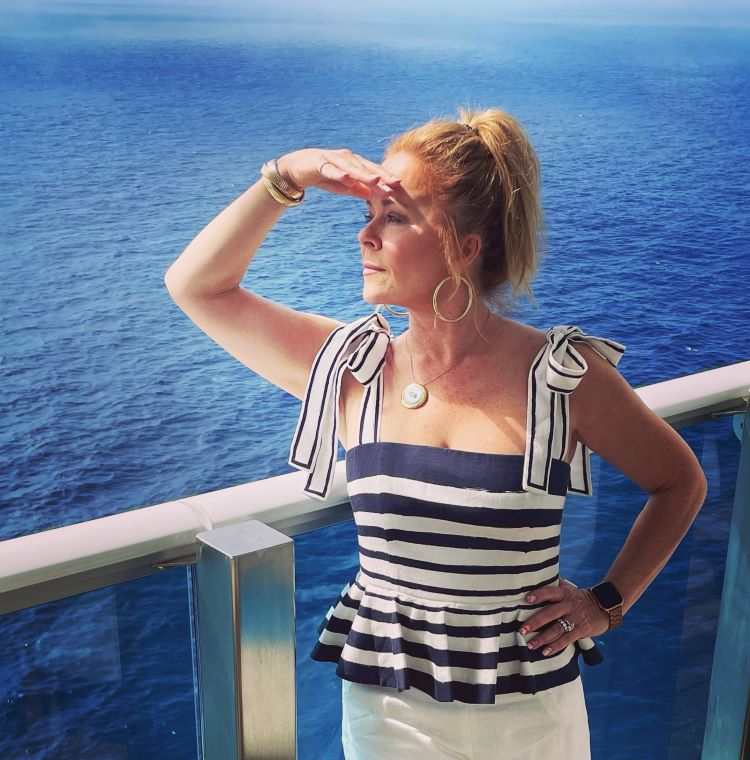 This week, we chatted briefly with Jill Whelan, who played Captain Stubing's daughter Vicky in the "Love Boat" series and movies (see photo at right).
Her perspective is: "It's so hard to pick one thing about the 360 experience that I love the most!"
"The idea that you are swept into a completely different world is so amazing – from when you walk in and all your senses are taken away in the dark room you're in," says Whelan. But "then you sit at the table and all of a sudden, one by one, each one of your senses is engaged."
Greece: Olives and Octopus
As Shields acting as Bethany sets the stage with her diary entries, guests are first transported visually to white-washed Santorini in the Greek Isles as well as its Peloponnese region.
While guests watch boats at a pretty Greek fishing harbor and see street musicians on the screens, they'll also learn the importance of olive oil in Greek culture from "Tassos." He's a Koroneiki olive farmer from the Peloponnese region.
At they watch more olive oil visuals on the LED screens, they'll savor a traditional mezze plate. That's a big "yum, yum" from our end. It's a starter of kalamata olives, tzatziki, olive oil and bite-size pita bread.
In addition, we learned about fishing traditions, dined on grilled octopus and sipped a Santorini cocktail. "The experience made me want to be back in Greece immediately," Whelan tells us.
Italy: The Amalfi Coast
Next, the visual story moves to Italy and specifically to Italy's Amalfi Coast. As servers poured our Lacryma Christi del Vesuvius wine, we loved watching dramatic videos of the pretty coastal scenery and vineyards.
That white wine is produced from grapes grown on Mount Vesuvius' slopes and vintner "Maurizio" (a vintner for the winery – see link above) explained that the grape-growing traditions date to the Roman era. We sipped and tasted fresh Italian mozzarella and heirloom tomatoes.
The region is also famed for its lemons. A fellow traveler told us she "loved, loved, loved" the experience's "spaghetti a limone" or pasta flavored with lemon. She said she'd book a cruise just to have the taste of that dish again.
Vibrant Spain, Undersea Wines
Extending the journey to Spain, the 360: An Extraordinary Experience begins with animated bulls briefly appearing on the tables. As visuals of Barcelona and the region unfolded, we enjoyed our entree, a luscious steak.
But our favorite "immersion" activity of the entire presentation was tasting Spanish grenache that's been aged for six months underwater near Costa Brava. Yep, we said underwater.
For a six-month period, bottles from Elixsea Winery stay under the sea, which immerses them at the proper temperature for aging. When they're pulled ashore, the bottles often have barnacles.
Seeing and touching those barnacles as servers circulated around our tables made the experience truly authentic. Calling the entire 360 Extraordinary Experience "incredible," Whelan emphasizes: "The wines that are kept underwater to age was especially cool."
360: An Extraordinary Experience — Aah, France 
For its final hurrah, the 360 Extraordinary Experience transitions into France and lovely Provence. Whelan tells The Meandering Traveler that while filming "The Real Love Boat," a recent TV reality show filmed on Princess Cruises, "the place I loved the most was Marseille."
See photo below of the two casts of the original "Love Boat" and the newer show of a similar name; Whelan is second from the right.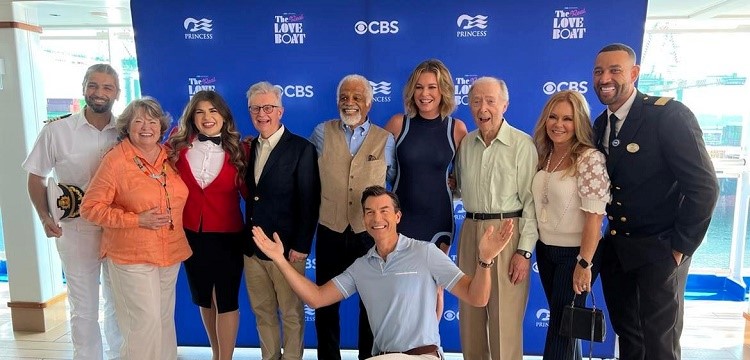 She continues: "I love the south of France and all it has to offer – from the wine to the lavender, the history and the artists that are drawn there. It's an amazing place."
During the multisensory experience, we enjoyed learning more about the country's edible flowers. We loved smelling the faint aroma of lavender in a tasty dish. It was also humorous as animated lavender sprigs danced across our table.
But of course, France is legendary for its Champagne. During the conclusion of the 360: An Extraordinary Experience, corks pop, servers pour guests a glass of bubbly, and can-can music ensues.
In addition, there was a celebratory feel to the program as "virtual bubbles" floating upward on the LED screens. During the last part of the show, guests' pre-experience photos taken onboard show up on the LED screens.
That elicited a gaggle of chuckles from our fellow travelers when they spotted themselves on "the big screen." Chefs and servers then arrive to wish the guests a fond farewell.
Nitty-Gritty Details
Keep in mind that this entire experience for suite guests offers a seven-course gourmet meal. So, one must arrive with a good appetite.
Portions are manageable, but it's still a lot of food and drinks. But we survived and can't wait to go back!
One notable fact: Many of the wines served are local. So, they're not available to order elsewhere on the ship or typically anywhere outside of the local destination.
Two Ships of Discovery
The 360: An Extraordinary Experience was introduced late last year on Discovery Princess, and then added to Enchanted Princess in February 2023.
Guests who participate in the experience will receive a limited edition "360" Princess Medallion. For more information on the experience from Princess, visit "360: An Extraordinary Experience.
For information about itineraries, suite accommodations, accessible needs, pricing and other specifics of voyages on either Discovery Princess or Enchanted Princess, contact your professional travel advisor.
Travel advisors are experts who can assist with making your vacation dreams come true. Check out recent profiles of four top Pavlus Travel advisors: Lee Alvarez, Pam Chavez, Jamie Roach, and Lauren Riesenberger.
Important Information from Pavlus Travel
If anything tweaks your interest in this blog and you'd like to talk about a future vacation, please DO call us at 800-528-9300.
Definitely, if you have questions about specific pricing, brochures, savings, itineraries, dates of travel, accommodations, accessible options and so on, please contact us. Again, call us at 800-528-9300 or visit and "live chat" at Pavlus Travel's official agency Web site.
Note to Readers: Please do not use the reply section of this site to ask questions about potential vacation options. Instead, call the number above or visit the Pavlus Travel website. This blog site offers "basic, general information" about travel; it's not designed to provide specific pricing nor is it staffed by travel advisors. Any personal views expressed reflect the anecdotal perspective of the author — simply one opinion by a frequent traveler. The views expressed in the blog above should not substitute in any way for use of a professional travel advisor.