Celebrating 150 years of sailing history this month, Holland America Line's flagship Rotterdam is headed across the Atlantic right now — on target for an April 18, 2023, meet-up with VIPs and Dutch citizens and royalty in Rotterdam, The Netherlands.
(Above, see photo of Rotterdam on another occasion. Photo by Holland America Line.)
The Meandering Traveler is aboard and early in our cruise, we're particularly loving two specialty restaurants aboard — Tamarind and Rudi's Sel de Mer. But before we spotlight those special spots below with a few photos, here's a bit more on the line's historical milestone this month.
150 Years: Our Journey's Route
Boarding Rotterdam earlier this week at Port Everglades, FL, we sailed two days to New York and then spent two more days docked at the Manhattan Cruise Terminal. Guests headed out to explore the Big Apple, before the ship departed again late Friday.
Rotterdam sailed past Lady Liberty in the Hudson River and under the Verrazzano-Narrows Bridge. Now, the ship is sailing across the Atlantic Ocean to Plymouth and Dover, U.K.
The goal is to reach Rotterdam, The Netherlands, just in time for the big hoopla for Holland America's 150th anniversary. Interestingly, our journey from New York is reverse routing from Rotterdam I's original maiden journey across the Atlantic in 1872.
On that 1872 voyage, the ship — the first of seven so-named vessels throughout the line's 150 years — departed for its maiden voyage and first transatlantic cruise under the command of Captain Jacob Hus.
The ship headed to Plymouth before completing the Atlantic crossing to New York.
150 Years of Service: Carried One of 10 Immigrants
One notable factoid? In the late 19th and 20th centuries, Holland America's ships transported one of every 10 immigrants to America. That's an impressive record and many Americans are descendants of relatives who arrived in the North America during that early immigration period in the late 1800s and 1900s.
In a three-year project just completed, the Center for Family History (CBG) partnered with the Rotterdam City Archives to digitize 150,000 Holland America passenger logs and documents; they span the era from 1900 to 1969.
The project's goal was to assist people in finding past records from relatives who may have ventured to the New World on a Holland America ship. Here's a link to the Holland America blog with instructions on how to access that database.
150 Years: Back to Rotterdam 
Today, while it's fun to look back at the history, Holland America itself is sizably different. No longer is it carrying thousands of immigrants. Instead, its goal is to deliver fantastic vacations for cruise guests heading out to see the world.
Since dining is part of any guest's "satisfaction equation," here's a look at two of Rotterdam's savory specialty dining eateries. We love both of these: Tamarind and Rudi's Sel de Mer.
Tamarind
Simply put, we've never met an Asian restaurant we didn't like. That said, guests will find Tamarind a very high-quality Pan-Asian eatery. From our perspective, it's among the best at sea.
Diners enjoy a fine meal while sitting in a lovely aft location. Views through the restaurant's glass reveal an aft pool area and the ship's wake.
In addition to comfortable seating (see photo below), the restaurant also includes the Nami sushi bar off to one side and the Tamarind Bar on the other side (see photo below).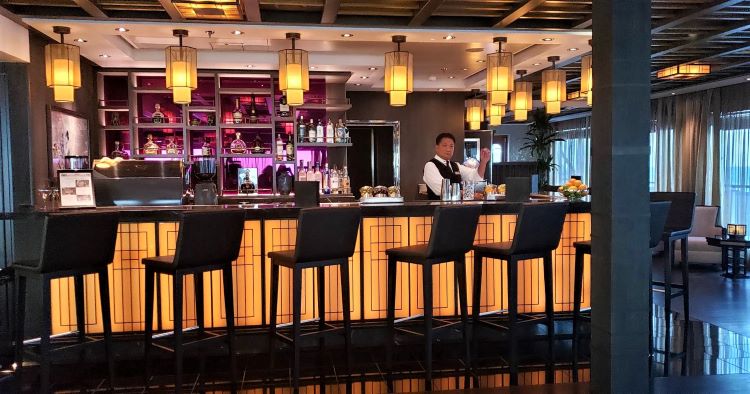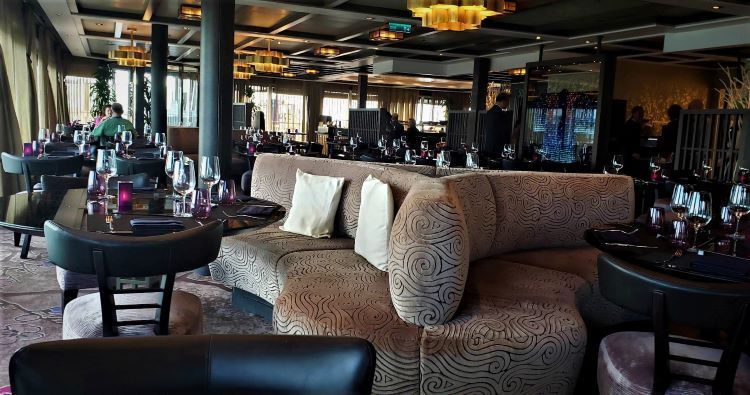 Savory Asian Dishes
As for the dishes themselves, overall they were well-presented and tasty. Among them were "Lobster and Shrimp Potstickers" and "Shrimp Tempura" as appetizers; "Tom Kha Kai" for soup; "Penang Red Curry Coconut Chicken" as the entree; and "Yuzu Cheesecake"(see photos below).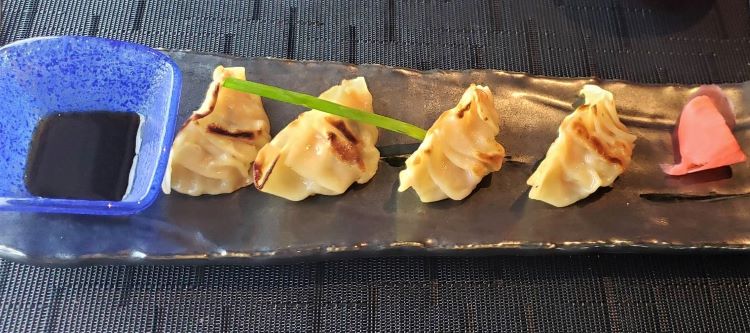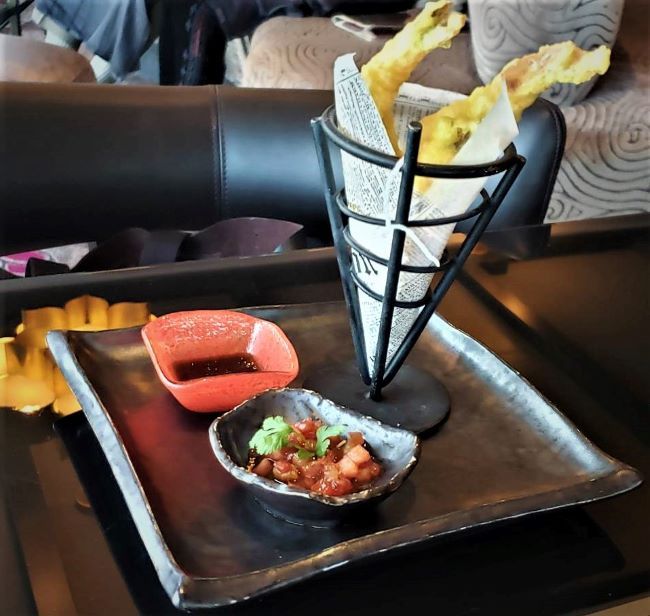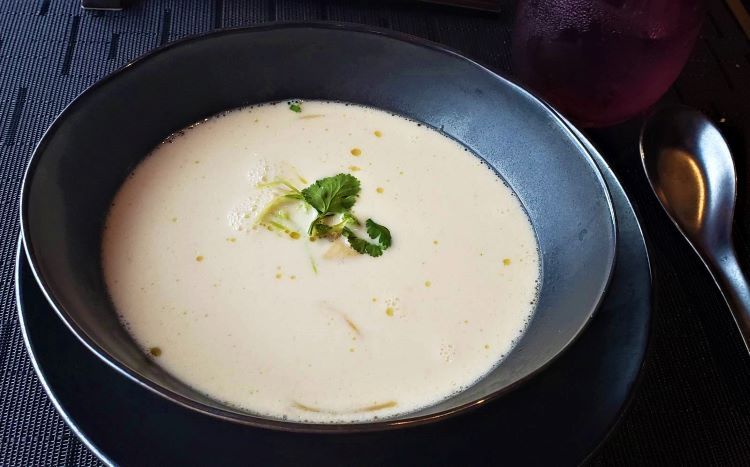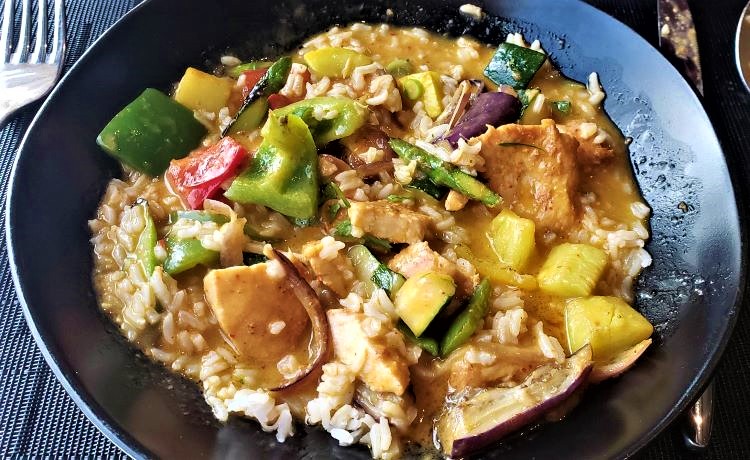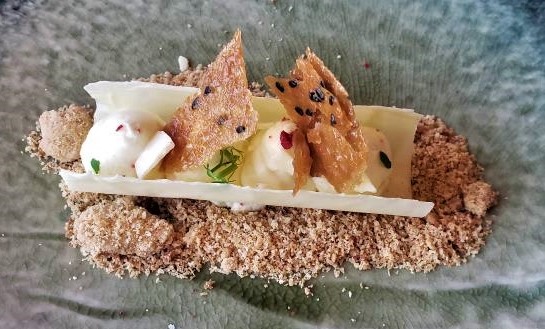 Dinner at Tamarind is $29 per person plus an 18 percent service charge. Tamarind is located on Panorama Deck 10.
Rudi's Sel de Mer
You'd be hard pressed to find a more affable guy anywhere than Rudi Sodamin, who's also a highly experienced chef.
With a passion for fun with food, Sodamin makes dining not only tasty but creative in unexpected ways. From our viewpoint, whatever he touches seems to turn out magically wonderful.
The Meandering Traveler interviewed Sodamin for a previous blog. Check it out to get more perspective on the man and his talents.
For instance, he's designed incredible charger plates with "food faces" that reflect fresh ingredients. Combine that "foodie fun" with a robust selection of savory seafood and other dishes, and it's a memorable dining experience for guests at Rudi's Sel de Mer (see photos below of the restaurant and a sampling of dishes).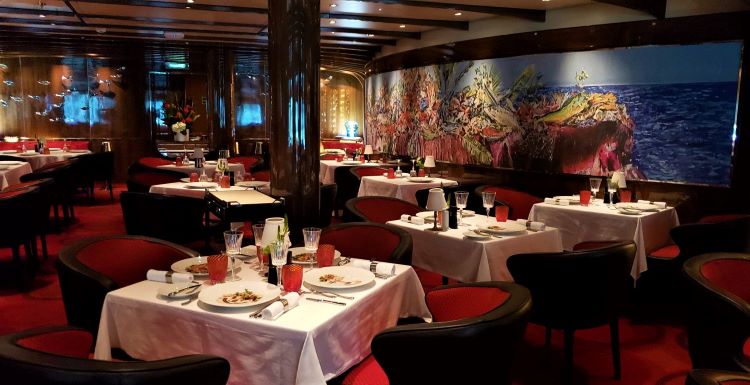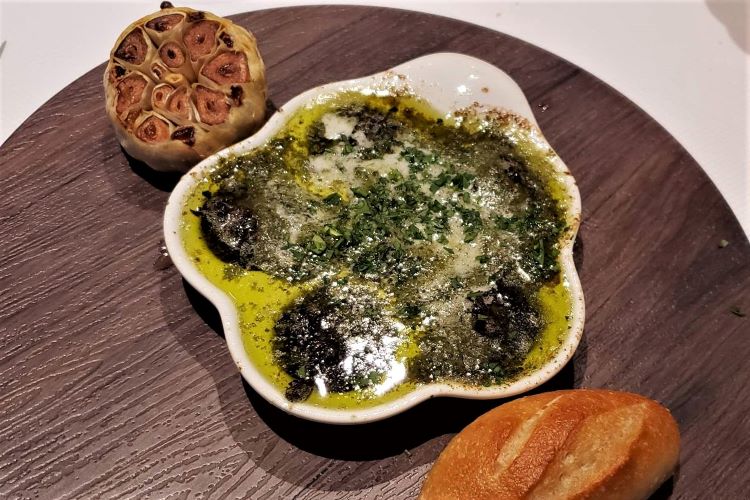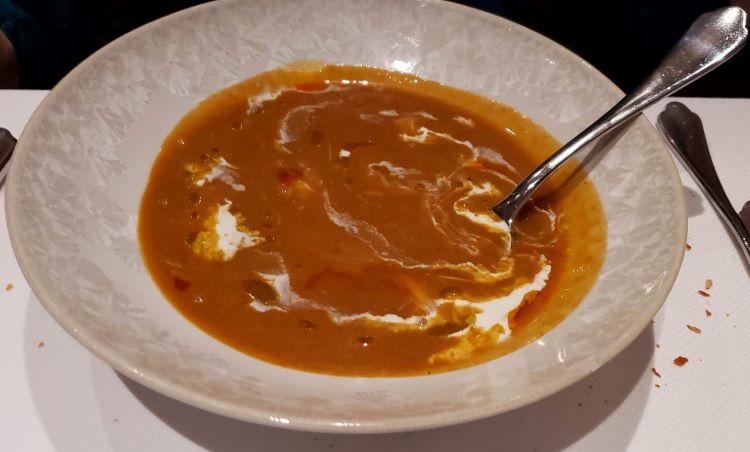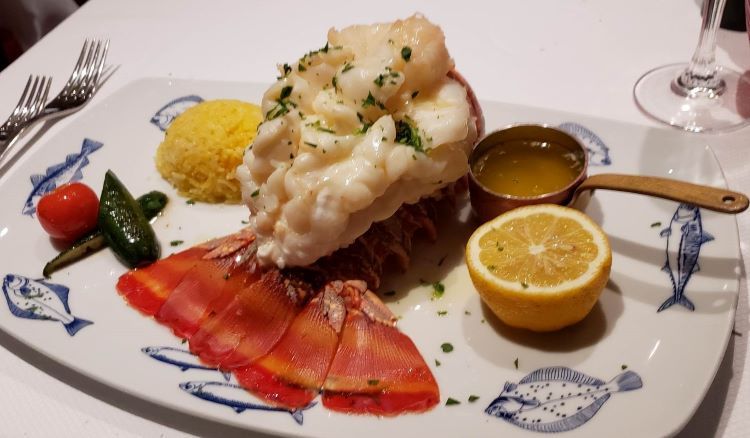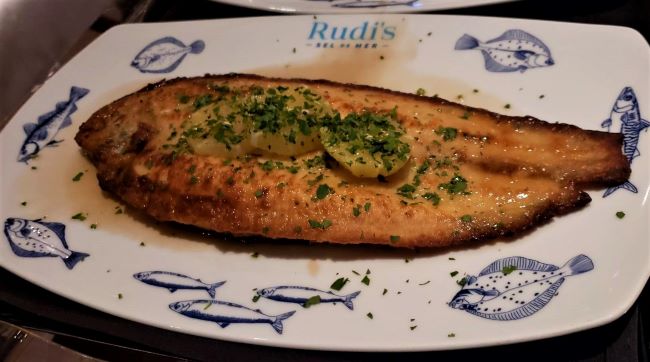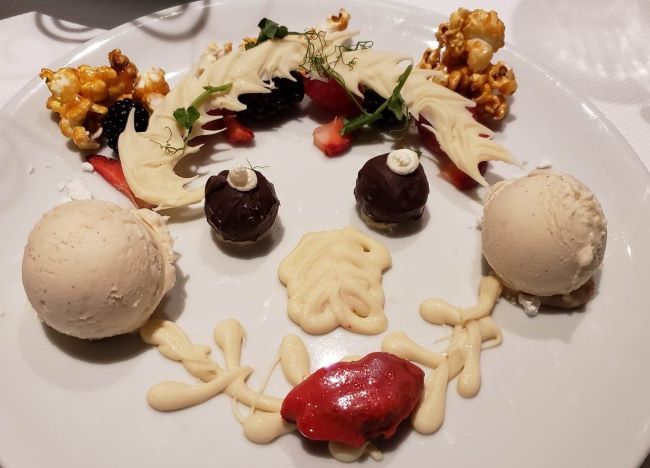 Each guest dining at Rudi's Sel de Mer will pay a $49 dinner charge and 18 percent service charge; reservations are highly recommended. The popular restaurant is located on Plaza Deck 2.
Note to Readers: "The Meandering Traveler is headed back to both Tamarind and Rudi's Sel de Mer for a second time during this cruise, and we'll post photographs of the menus here later this week," according to Shelby Steudle, president, Pavlus Travel.
Heritage Cruises
The Meandering Traveler will be aboard Rotterdam on this 150th anniversary sailing through April 17, 2023. Stay tuned for our next blog which examines the popular "Music Walk" concept on the ship.
Whether you sail in 2024, or alternatively this year for the 150th celebration, happy travels! Contact your professional travel advisor today to ask about specialty Heritage voyages through the end of this year with Holland America.
Important Information from Pavlus Travel
If anything tweaks your interest in this blog and you'd like to talk about a future vacation, please DO call us at 800-528-9300.
Definitely, if you have questions about specific pricing, brochures, savings, itineraries, dates of travel, accommodations, accessible options and so on, please contact us. Again, call us at 800-528-9300 or visit and "live chat" at Pavlus Travel's official agency Web site.
Note to Readers: Please do not use the reply section of this site to ask questions about potential vacation options. Instead, call the number above or visit the Pavlus Travel website. This blog site offers "basic, general information" about travel; it's not designed to provide specific pricing nor is it staffed by travel advisors. Any personal views expressed reflect the anecdotal perspective of the author — simply one opinion by a frequent traveler. The views expressed in the blog above should not substitute in any way for use of a professional travel advisor.