As Billboard Onboard's two energetic piano players concluded their half-hour music set of "One Hit Wonders," we experienced the beauty of Music Walk on Holland America Line's Rotterdam this week. Grabbing our drink, we quickly strolled just a few feet across the corridor.
Within seconds, the three guitarists of the Rolling Stone Rock Room band cranked up the music intensity. They began to rock our socks off. And just steps away was B.B. King's Blues Club if we desired for the next set to hear musical strains of  jazz, blues and even Motown.
This week as Holland America Line proudly commemorates its 150 years sailing the world's oceans, we're celebrating that fun, fantastic Music Walk. Nightly, Rotterdam's Deck 2 aft area erupts with excellent live performances.
Music sets play one right after the other in three different venues, continuing throughout the evening. While we're aware that Holland America recently announced some changes to the music spaces and entertainment lineups on various ships, it's important to note that it can vary by ship class or ship.
The most significant change impacts Lincoln Center Stage, and that's discussed below so keep reading.
For now, given that we're sailing on Rotterdam, we'll outline below what's expected in 2023 if you're planning to sail on this specific ship; this covers what's known at press time from the line. The good news is that there's plenty to enjoy and savor, as we've watched the audiences return night after night to these three venues.
Here's the scoop!
Music Walk: B.B. King's Blues Club
Music Walk's B.B. King's Blues Club is a full-bodied, spacious venue on Rotterdam with a large stage and large dance floor.
Ringed by seating on three sides, this lovely venue also has some seats on the next deck up; those folks have a bird's-eye view of the performers on the stage and guests moving around the dance floor.
Servers circulate to take cocktail and drink orders. As for the music itself, the performers deliver a rich mix of southern blues, jazz, classic soul and rock and roll. For example, one night we enjoyed the sounds of the "Temptations" from B.B. King's All-Star Band.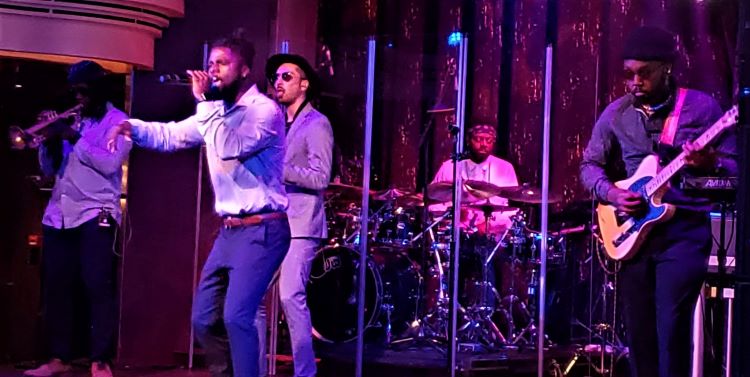 During our sailing, we'd describe the performers as possessing amazing musical talents – both on instrumentals and vocals.
Set times and the scope of each set vary. For example, here's one nightly line-up to give you an idea of how the music flows in this venue:
"Dance Band" played for a half hour at 4:30 p.m., 5:30 p.m. and 6:30 p.m.
"The Best of "B.B. King's All-Stars" performed in half-hour sets at 8:45 p.m., 9:45 p.m. and 10:45 p.m.

A "

Dance to the Hits

" set was at 11:30 p.m.
For this and other Music Walk venues, consult the daily program or digital Holland America Navigator for the latest times.
But again, what was most appreciated by guests is that as the music set ends at one venue, people can navigate a few steps to the next venue. The three Music Walk venues are in close proximity to each other.
Music Walk: Billboard Onboard
Take the concept of "dueling pianos" and ratchet it up 10 notches and you have Billboard Onboard. Two amazing piano players and singers – one male, one female, both vetted by Billboard magazine, performed to a packed crowd on every night we visited.
The musicians for all the Music Walk venues, as with regular crew, change throughout the year, given their contracts. On our sailing, Melissa and Kieji were the excellent performers; if you have them on your cruise perchance, you're in for a big treat.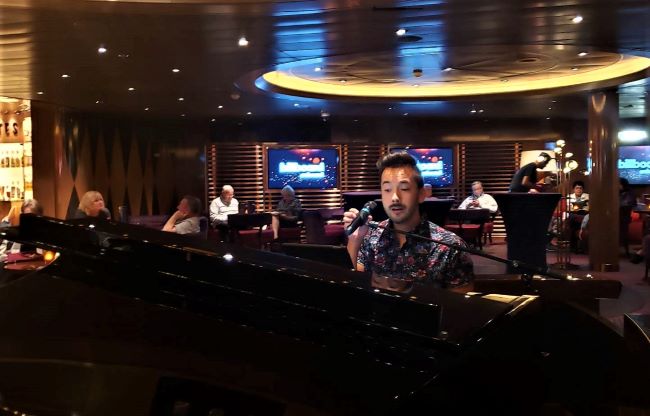 They don't simply sing and play, they are consummate entertainers. It's clear that Billboard has put a lot of effort into creating a well-rounded, entertaining mix of hits and how they're presented.
No tickets are required for any of the Music Walk venues. You just show up and grab a seat. As the sets progress, though, you'll see more and more people standing along each venue's perimeter.
It was standing room only last night, so go early to grab a seat at the first venue, and hustle to the next during the set changeovers.
Schedule-wise, here's an example of what Billboard Onboard might offer one night:
7:15 p.m., "Icons" performance
8:45 p.m., "Coming to America"
10:15 p.m., "All Requests"
On another night, we enjoyed "1970s" songs at 8 p.m., "Hot Country" at 9:30 p.m. and 11 p.m. "All Requests." On yet another night, the duo performed these sets: "Never #1," "The 1980s" and "All Requests."
Music Walk: Rolling Stone Rock Room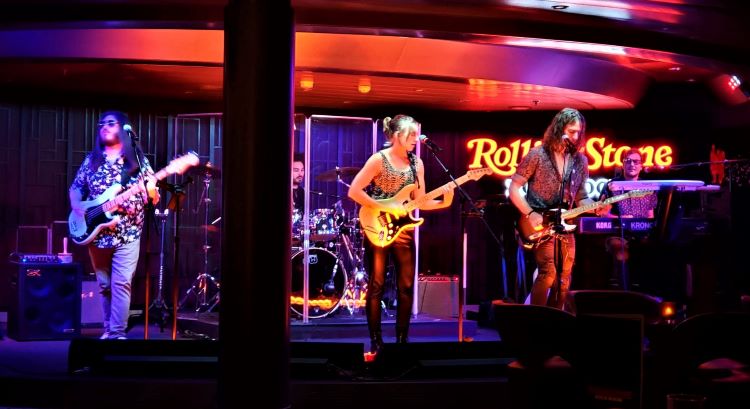 Rolling Stone Rock Room delivers rock standards played live by top-notch musicians (vetted by the music magazine). You'll hear the hits of the Rolling Stones, David Bowie, Led Zeppelin, Bob Dylan and many others.
We've headed to this rock anthem venue multiple times during this cruise. We also migrated to the venue on two previous cruises, both on Rotterdam and another Holland America ship.
Generally, we've found the rock bands who perform here incredibly talented. The lead singer typically fulfills the role of a rock star. From our perspective, Rolling Stone Rock Room is really unlike anything out there within the cruise industry.
On this cruise, though, we would have liked this particular rock band to be a bit more cohesive as a group — stepping it up a bit more in playing to the crowd and each other too. But that said, their instrumentals and singing are superb.
Musical "sets" for the Rolling Stone Rock Room band began on our cruise at 7:15 p.m., 8:45 p.m. and 10:15 p.m. one night. On another night, the line-up of sets was:  8 p.m., 9:30 p.m. and 11 p.m.
Again, the sets for all three venues vary by day, so be sure to consult the daily program or digital Holland America Navigator.
Musical Shifts   
Previously, Lincoln Center Stage was another offering and shared a venue with B. B. King Blues Club on Rotterdam. Often classical music performances were in late afternoon in that venue.
Recently, though, Holland America announced that it's taking the classical music performances in a new direction. In partnership with Lincoln Center for the Performing Arts, the classical performers will become a traveling ensemble and they'll appear on World Stage (see photo below).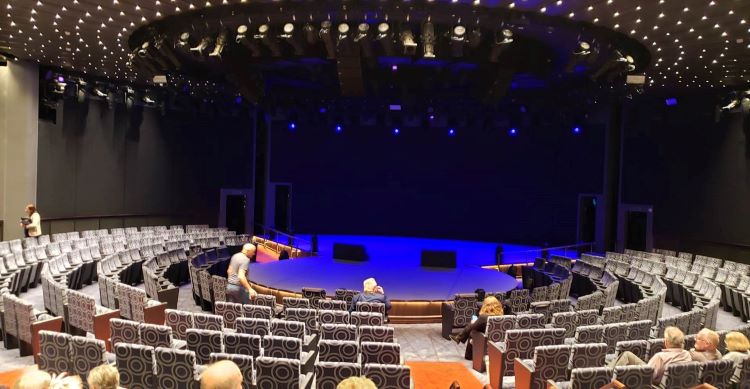 Think of it much as what's there now with Holland America Line's other touring troupes. Those include Step One Dance Company, Cantare and Island Magic.
So, Lincoln Center Stage won't perform anymore in a dedicated performance venue on all of Rotterdam's voyages. Instead, a performing troupe of classical Lincoln Center vetted musicians will move between ships in the fleet and appear during select sailings.
Here's a link to a recent Holland America blog about the changes, which vary somewhat by class of ship and individual ships.
That said, on Rotterdam, if you're in the mood to rock, sing-along or dance the night away, we believe you'll be delighted with Billboard Onboard, B.B. King's Blues Club and the Rolling Stone Rock Room.
Music Walk: Voyages to Consider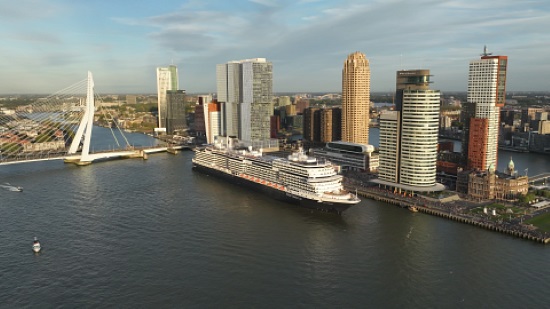 For those interested in sailing on Rotterdam, "here's a look at three enticing Rotterdam voyages that are great to consider for 2023 or 2024," says Shelby Steudle, president, Pavlus Travel. 
Panama Canal Sunfarer Cruise: Departing October 22, 2023, Rotterdam will sail a 12-night voyage to Half Moon Cay, the Bahamas; Willemstad, Curacao; Cartagena, Colombia; Gatun Lake, Panama Canal; Colon, Panama; Puerto Limon, Costa Rica; and Key West, FL.
Best of Norway: Departing September 14, 2024, Rotterdam will operate a 14-night cruise roundtrip from Rotterdam, The Netherlands. Calls will include Oslo, Kristiansand, Stavanger and Flam, Norway. Plus, the itinerary will offer scenic cruising of Sognefjord and several days at sea.
Taste Of Norway, Scotland & Scandinavia: Departing April 27, 2024, this 14-day voyage sails roundtrip from Rotterdam. Guests will explore Eidfjord, Haugesund and Oslo, Norway, as well as enjoy scenic cruising in Norway's Hardangerfjord and Oslofjord. They'll also go ashore in Lerwick, Shetland Islands, and Invergordon (Inverness), Scotland, both in the U.K.; visit Rotterdam, the Netherlands, and Gothenburg, Sweden. Other calls will include Copenhagen and Arhus, Denmark.
"For the best pricing based on your accommodations preferences and more information about these Holland America Voyages, definitely contact your personal travel planner, says Pavlus' Steudle. "Discuss your travel style, vacation desires and previous trips so the advisor knows what you've enjoyed in the past. That will help in planning a great vacation match for 2023, 2024 or beyond. Also, be sure to ask about value-added contract air or unpublished discounts."
Important Information from Pavlus Travel
If anything tweaks your interest in this blog and you'd like to talk about a future vacation, please DO call us at 800-528-9300.
Definitely, if you have questions about specific pricing, brochures, savings, itineraries, dates of travel, accommodations, accessible options and so on, please contact us. Again, call us at 800-528-9300 or visit and "live chat" at Pavlus Travel's official agency Web site.
Note to Readers: Please do not use the reply section of this site to ask questions about potential vacation options. Instead, call the number above or visit the Pavlus Travel website. This blog site offers "basic, general information" about travel; it's not designed to provide specific pricing nor is it staffed by travel advisors. Any personal views expressed reflect the anecdotal perspective of the author — simply one opinion by a frequent traveler. The views expressed in the blog above should not substitute in any way for use of a professional travel advisor.