If you're sailing on the oceangoing Scenic Eclipse I or Scenic Eclipse II, here's a good piece of advice. If you like exotic flavors and trying inventive dishes, absolutely don't miss the incredible Night Market@Koko's dining experience! Simply put, it's amazing.
The Meandering Traveler is fortunate to be sailing this week aboard the new Scenic Eclipse II. It's the second Discovery Yacht of Scenic Group USA, this week. Last night, we personally experienced this intimate, specialty dining experience, designed for just eight guests at a time.
We're still wowed, even the next day. So, what's special? What's good to know? What can you expect if you sail aboard either of the Discovery Yachts? Here's the scoop, and also a bit about the overall dining experience on the Discovery Yachts.
Scenic Eclipse II: Intimate Specialty Dining
Koko's on Scenic Eclipse II is one of two main restaurants; no reservations are required. And believe us, the Asian food served there is terrific with menus that change every few days.
But the more specialized Night Market@Koko's — a small tasting plate experience — unfolds in a small room behind Koko's. That specialty experience requires a reservation.
Why? Seating is limited to eight guests at one time. On many nights, there are two seatings per night. That typically means 80 guests can be accommodated during a typical 10-day cruise.
So, our advice is "Book Early." Immediately upon boarding talk to guest services or your butler. Or, visit Koko's podium at the restaurant's entrance during its open hours. Don't wait.
Once you have a reservation, then just check in at Koko's main podium at your scheduled time. Someone will lead you all the way through Koko's to the small Night Market room tucked away behind the main restaurant. It's not visible from most seating areas inside the main Koko's restaurant.
Scenic Eclipse II: Different Exotic Offerings
Depending on the night you dine at Night Market@Koko's, you'll enjoy inventive tasting plates from one of these four regions — India, Asia, the Middle East (also including some Greek and North African flavors, we discovered) or The Philippines. The latter was just recently added.
Ask the person reserving your spot for the specific type of cuisine on the night you're set to dine. But having dined here on both Scenic Discovery Yachts, the menus — from our personal perspective — are a cornucopia of flavors and tastes to delight.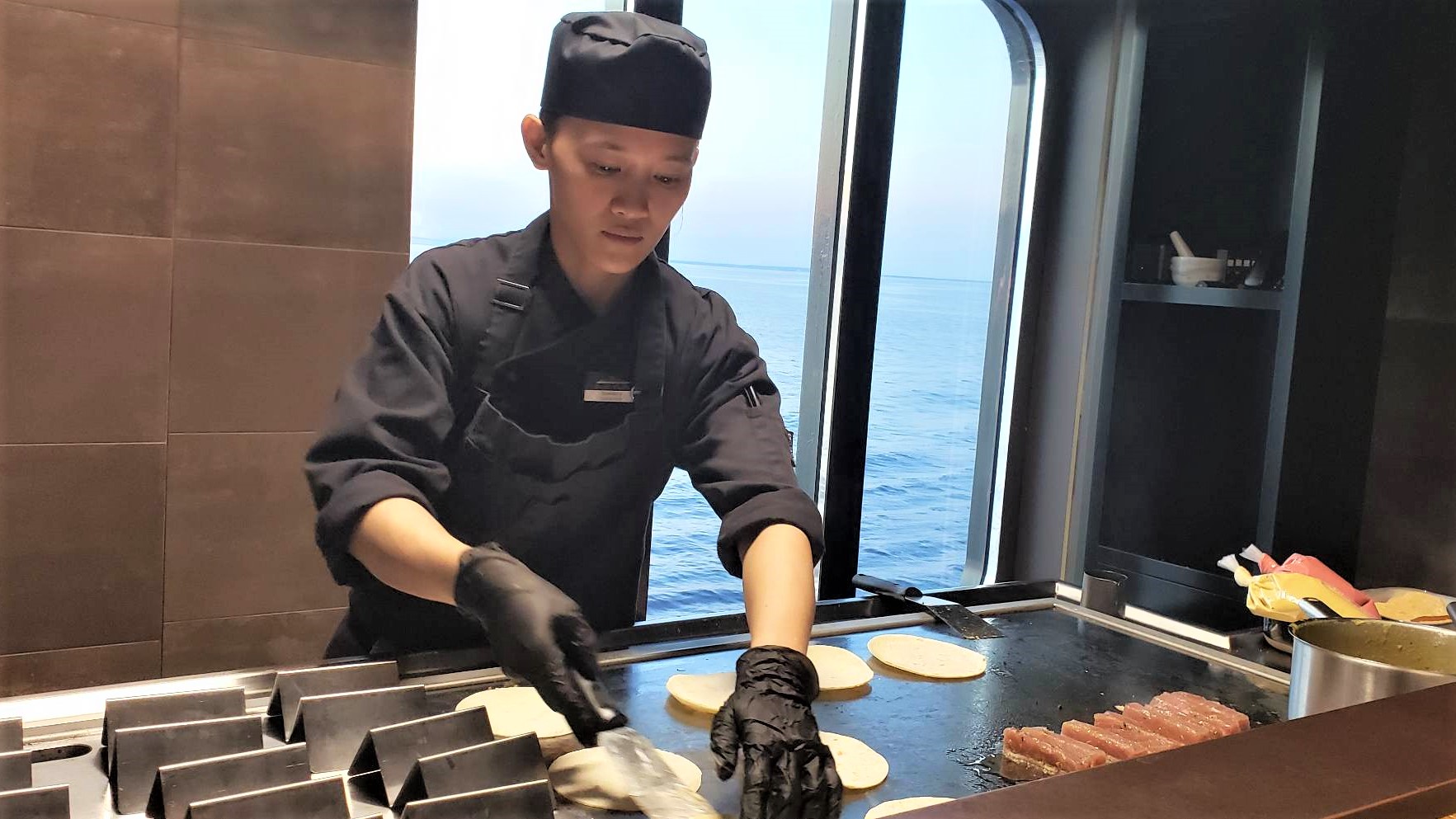 Stepping inside the small dining room, guests will discover an intimate seaside venue. Two large windows offer sea views. Eight tall stools surround an L-shaped counter, which borders the venue's open galley. (Note: this is not the main galley for Koko's, but separate and more intimate in style).
The Night Market@Koko's chef will interact freely with guests, explaining each dish and answering questions. Guests will learn about the flavors, traditions, and preparation.
It's a hoot to not only taste inventive dishes (some unlike any others we've ever had), but also watch the culinary action going on. For instance, we enjoyed watching our chef roast pistachio nuts on the grill and add smoke to flavor our succulent beef entree.
Night Market: Middle Eastern Tasting Night
We dined at Night Market@Koko's and enjoyed the Middle Eastern tasting menu. So, here below  – course by course — are photos and brief descriptions of ingredients. These are the exact menu descriptions you'll see.
Plus, we include a bit of allergy information.
So, let the tasting begin…
First up? Guests are first served a refreshing nonalcoholic cucumber drink. That cleanses one's palate! Then, it's on to the tasting menu.
Labneh Treat
Tomato and Mint Labneh, Aryan (vegetarian).
Note: This had a spice kick to it!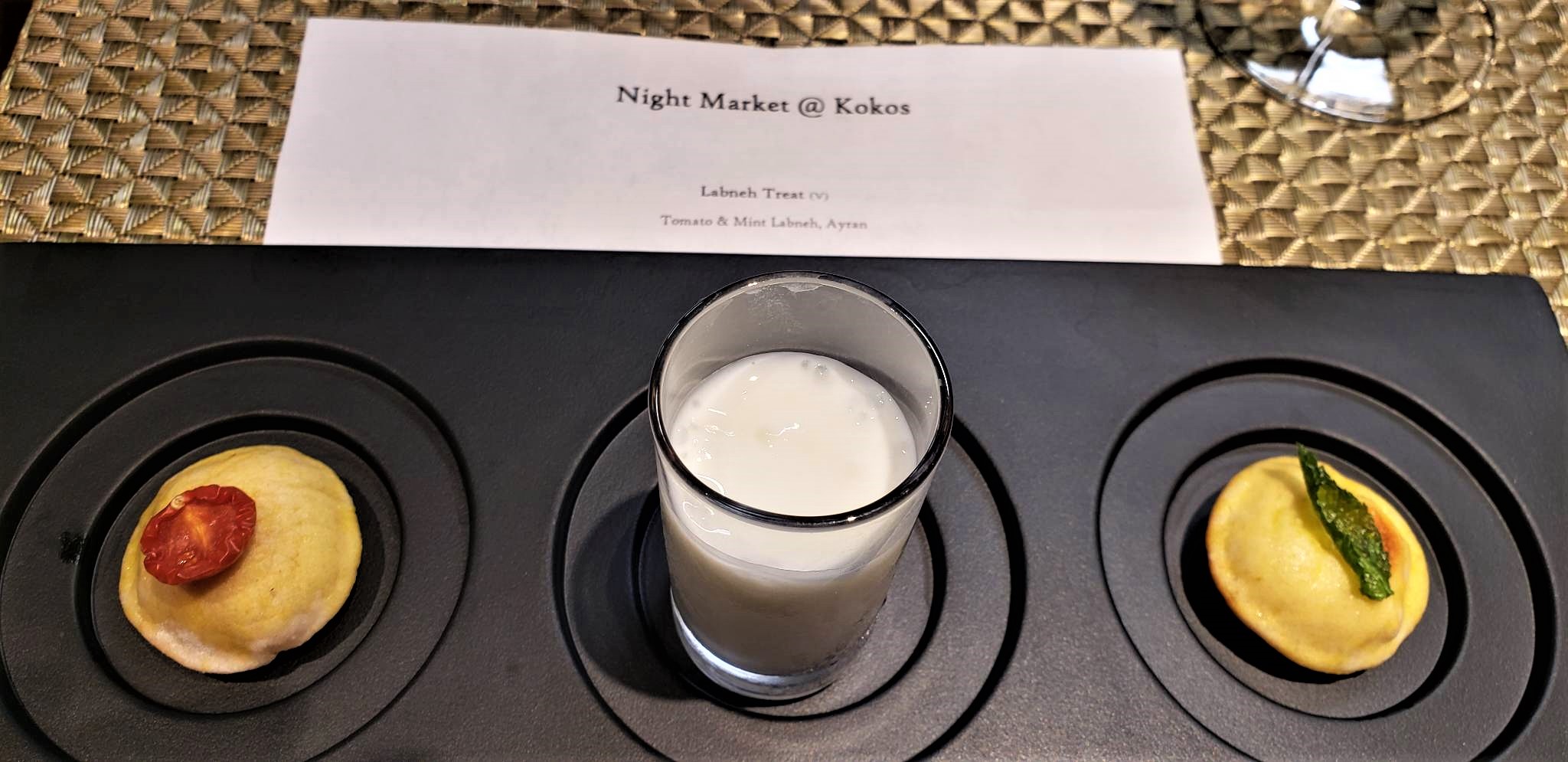 Khachapuri Deluxe
Canadian Lobster, Old Cheddar, Seaweed Truffle, Egg Yolk Bottarga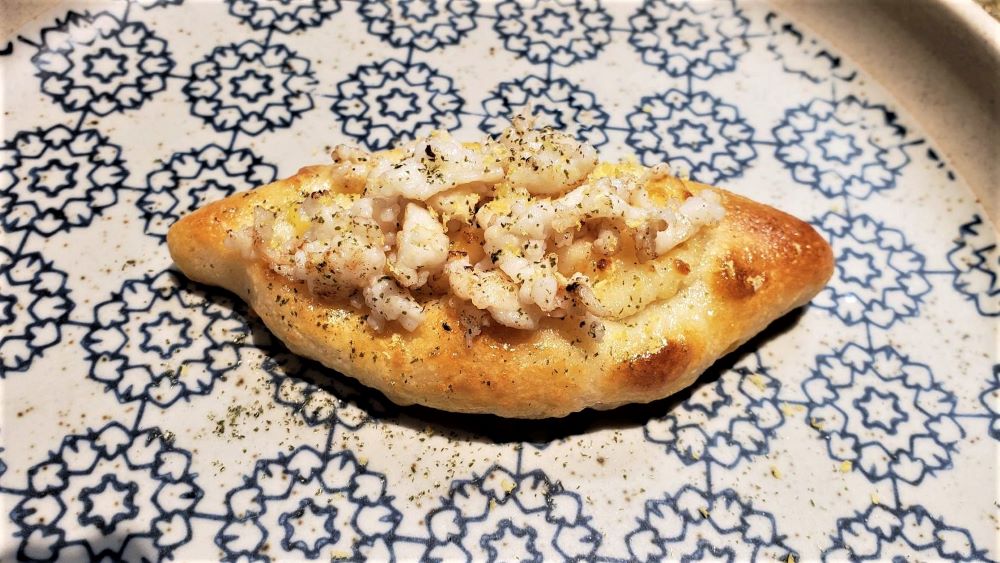 Moroccan Grandmother Soup
Lentils, Chickpeas, Herbs from the Garden (gluten-free, dairy-free, vegetarian, contains nuts)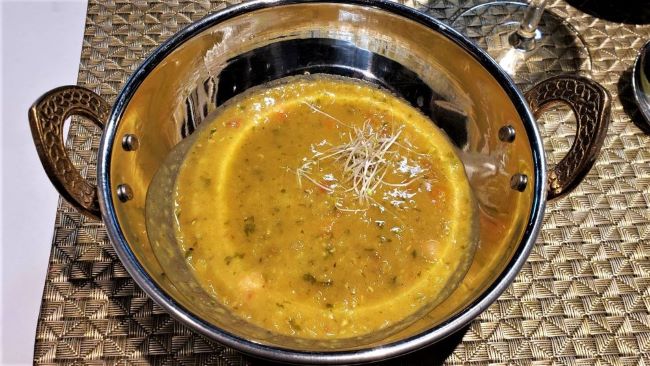 Middle Eastern Taco
Local Fish, Fattoush (hint: these are the salad ingredients) and Zhug (a hot sauce originating in Yemeni cuisine).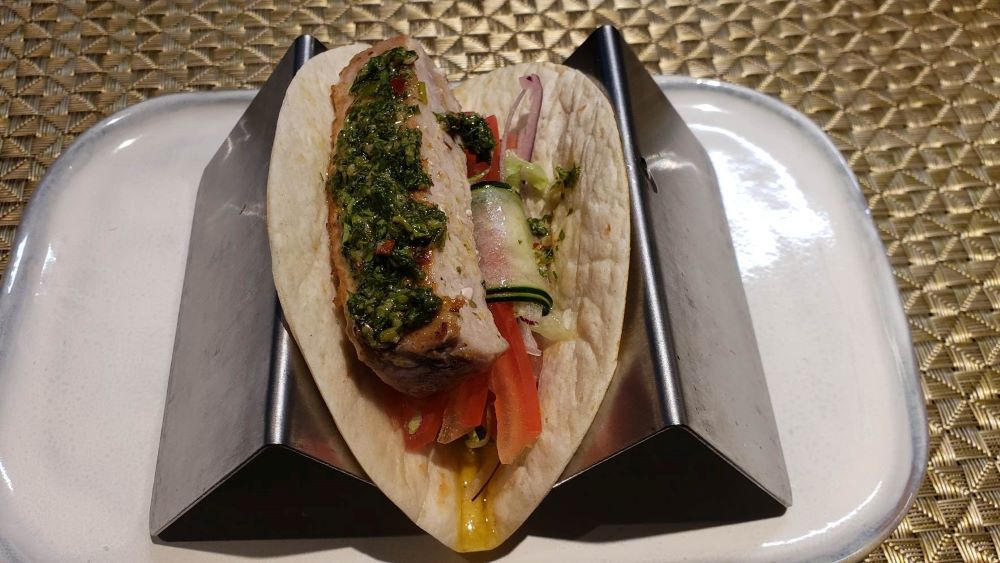 The Beef in the Middle Eastern Fog  
Jacks Creek Beef, Turshi, Fermented Lemon, Lavosh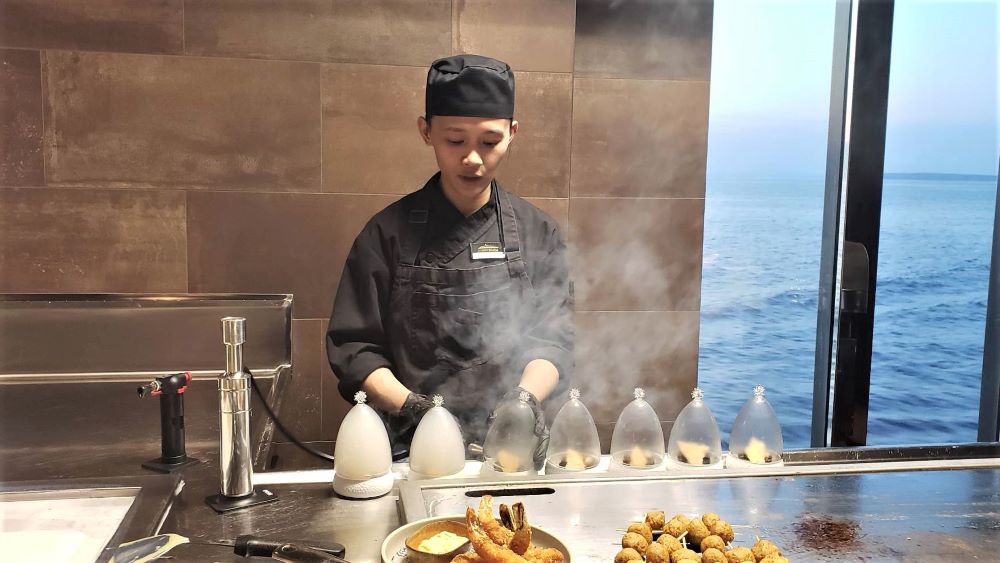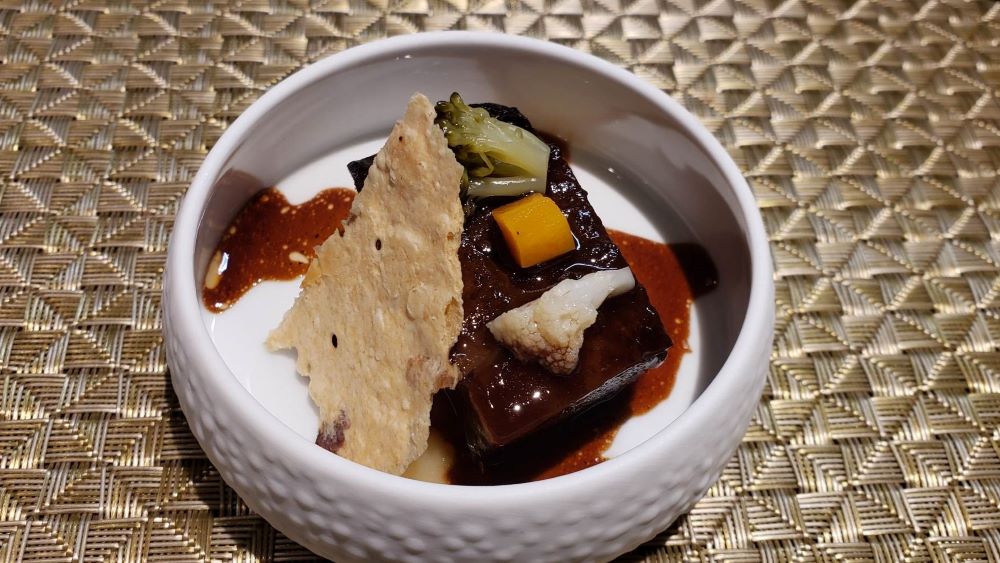 Falafel Tail
Chickpeas, Beetroot, Yoghurt (dairy-free, gluten-free, vegetarian).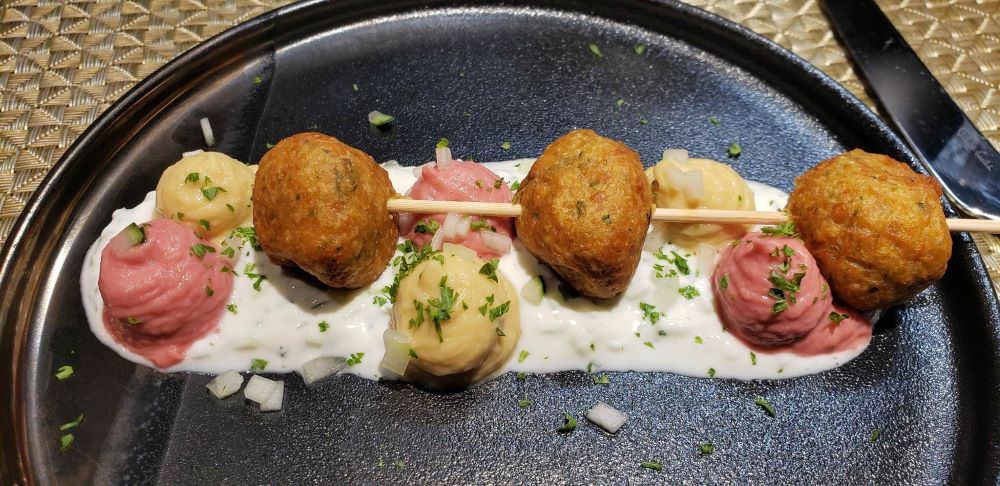 Arayes Quesadillas
New Zealand Lamb, Amba Sauce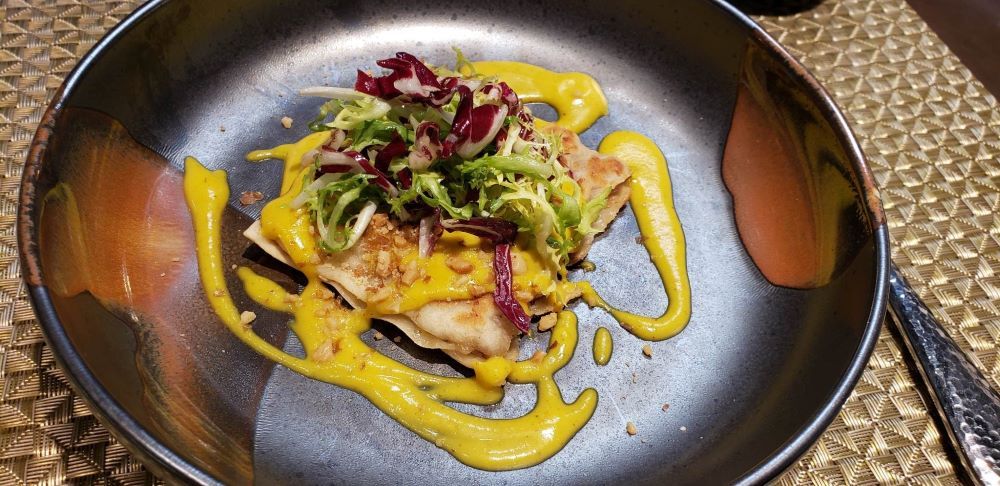 Baklava Upside Down 
Hot Honey Sauce, Pistachio
This dish "blew away" most of the diners on our evening at Night Market@Koko's. All we could hear were "oohs" and "aahs" as people downed this dessert. Personally, we'd say that it ranks among the most luscious desserts we've ever tasted.
Expect contrasts in crunchiness and smoothness, yummy pistachio creamy filling and roasted-on-the-grill pistachios.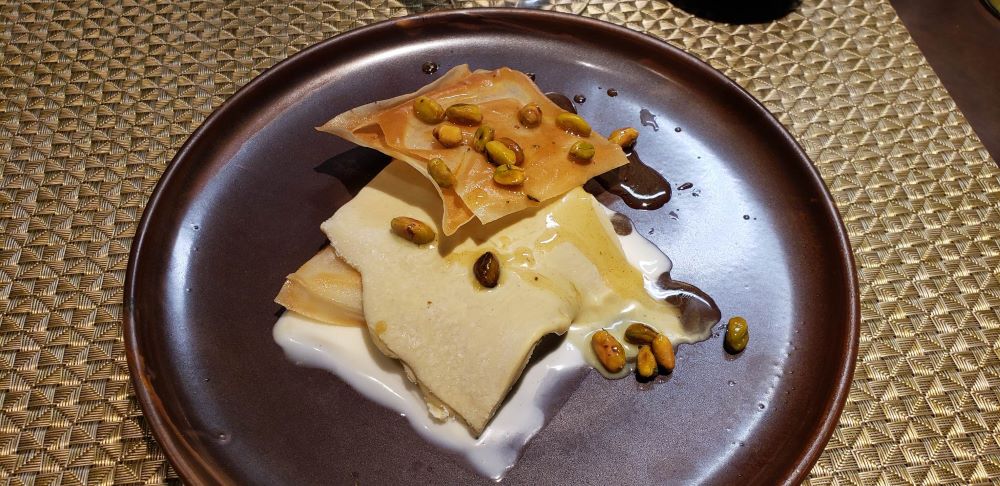 Scenic Eclipse II: 10 Dining Experiences
While we loved Night Market, keep in mind that's a highly intimate, limited-capacity restaurant experience. So, where are the main spots to chow down on Scenic Eclipse or Scenic Eclipse II?
"If you don't make it to Night Market@Koko's, you'll still enjoy a fabulous dining experience," says Shelby Steudle, president, Pavlus Travel. "The ship has 10 different dining experiences including Deck 4's elegant, 104-seat Elements, serving up continental cuisine and classic favorites."
There's also a tasting menu experience, Chef's Table at Elements. As with Night Market@Koko's, the Chef's Table experience is limited in capacity so book early. There are no fees for any of Scenic Eclipse II's dining areas.
As we mentioned earlier in this story, another main eatery on Deck 4 is the 26-seat Koko's with very tasty Asian Fusion dishes. Koko's also has an 18-seat Sushi@Koko's area near its entrance, plus a sake bar.
One deck up is Lumiere, a 35-seat, fine dining restaurant with French cuisine; it's open for dinner only and has a gorgeous Champagne bar.
On Deck 7 aft is the relaxed Yacht Club, which is a great lunch choice for its incredible selection of culinary dishes.
All day long through 6 p.m., Deck 5's Azure Bar & Cafe serves up light fare, tasty pizzas, salads, sandwiches and sweet treats. And 24-hour room service is also available.
Scenic Eclipse II: Discovering the World 
So enjoy your time aboard one of Scenic's two luxurious Discovery Yachts, sailing to the Arctic and Antarctica in summer and winter, respectively. Consider those "bucket list" experiences. Here's a previous blog offering tips for bucket-list adventures and how to make them happen.
Other times of the year, the yachts sail to the Mediterranean, Alaska, the Caribbean or the Pacific region too.
But whenever you sail, you'll dine well with high-quality, diverse cuisine. Whether you prefer Asian fare, French cuisine or classic favorite dishes, you'll find all those on Scenic Eclipse II.  Overall, we were quite impressed with the culinary offerings.
Contact your professional travel advisor or see the contact information below for more information about this all-inclusive product, itineraries, accommodations, pricing and more.
Important Information from Pavlus Travel
If anything tweaks your interest in this blog and you'd like to talk about a future vacation, please DO call us at 800-528-9300.
Definitely, if you have questions about specific pricing, brochures, savings, itineraries, dates of travel, accommodations, accessible options and so on, please contact us.
Again, call us at 800-528-9300 or visit and "live chat" at Pavlus Travel's official agency Web site.