If you've been there, done that on voyages across the globe, what's next? Chances are that you may not have been to the ends of the Earth where luxurious expedition ships venture. So, for five voyages that will provide a great adventure, check out our picks for "Best Expedition Cruises" to the Arctic or Antarctic below!
You've likely heard the line from 'The Wizard of Oz, a classic 1939 movie, as follows: "Lions and tigers and bears, oh my!" Well, for the Arctic, that's better said: "Polar bears and glaciers and whales! Oh wow!"
And for Antarctica, it's "penguins and seals and whales! Oh gosh!" Then, combine those elements with even more spectacular scenery.
Presto, here are five great options for "Best Expedition Cruises" to the Earth's two polar regions.
1. The Arctic with Seabourn
This week, The Meandering Traveler is sailing in the Arctic region on Seabourn's ultra-luxury expedition ship, the 264-passenger Seabourn Venture. It's a lovely polar explorer.
During this two-week journey around Greenland, we've viewed rugged, snowcapped mountains and green meadows. We've gazed at icy-blue glacial icebergs floating offshore and smaller ice floes in fjords.
Also, on our first day in Greenland, we spotted two reindeer and one musk ox grazing in the wild. Now, we're heading this week to the pack ice of eastern Greenland and hoping for polar bears!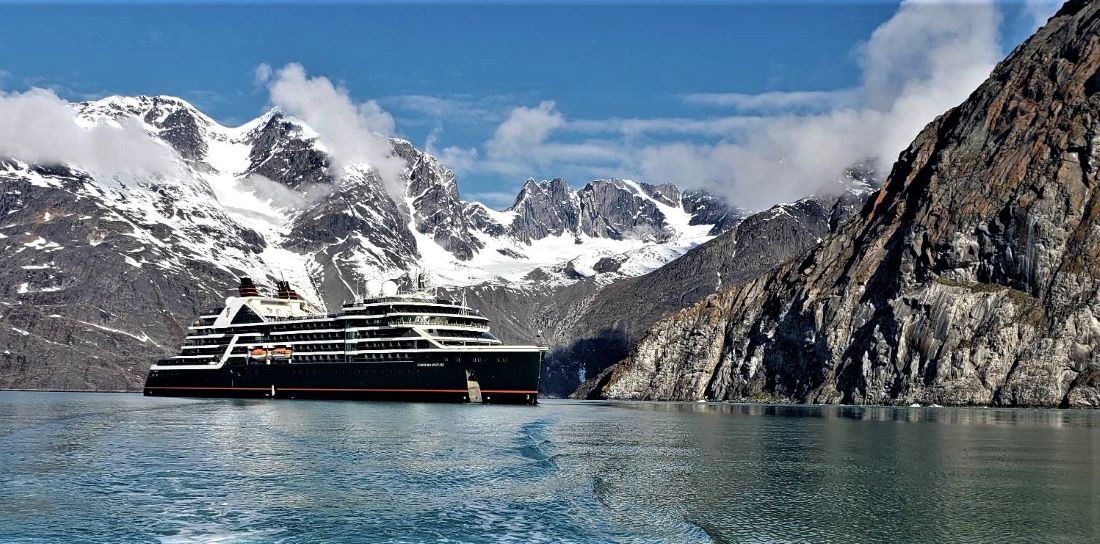 During an Arctic region cultural program in the ship's theater, we've also listened to Inuit tales and chants. We've watched traditional dancing by two local Inuit residents.
As explained in our blog of last week, culture is one thing that is quite different between an Arctic and Antarctica cruise. The Arctic has unique, diverse cultures with local inhabitants available to show and explain traditions.
Antarctica is uninhabited on a year-round basis. Only select scientific researchers visit at certain times of the year.
Eco-Highlight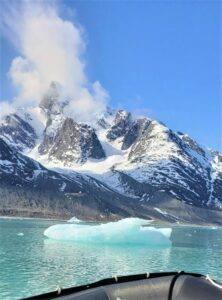 One gorgeous eco-highlight of our exploring off Seabourn Venture was a Zodiac cruise along the magnificent Eternity Fjord (see photo at right). There, we viewed a massive glacier and active rookery teeming with birds.
At another spot ashore during this itinerary, we gazed at Viking-era ruins.
Coming up, what cruise would we suggest? Check out this link with all the itinerary details for Seabourn's 15-day "Glaciers, Fjords & Indigenous Cultures" itinerary.
Departing August 30, 2024, roundtrip from Reykjavik, Iceland, it visits scenic destinations in both Iceland and Greenland.
This itinerary is priced from $13,999 per person, double occupancy. However, it's good to know that Pavlus Travel sells millions of dollars of cruises annually with Seabourn. So, the agency has unadvertised discount prices, plus it prides itself on top-notch customer service.
"Give one of our personal travel planners a call at 800-528-9300 for a quick quote," suggests Shelby Steudle, president, Pavlus Travel. "It's a great way to save yourself some money."
Plus, "you'll be well taken care of — with all details of the booking handled by one of our skilled personal travel planners," notes Steudle. For instance, check out a few of our recent blog profiles about Victoria Hill,  Lauren Riesenberger, and Jamie Roach.
2. Antarctica with Viking
As modern polar explorers, the 378-passenger Viking Octantis and sister vessel, Viking Polaris, offer a full winter 2023-2024 season of Antarctica sailing. We'd suggest looking at the 13-day "Antarctic Explorer" itinerary, operating on multiple dates between Buenos Aires and Ushuaia, Argentina.
Too soon? Well, these ships also operate the same itinerary in 2024-2025. So, you'll have plenty of departure date options. At press time, pricing started at $11,995 per person, double occupancy; prices are subject to change.
Guests will sail to/from Antarctica via the Drake Passage, enjoy scenic sailing off Cape Horn at the southern tip of South America, plus head out on expeditions during their time sailing along the White Continent. This itinerary is a "no brainer" as a best expedition cruise for our list!
To learn about whether Antarctica is a good expedition region for your personal travel style, though, and what you hope to see on vacation, check out our "Arctic versus Antarctic" blog of a few days ago.
Best Expedition: Pricing and Reading List
Most importantly, here's a link to Viking's "Antarctic Explorer" itinerary and other expedition details. At press time, fares for this cruise started at $11,995 per person, double occupancy; prices are subject to change.
Good to know? Through June 30, 2023, Viking is running a 25th anniversary sale that includes such features as up to free airfare, up to a $500 shipboard credit and a $25 deposit.
Definitely chat with your Pavlus Travel personal travel planner about the specifics of this offer and whether they apply for your Viking expedition cruise. Also, be sure to ask Pavlus about discounts, deals and more affordable contract air tickets that your advisor can possibly provide too.
Pavlus is one of the world's top sellers of Viking so its personal travel planners know the "ins" and "outs" of the cruise product. Then once you've booked your Antarctic journey with Viking, sit back, relax and let Pavlus handle the details.
That will give you time to "read up" on Antarctica. To learn more about the White Continent, the history of exploration there, geology and more, we'd suggest perusing this Viking reading list for booked guests and potential travelers.
3. The Arctic with Ponant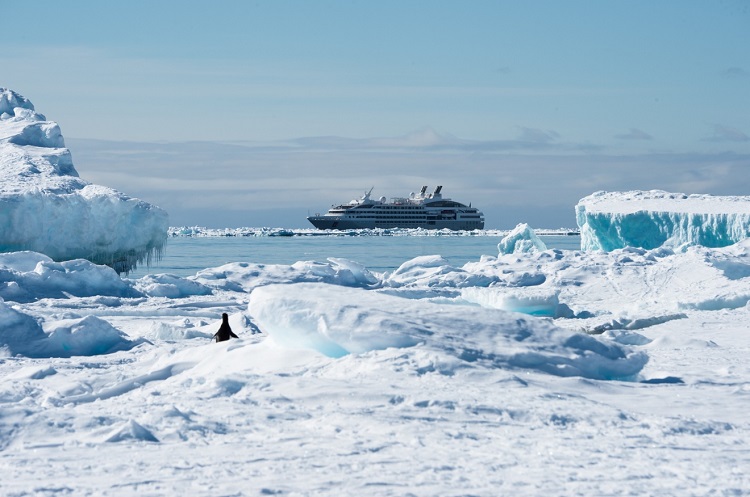 Departing May 28, 2024, guests can sail roundtrip from Reykjavik, Iceland, on Ponant to explore northeast Greenland's sea ice. Details are here for this 14-night itinerary.
At press time, pricing for this two-week journey started at $25,780 per person, double occupancy; prices are subject to change. Talk with your Pavlus Travel advisor about all the accommodations choices, great Pavlus "unadvertised" deals on the voyage and contract air options.
What's special about this Arctic cruise? First, the region that the ship explores is well-known as polar bear territory. Second, while all the ships mentioned here in this blog are polar-class, Le Commandant Charcot is a true icebreaker.
Powered by LNG (liquid natural gas), this polar-class vessel can carry up to 245 passengers. It's the latest, razzle-dazzle use of environmentally friendly technology.
Celebrating its 35th anniversary this year, Ponant also operates dozens of other Arctic expedition cruises. Here's a look at that website page for those who wish to check out the different itineraries.
4. Antarctica with Silversea
Just six months ago, The Meandering Traveler sailed within Antarctica's waters on the ultra-luxury Silver Endeavour.
Top takeaway? Guests will take plenty of Zodiac rides, beach walks or hillside hikes into adventure. But they will also "ooh" and "aah" at spectacular polar landscapes through expanses of glass while sipping a glass of wine or dining in the ship's lounges and restaurants.
That's because this gorgeous Silversea Cruises polar expedition ship is the "lap of luxury" inside. Just because guests have traveled to the southern end of the Earth doesn't mean that they won't have a stellar vacation with fine cuisine, wines and enrichment.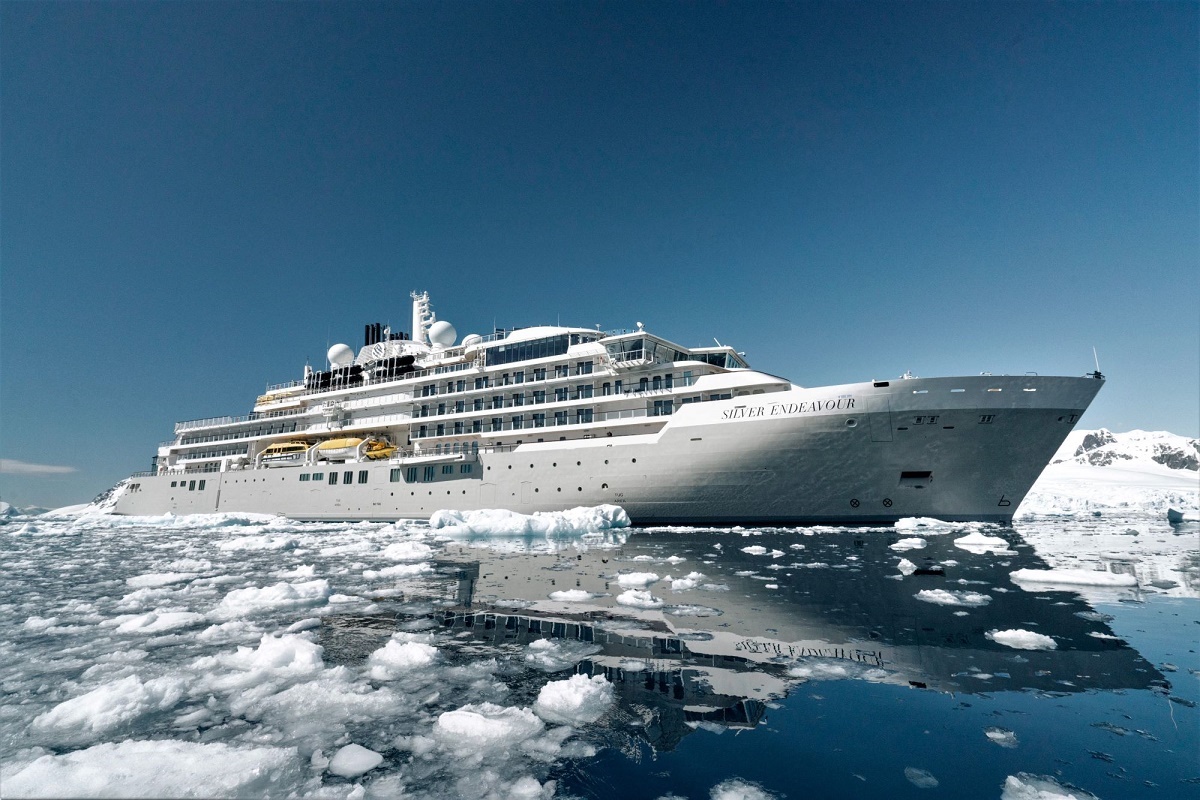 Carrying fewer than 200 guests in polar regions, Silver Endeavour is an agile explorer. The ship is easily able to navigate into remote coves and bays.
In addition, its high-tech global positioning system means that the ship doesn't need to drop anchor — and thus can protect sensitive seabeds and reefs.
Top highlight? During one of our expedition outings to Paulet Island, located off Antarctica's northeastern end, we astoundingly gazed at 100,000 pairs of breeding Adelie penguins, and other penguin species too.
As far as our eyes could scan, the penguins stretched along beaches and land. It was an unforgettable experience.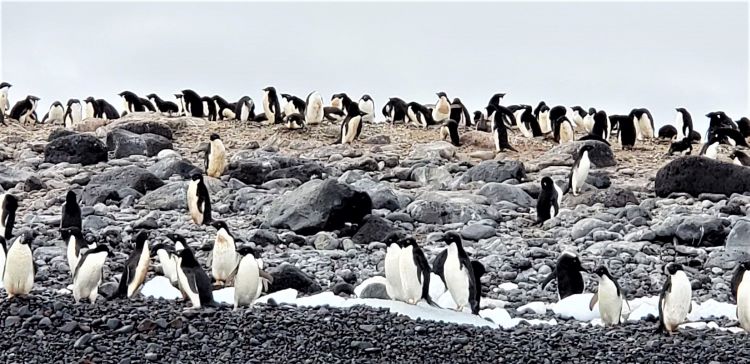 During our Silver Endeavour journey to other spots in Antarctica, we also viewed seals and humpback whales. Landing ashore, we hiked along beaches and admired the icy landscapes all around. It was Mother Nature at her best.
Drake or Not? 
To avoid the often-rough waters of the Drake Passage, some guests may prefer (as we did) to book Silversea's "Antarctica Bridge" sailings. Those operate roundtrip from King George Island in the South Shetland Islands.
Guests will fly from the U.S. to Santiago, Chile, spend the night in a hotel, then fly the next day to Punta Arenas, Chile. There they'll overnight, and the following day board a Silversea charter flight to King George Island.
After a short shuttle ride from the island's gravel airstrip to the beach, guests will spot Silver Endeavour just offshore. Then, they'll board a Zodiac for a short ride to the ship.
From there, the six-day voyage is "all Antarctica." Here's the link to this enticing Antarctic itinerary.
At press time, cruise fares started at $16,800 per person, double occupancy, for what Silversea calls "port-to-port" fares that include the charter flights between Punta Arenas and King George Island.
Or, for many more inclusions, the line's all-inclusive "door-to-door" fares started at $21,800 per person, double occupancy. Talk with your travel advisor about the differences, value and any added deals the agency may have.
Drake Shake, Drake Lake
Or, for "bragging rights" about surviving the "Drake Shake" (at times the "Drake Lake"), depending on the volatility or not of ocean waters in the iconic Drake Passage, consumers can opt for Silversea's roundtrip sailings from Puerto Williams, Chile.
Here's a link to one Silversea itinerary that includes a Drake Passage transit.
Pricing of the voyages that sail roundtrip from Punta Arenas started (at press time) at $8,850 per person, double occupancy, for port-to-port service. Alternatively, for those seeking more inclusions, the door-to-door, all-inclusive fares began at $12,600 per person, double occupancy.
Silversea also offers some point-to-point journeys between King George Island and Chile. Overall, the schedule is diverse.
"We sell millions of dollars each year with Silversea Cruises," notes Pavlus Travel's  Steudle. So, if you're seeking unadvertised discount pricing and great service, contact us and we'll discuss all the Silversea expedition cruise options."
5. Antarctica and the Ross Sea with Scenic
Sailing to the White Continent, Scenic Group's "Discovery Yacht," the new Scenic Eclipse II, will sail an unusual itinerary in the East Antarctic and Ross Sea region in late 2024 and early 2025. Three departures are planned.
The 25-day "Mawson's Huts & Commonwealth Bay, Australia's Antarctic Expedition" will sail between Queensland within the Milford Sound fjord on New Zealand's South Island, and Hobart, Tasmania.
Most notably, guests will head to areas explored by Douglas Mawson, Robert Scott and Ernest Shackleton. Mawson was a South Australian geologist who, after returning to Australia following traveling to Antarctica with Sir Ernest Shackleton, decided that the East Coast of Antarctica, also known as "Adélie Land" was virgin territory.
So, this voyage will navigate through icy landscapes as it "follows" the route of Mawson's Antarctic expedition. We particularly like this itinerary as an in-depth experience, as it travels to Mawson's Huts at Cape Denison. That's in Commonwealth Bay in the far eastern sector of the Australian Antarctic Territory.
Weather permitting, cruise guests can visit Mawson's complex of historic structures — one of only six surviving from the "Heroic Age of Antarctic Exploration."
1911-1914 Australasian Antarctic Expedition
The buildings were built and occupied by the Australasian Antarctic Expedition of 1911–14, which was led by Mawson. Guests are able to visit inside some structures.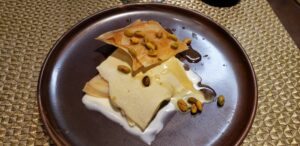 Scenic notes that guests on that sailing will be among just a few making it that far south on Earth each year. The landscape also teems with seabirds, penguins, whales and seals. 
At press time, this multi-week cruise (nearly a month) was priced from $34,700 per person, double occupancy; pricing is subject to change.
Savory Dining Too
Beyond the itinerary, comfortable accommodations and luscious onboard dining awaits on Scenic Eclipse II. Guests enjoy main dining rooms that serve either Mediterranean/classic dishes or Asian specialties.
Plus, there are specialty dining experiences such as Lumiere or Chef's Table. One of our favorite options (covered in a recent blog) is the themed "tasting menu" Night Market experience.
Usually, it's themed around a particular type of cuisine, such as Asian, Middle Eastern, Filipino or Indian. Eight guests only enjoy an intimate dining experience — and chatting with the chef — while watching the culinary action in an open galley.
More High-Quality Expedition Lines 
Many more expedition brands also offer excellent voyages in the Arctic or Antarctic regions. Among those are
Talk with your Pavlus Travel advisor about which expedition line and itinerary fits best for your travel style, budget and vacation personality.
Is the Arctic with its polar scenery, wildlife including polar bears, and cultural traditions of indigenous peoples the best bet? Or, would Antarctica, the White Continent, with penguins galore be more your style?
Whichever you choose, you'll set out on a bucket-list journey to adventure at the end of the Earth.
Important Information from Pavlus Travel
If anything tweaks your interest in this blog and you'd like to talk about a future vacation, please DO call us at 800-528-9300.
Definitely, if you have questions about specific pricing, brochures, savings, itineraries, dates of travel, accommodations, accessible options and so on, please contact us.
Again, call us at 800-528-9300 or visit and "live chat" at Pavlus Travel's official agency Web site.