Seeking to indulge your inner gourmand and set sail at the same time? Culinary and wine enthusiasts will likely love that two luxury cruise lines — Regent Seven Seas Cruises and Atlas Ocean Voyages — have just announced new epicurean delights at sea.
Let's look at what we know so far. Regent Seven Seas has introduced "Epicurean Perfection" while Atlas (see photo above by Atlas Ocean Voyages) has rolled out a sneak peek at its new "Epicurean Expeditions." For 2023 and beyond, cruisers have some fantastic new options for gourmet cruises.
Regent Seven Seas: Epicurean Perfection
"Nothing enhances travel like cuisine," believes Andrea DeMarco, president and CEO, Regent Seven Seas Cruises, in talking about the new Epicurean Perfection" programming.
The new concept features multiple culinary threads — everything from exquisite cuisine in up to five specialty restaurants to immersive shoreside excursions, private fine wine and spirit tasting sessions, and hands-on cooking classes within the line's state-of-the-art Culinary Arts Kitchen.
Guests can expect other demonstrations, talks, presentations and more. In fact, look for this new program to go beyond traditional culinary offerings found at sea. Most notable? The line is introducing 11 new Epicurean Spotlight Voyages.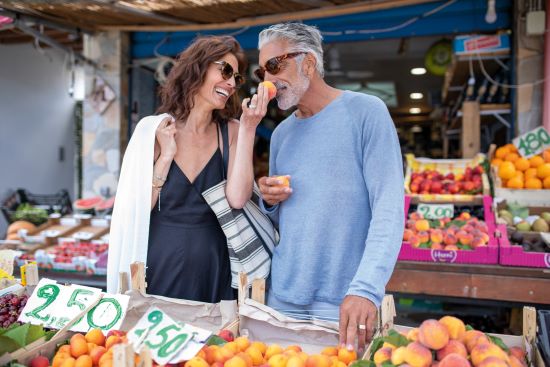 New Epicurean Spotlight Voyages
We'd definitely encourage foodies and wine aficionados to check out these Epicurean Spotlight Voyages for 2023, 2024 and 2025. As the first of several culinary initiatives to be launched this year, they'll deliver incomparable experiences with famous chefs, vintners and sommeliers.
You'll find these on select voyages of Seven Seas Grandeur, Seven Seas Splendor, Seven Seas Explorer, Seven Seas Mariner and Seven Seas Voyager.  Since this news was just released, we don't have the full picture, but below are some highlights. Also, here's the RSSC press release.
Epicurean Cruises: 2023 Alaska  
In Alaska this summer, two savory Epicurean Spotlight Voyages are planned. Chef Mark Bittman and RSSC's Executive Culinary Director Wolfgang Maier will join Seven Seas Explorer's June 21, 2023 sailing from Seward, AK, to Vancouver, B.C.
During another gastronomic voyage between those two ports on August 30, 2023, guests will hear from Chef Vincent Guerithault, a James Beard award winner. He'll share his secrets and recipes from his award-winning restaurant Vincent on Camelback, in Phoenix, AZ.
Both cruises are seven-night voyages with port calls at Sitka, Skagway, Juneau and Ketchikan. The ship will also cruise to the Hubbard Glacier and spend a day at sea.
After two-for-one discounts have been applied, starting fares at press time were $6,999 per person, double occupancy, for the August 30 voyage and $7,399 for the June 21 departure; pricing is subject to change.
Contact your travel advisor for booking and to learn about any discounts or promotions.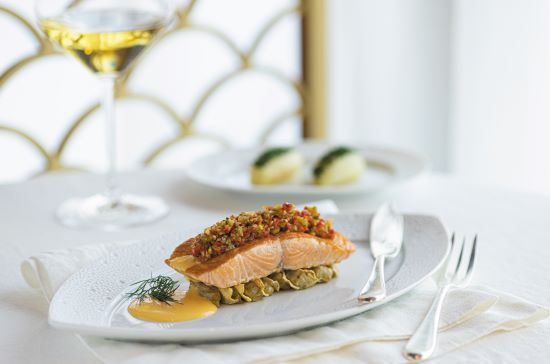 Epicurean Spotlight Voyages: 2023 Mediterranean
If travelers prefer a Mediterranean culinary experience, on August 14, 2023, they can board Seven Seas Mariner in Civitavecchia (Rome), Italy, for an Epicurean Spotlight Voyage to Fusina (Venice), Italy.
Following in his late father Michel Roux's culinary path, Chef Alain Roux leads the Waterside Inn restaurant, holder of three Michelin stars for 38 years. That's the longest of any restaurant in the world outside France. During this gastronomic voyage, Chef Roux will offer cooking demonstrations and special dishes.
He'll be joined by Chef Michael Nizzero, chef instructor at the Waterside Inn, who also will share insight. Guests will learn about the daily operations of running a Michelin-star restaurant.
At press time, prices for this August 14 voyage started at $12,599 per person, double occupancy; pricing is subject to change. Given Chef Roux's reputation within culinary circles, this is one Epicurean Spotlight Voyage that is likely to book up quickly. So, talk with a professional travel advisor today if you're interested.
Master Sommelier Doug Frost
Separately, Seven Seas Splendor will operate a 12-night Epicurean Spotlight on Wine sailing with Master Sommelier Doug Frost on October 8, 2023. The voyage will sail from Tarragona (Barcelona) to Fusina (Venice). Guests will have the opportunity to learn from a true expert in wine.
Frost's claim to fame? Interestingly, he's one of only four people globally to simultaneously hold the Master of Wine and Master Sommelier titles. Frost will host several events on board and ashore; those will include a tasting class, informative presentations, and escorted tours.
Venturing ashore with Frost, guests who are die-hard wine enthusiasts will savor high-quality wine tastings in Tuscany, Italy; Aix-en-Provence, France; and Koper, Slovenia.
Interested? Pricing at press time started at $14,099 per person, double occupancy. A personal travel planner can help sort out all the details and discuss any discounts or promotions.  
For example, in one recent blog, The Meandering Traveler profiled Jamie Roach, a personal travel planner for Pavlus Travel.
2024 Epicurean Cruises with a Wine Spotlight 
Several 2024 Epicurean Spotlight on Wine sailings are also planned; travelers will enjoy onboard presentations, and tours and tastings ashore:
Winemaker Joe Caldwell of Caldwell Vineyard in Napa Valley, CA, will sail aboard Seven Seas Voyager between Buenos Aires and Rio de Janeiro on March 9, 2024.
Winemakers and proprietors Jack and Ann Seifrick of CAST Wines in Sonoma, CA, will sail on a Seven Seas Splendor voyage between Barcelona and Civitavecchia (Rome) on April 14, 2024.
Ed and Adam Sbragia of the Sbragia Family Vineyards will mix and mingle with guests during a Seven Seas Voyager sailing that departs May 8, 2024. This epicurean journey begins in Istanbul, Turkey, and ends in Athens (Piraeus), Greece.
Epicurean or Wine Cruises with a Unique Twist
On August 14, 2024, Los Angeles-based Chef Tommaso Barletta and actor and comedian John O'Hurley will sail on Regent Seven Seas' new Seven Seas Grandeur. The 10-night culinary-focused cruise will sail from Piraeus, Greece, to Barcelona, Spain.
Together Chef Barletta and O'Hurley will host everything from cooking demonstrations to escorted tours. An added treat? Guests will have the opportunity to watch a special performance of O'Hurley's one-man show, "A Man With Standards."
Separately, on March 31, 2025, the line will host an Epicurean Spotlight with ZAP: Zinfandel Advocates and Producers, on Seven Seas Explorer's roundtrip cruise from Tokyo, Japan. California-based ZAP is a members-only organization dedicated to preserving and celebrating all things Zinfandel.
That club consists of winemakers, preservationists and Zinfandel enthusiasts. Look for members to host special tastings and educational master classes.
Use the "date links"provided above to learn more about these specific voyages. We'd suggest chatting with a skilled personal travel planner who can discuss any current deals and discounted contract air tickets.
More on Gastronomy and Wine 
It's important to note that Regent Seven Seas has also introduced several other Epicurean Spotlight Voyages. All feature renowned guest chefs and vintners. This blog has provided a sampling of the voyages above, but for more options, check out this page on the line's website.
Beyond those voyages, the line's Epicurean Perfection experience offers other culinary elements too. Among them are these:
"Unrivaled Cuisine" that goes beyond the inclusions of most specialty restaurants on any luxury or premium cruise brand. Onboard a Regent Seven Seas ship, special tastings, deck-top regional barbecues and cooking classes are among the ingredients for memorable culinary experiences.
Epicurean Explorations, which will take guests shoreside to

explore historic markets, sample beverages, observe traditional cooking methods and taste local specialties.

Epicurean Explorer Tours, which will take cruisers to a world-class restaurant, ancient market or other culinary spot. Then, guests will return to the ship to participate in Culinary Arts Kitchen classes (see photo below) on Seven Seas Grandeur, Seven Seas Splendor, and Seven Seas Explorer.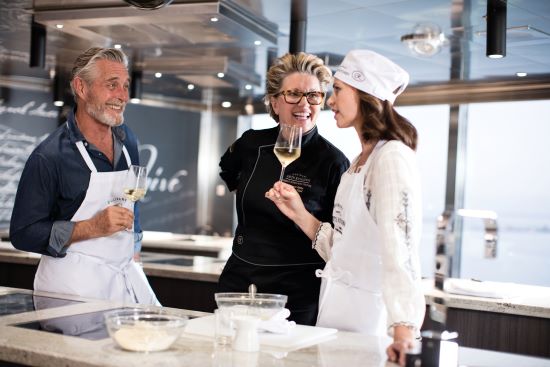 Wine & Spirits Tours, allowing guests to taste

beverages produced in the region being visited — cascading vineyards in France or a distillery in Ireland.

Food & Wine Tours, which are conducted by

culinary professionals in partnership with "Food & Wine Trails."

Local Flavors Tours, giving guests a chance to dine authentically in the spots the locals love.
Epicurean Land Programs, which are pre- and post-cruise land trips

that dive deeper into a region or destination, with a focus on unique flavors and culinary heritage.
For more information, visit the Regent Seven Seas Cruises website.  And be sure to chat with a personal travel planner who can answer your questions and help you find the perfect epicurean adventure. 
Atlas Ocean Voyages: Epicurean Expeditions
Also on the gourmet dining front, small-ship Atlas Ocean Voyages just announced new Epicurean Expeditions, which will run from April through October 2023.
While the luxury expedition line's 198-passenger World Traveller and sister World Navigator visit such remote, polar destinations as Antarctica and the Arctic, now they'll also offer culinary-focused sailings to iconic, marquee European ports. 
"We specialize in expeditions that provide insights, indulge the senses, and inspire discussion among like-minded travelers," says James Rodriguez, the line's president and CEO. "With the addition of our new Epicurean Expeditions, discerning explorers can now truly immerse themselves in the culinary culture of European ports, while cruising aboard a luxury yacht."
Epicurean Cruises: Gastronomic Guests
What can you expect if you sail? Look for the new sailings to feature onboard enrichment by a Gastronomic Guest, who might be a renowned chef from a Michelin-starred venue or a local culinary rock star. In addition, all voyages will offer regional wine tastings from a Visiting Vintner.
Restaurant menus will highlight the Gastronomic Guest's signature dishes, and the guest chefs will also conduct cooking demonstrations. So, culinary enthusiasts can take home recipes from the presentations — and then make the yummy dishes at home too.
Along with the ship's executive chef, the Gastronomic Guest will also participate, in the Yachtsman Cookoff. That's Atlas' version of a culinary "ironman" competition.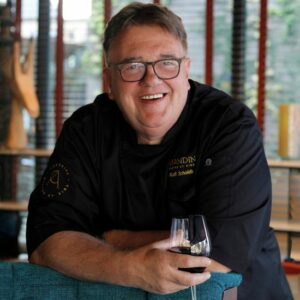 Gastronomic Guests will also accompany culinary-focused Cultural Immersion tours ashore; those will be complimentary for Epicurean Expeditions. So, guests might sample tapas in Barcelona or explore a farmer's market in Corsica.
Or, we personally love the thought of shopping with the Gastronomic Guest for chocolates and wine along Italy's Cinque Terre.
Chef Rudi Scholdis
One famed 2023 Gastronomic Guest is Chef Rudi Scholdis. He'll sail on World Traveller's Epicurean Expeditions from April 15 to May 31 and from July 15 to August 15. He'll also sail with guests on World Navigator in September and October 2023.
Scholdis has cooked alongside such culinary luminaries as Alain Ducasse and Charlie Trotter. He also learned from his lifelong mentors Willy Elsner and Anton Mosimann. The celebrity chef owns two gourmet restaurants in Chile.
One is Amandine Bistro et Vins in Santiago. The other is Casa de Amalia, which opened last year in the Maule wine-producing region. Prior to that, he was affiliated with luxury cruise lines for more than 17 years.  The Belgian-born Scholdis also has a history of cooking at Michelin-starred venues in Europe.
New Alma Alfresco Experience
Atlas also has another savory new option for gastronomy fans. Those traveling on Epicurean Expeditions can dine at a new open-air dining concept called Alma Alfresco. It's located in an outdoor area aft of the main restaurant and is complimentary for guests.
"Particularly appealing  is that Alma Alfresco's wine-pairing menu will offer an authentic Portuguese dining experience," says Shelby Steudle, president, Pavlus Travel. She adds that "it's an ode of sorts to the line's heritage." That's because while Atlas is a yacht expedition brand headquartered in Fort Lauderdale, FL, it's owned by Mystic Invest Holdings, which hails from Portugal.
Epicurean Cruises: Traditions from Portugal
Guests can expect this new culinary experience to feature Portuguese recipes passed down for generations and prepared using artisanal techniques, cookware, and traditional ingredients. "Alma means soul in Portuguese and our new venue showcases the gastronomic soul of Portugal," emphasizes James Rodriguez, Atlas' president and CEO.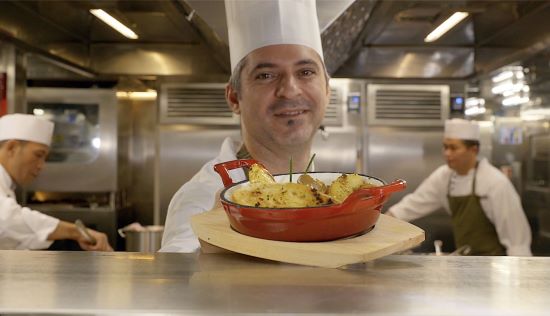 So, what's to savor? Menu items may include Polvo à Lagareiro from Santa Luzia. That's a dish of oven-roasted octopus and potatoes in a bath of olive oil and roasted garlic, from Santa Luzia. Or, guests might taste Alheira de Mirandela, traditional Portuguese sausage, sauteed radish greens and potatoes. It originated in Mirandela.
The meal will also deliver the sweet taste of Torta de Azeitão from Setubal. That's a delicious, rolled sponge cake dessert filled with egg custard cream.
For more information on Atlas, here's a link to the Atlas Ocean Voyages' website. 
"But when it's time to sort out the accommodations choices, decide about pre- and post-cruise options and secure the latest discounts or promotions, be sure to contact a professional travel advisor," suggests Pavlus Travel's Steudle. "A personal travel planner is an invaluable resource and you'll also get great service."