Sailing into Heimaey, one of Iceland's Westman Islands, cruise guests will gaze "close up" at jagged mountains rising dramatically from the harbor's edge. Hardened lava blankets the hillsides around town. Most notably, on the island's sea cliffs, travelers will gaze at cute, black-and-white Atlantic Puffins.
In fact, during the summer nesting season, the Westman Islands (also known as Vestmannaeyjar) are home to eight million Atlantic Puffins!  That's the world's largest population of those birds. (See photo above by Jason Leppert.)
Recently, The Meandering Traveler traveled to Heimaey during Seabourn's 50-day "Vikings and Volcanoes" itinerary. We sailed on the 264-passenger Seabourn Venture roundtrip from Reykjavik, Iceland's capital city, to ports in Iceland and Greenland.
At Heimaey's small pier, we ambled ashore for Seabourn's easy-peasy, half-day "Heimaey Island and Reception Experience" excursion. More adventurous options were offered too, but we liked the laid-back, easygoing nature of this shore trip. It was also a great way to see incredible scenic beauty.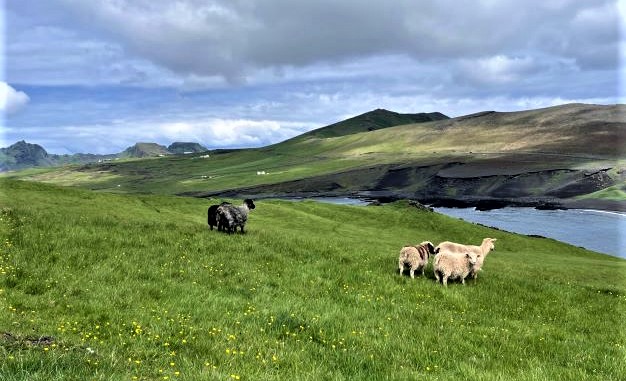 Volcanic Sites, Cute Puffins
As the coach motored through town, our local, 19-year-old tour guide explained what happened 50 years ago. On January 23, 1973, a devastating volcanic eruption occurred unexpectedly in the middle of the night.
The island's 5,000 residents — including our guide's grandmother — awakened to the terrifying sight of hot volcanic lava flowing through town and hot ash raining down on the buildings.
Fortunately, the entire population was safely evacuated by the island's fishing fleet to the Icelandic mainland.
U.S. troops and Icelandic rescue services responding to the eruption pumped seawater atop the flowing lava. That hastened its hardening, which ultimately saved the harbor from filling up with lava. That also saved the isle's economy.
Returning months later, though, residents found more than 400 structures destroyed, or about half the town under lava and ash.
"That explains why Heimaey is often characterized as "The Pompeii of the North," explains Shelby Steudle, president, Pavlus Travel. "But that's just one of its big draws for travelers.
Cute Puffins and Scenic Views Draw U.S. Visitors
As a nation, Iceland is highly popular with U.S. travelers. For instance, the Icelandic Tourist Board reports that more than 42 percent of the nation's travelers during June 2022 were Americans.
During our daytime excursion at Heimaey, we discovered a vibrant island culture, friendly locals, and, not surprisingly, a hefty respect for Mother Nature's power.
As our motorcoach tour traveled along the island's country roads, we gazed at towering sea cliffs, Viking-era ruins, a reconstruction of a Viking house, and a landscape with Atlantic Puffins. Here's a look at our experience and how you can get to Heimaey on a cruise or tour.
Viking Ruins
As is true in most spots throughout the world, the pleasure of touring Heimaey is as much about meeting the locals as seeing the attractions. As our motorcoach traveled out of town, our enthusiastic tour guide (born on the island) championed the community's "all in" passion for sports.
We peered out the coach's windows to see a stadium grandstand full of people. They watched as dozens of energetic school groups competed in a soccer tournament.
Farther along the roadway, we passed a golf course with views of the ocean, cliffs and lava-hardened scenery. Our excellent guide acknowledged that he – as with many others on the island – wears several hats. He also works as a golf course groundskeeper.
One day, after putting the course in great shape as a big tournament was ready to start, he and a fellow groundskeeper looked out to see wildlife wreaking havoc within the sand traps. The duo weren't happy as they raced to quickly put the traps back in shape.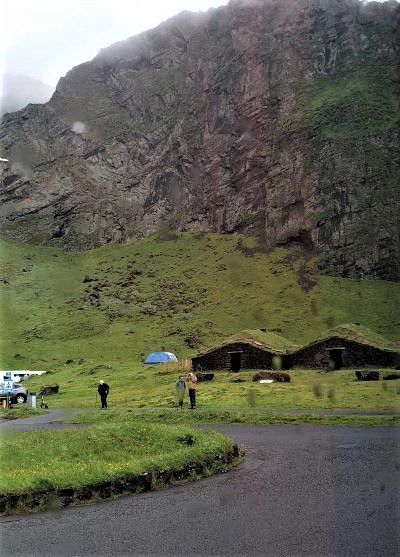 Our guide's passion for his island and his colorful tales about everyday life on Heimaey certainly added to our tour experience. But the discussion about sports in Heimaey's modern era then gave way to history.
Driving through the Herjolfsdalur valley, we could see the basic foundations of Viking houses dating to the year 900 A.D.
Nearby, our guide pointed out the reconstruction of several sod-roofed Viking homes. Cruise guests popped off the coach for a 15-minute stop. It was a quick dip into the history of how the Vikings lived back in the day.
Scenic Views and Cute Puffins
Our coach also motored along on a scenic drive to Cape Storhofdi (Great Cape), where we enjoyed magnificent views out to sea and over the island.
Passing through Skansinn, one attraction is the wooden church donated to the people of the Westman Islands by Norway – commemorating the millennium of Christianity in Iceland.
Top highlight for many on our coach? That was a stop for tour goers to head along a cliffside path in search of cute puffins. The reward was viewing those Atlantic Puffins in the wild. In summer, tourists also may spot whales in nearby waters.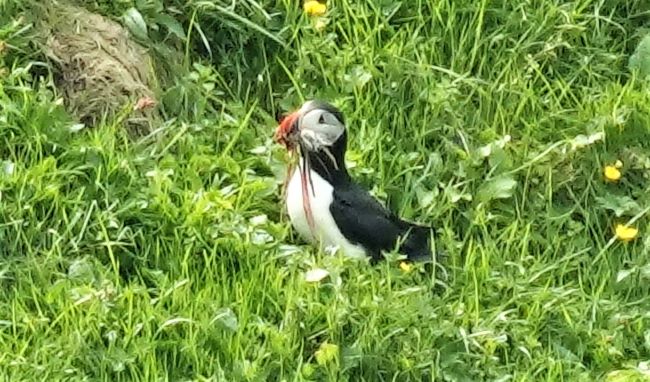 Tip? Bring binoculars. Seabourn nicely provided those aboard for its guests' use. It's the best way to get up-close views of the bird life perched along and atop the Heimaey cliffs. Let's just say they're very cute.
However, our guide also explained that the puffin chicks — called pufflings — often learn to fly at night. Their parents have stopped feeding them, hoping to spur them to leave the nest.
Cute Puffins (and Baby Pufflings) Take Flight 
Instinct tells the baby puffins to fly toward the moon to reach the ocean for food. But as they take off in August and September for the first time, many mistake the night-time lights of Heimaey's town for moonlight.
So, unfortunately, the little birds often end up helpless and confused on town streets. Fortunately, in what's become a summer tradition, local children head out with their parents on a rescue mission.
The families take in the recovered pufflings and care for them overnight. If the birds are in good shape, they're released back into the wild the next day. Here's one story and video about the tradition of families working to save baby pufflings.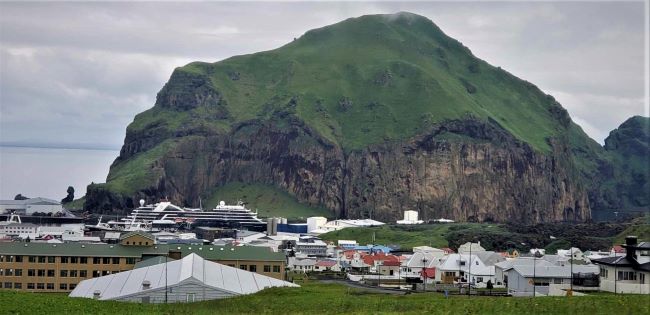 Eldheimar Museum
Puffins aside, though, the Eldheimar Museum is a top island highlight. It was the popular last stop on our Seabourn island tour. This museum of remembrance is positioned atop and around the remains of homes covered by ash or lava in the 1973 eruption.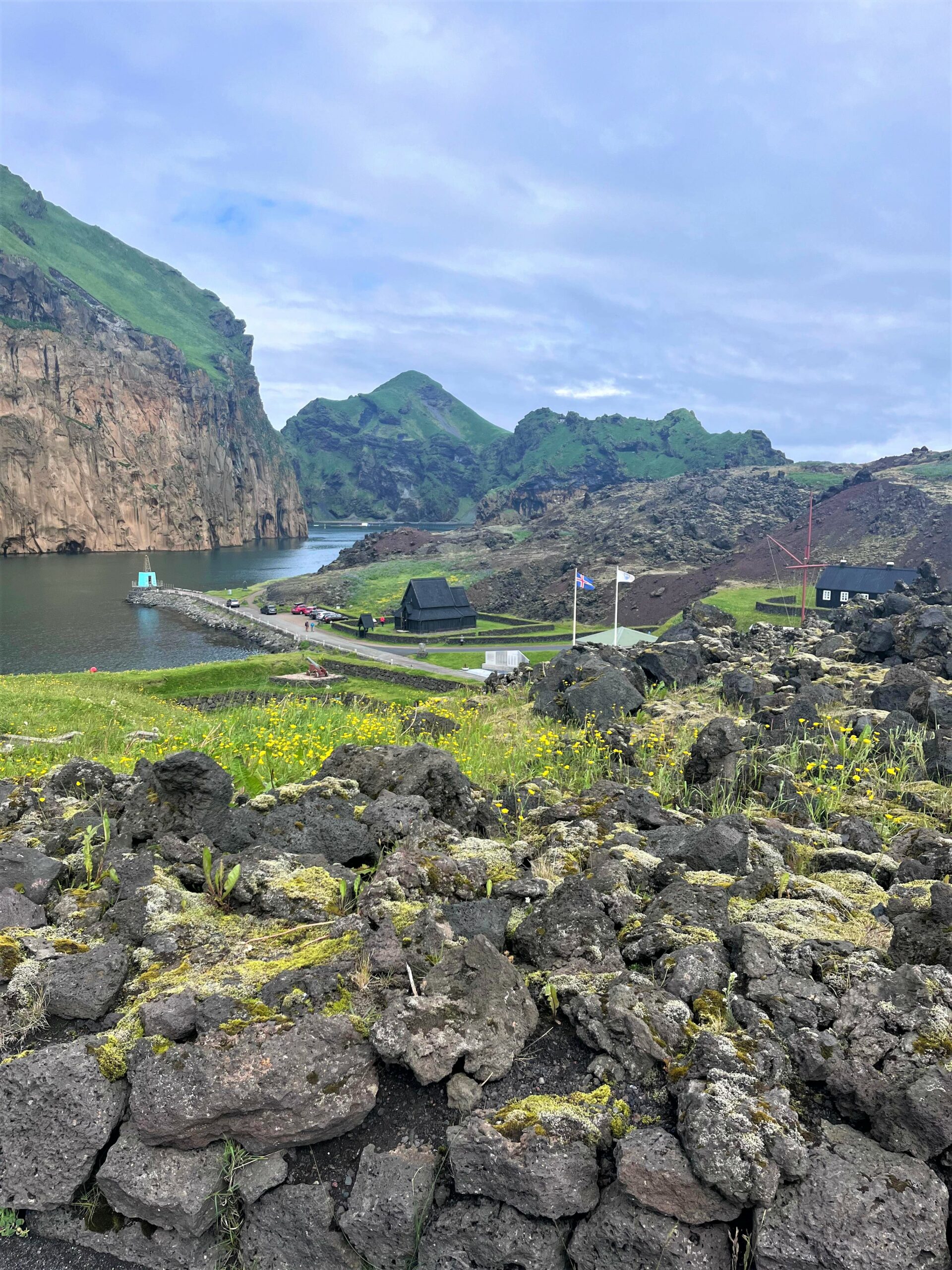 Today, the "new" volcano, Eldfell, is visible nearby – soaring nearly 780 feet into the sky. But the town has rebuilt and life goes on.
That said, 50 years after the volcanic crisis in town, the Eldheimar Museum tells – and better yet, shows – the story of the eruption's impact on the lives of local residents.
Geroisbraut 10
The highlight is Geroisbraut 10, the former home of Gerour Siguroardottir and Guoni Olafsson and their three young children. The youngest was only a few weeks old when the family– grabbing only a bottle for the baby — quickly fled their home in the middle of the night.
Their home was consumed by ash and lava. Now excavated (with the museum positioned atop it), Geroisbraut 10 is an eerie remembrance of the power of nature.
Inside, visitors will receive an audio guide with tales about the history, events and tales of the eruption day. Excellent hands-on displays center around the excavated Geroisbraut 10 structure.
It's a fascinating look at what happened that day in history. During our shore excursion, Seabourn also hosted tour goers for a Champagne reception atop the museum.
After the tour concluded, we reboarded the motorcoach for a 10-minute drive back to the pier. Alternatively, some guests chose to walk back.
Exploring Heimaey: Cruises and Tours 
So, how do you get to Heimaey if you desire to see and explore the island? Here's a trio of upscale cruise-and-tour options.
Many more cruise ships and tours also take guests here. Plus, independent travelers can reach the island via a half-hour ferry ride from the southern Iceland coast.
Trio of Itineraries 
Seabourn's Expeditionary Journeys
Looking ahead, one enticing 2024 option is Seabourn's 15-Day "Spectacular Svalbard & Greenland" itinerary on the 264-passenger Seabourn Venture. The line also offers many other Arctic region itineraries that include Heimaey.
Believe us, we just spent two weeks on this ultra-luxury vessel and loved the crew, cuisine, expedition product and enrichment. We also sailed on this ship last fall, and here was the blog post about the ship.
The itinerary mentioned above departs from Oslo, Norway, to Reykjavik, Iceland, on July 10, 2024. At press time, fares started at $15,299 per person, double occupancy. All pricing in this blog is a "sampling" and subject to change.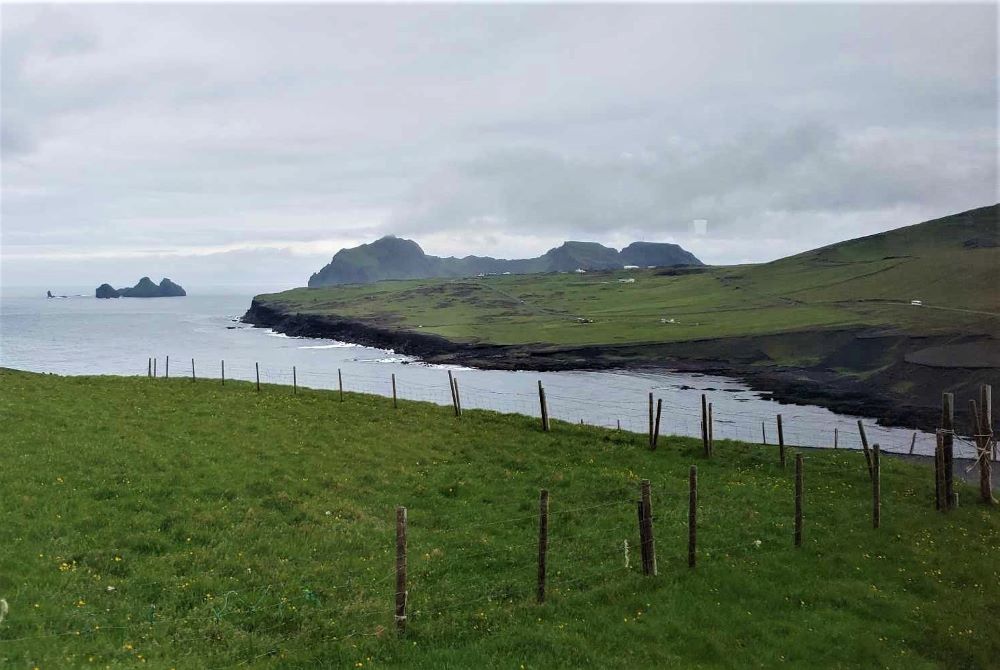 Tauck Sails Around Iceland
For those seeking a bit shorter trip, check out Tauck's eight-day, small-ship "Iceland" itinerary at this link. Accompanied by a Tauck tour director and a wildlife naturalist, guests will sail on Ponant's 184-passenger Le Bellot.
This Tauck itinerary includes Icelandic port calls at Grimsey Island, Grundarfjordur, Isafjordur, the Westman Islands (including Heimaey), Reykjavik and Akureyri.
At press time, Tauck's "Iceland" fares started at $9,490 per person, double occupancy; that's for June through August 2024 departures. 
Silversea Calls at Heimaey
On July 4, 2024, Silversea Expeditions' 608-passenger Silver Spirit will sail a 10-day voyage roundtrip from Reykjavik.  The itinerary includes port visits around Iceland including a Heimaey call.
While ashore in Heimaey, guests will have a choice of many shore excursions. For example, they can choose a moderate-activity "Pompeii of the North" tour, an easier "Circumnavigation of Heimaey" outing or a strenuous "Lava Field Hike."
Silversea's port-to-port fares, at press time, started at $6,150 per person, double occupancy. Or, if guests prefer, they can go all-inclusive with door-to-door fares that start at $7,700 per person, double occupancy.
More Options? Questions?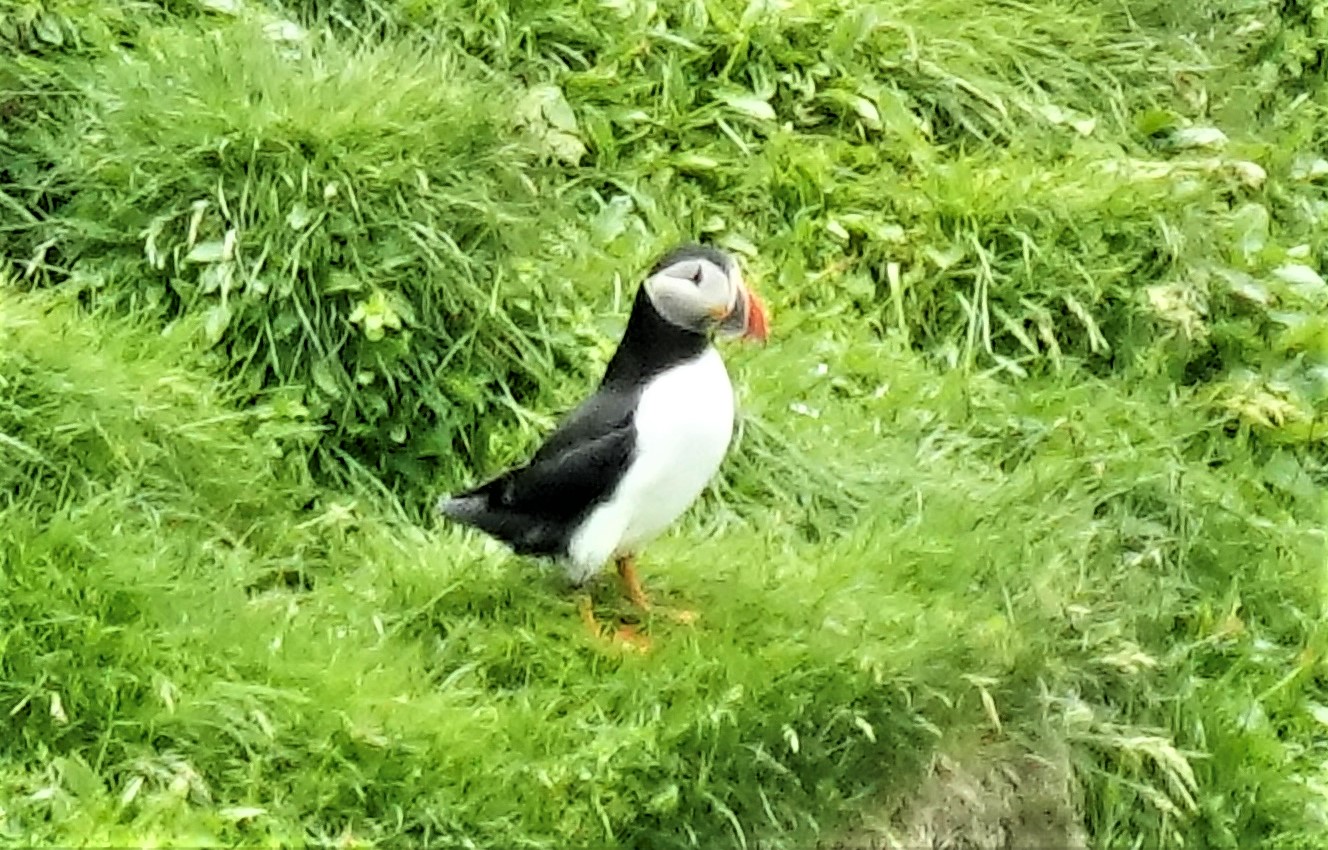 Many other tour and cruise operators also include Heimaey in their vacation offerings. So, chat with a Pavlus personal travel planner  today. Ask questions. Discuss itineraries, suite options and fares.
Also, ask about any promotional deals or unadvertised discounts the agency might offer! And get started on your journey to Heimaey plus other destinations in Iceland and beyond.
"You'll see dramatic volcanic scenery, explore Viking history and dive into the local culture," says Pavlus' Steudle. "Above, all, though, you can get ready for cute puffins!"
Helpful Links
Here are some helpful website links to learn more about Iceland, Heimaey and Atlantic Puffins.
For all-around Iceland travel information, check out the Visit Iceland website.
For Heimaey information, check out the Visit Westman Islands website.
Also, you can find information about puffins via the PBS Fact Sheet on Atlantic Puffins.
To tap into the cruise and tour options to Heimaey and the Westman Islands, see the following helpful details to reach a full-service, customer-focused travel agency.   
Important Information from Pavlus Travel
If anything tweaks your interest in this blog and you'd like to talk about a future vacation, please DO call us at 800-528-9300.
Definitely, if you have questions about specific pricing, brochures, savings, itineraries, dates of travel, accommodations, accessible options and so on, please contact us.
Again, call us at 800-528-9300 or visit and "live chat" at Pavlus Travel's official agency Web site.