Looking at the cruise industry "seascape" this summer, what's new? Check out these five top cruise developments from The Meandering Traveler. Some are super-duper from the news side, others helpful, informative or educational.
So, here we go with tidbits from Crystal, Silversea Cruises, Seabourn, Port Everglades, FL, and Holland America Line.
(The image above showcases the horizontal layout of Silver Nova's pool area. Photo by Silversea Cruises.)
1. Top Cruise Development: The Debut of the New Crystal 
Later this month, the revitalized, 740-passenger Crystal Serenity will debut for the new Crystal. The brand and its two classic oceangoing ships were purchased by A&K Travel Group last year. The ship has successfully completed sea trials and the inaugural cruise will depart from Marseille, France, on July 31.
We're happy to report that we'll be aboard the ship for a three-night preview cruise (July 28 to 31) from Naples to Marseilles. So, in August, we'll provide our impressions of the ship. Coming up in early September, the 606-passenger Crystal Symphony will also set sail.
When guests board for the first time, they will find updated and larger suites with artisanal finishes; refreshed specialty dining venues; a new pickleball court; and cutting-edge onboard wellness, including the completely renovated and renamed Aurora Spa.
 "Following the inaugural cruise, Crystal Serenity will spend the rest of this summer in the Mediterranean before repositioning to North America in September," says Shelby Steudle, president, Pavlus Travel.
"The ship will then operate Canadian and Caribbean itineraries," she adds. "Interested in chatting about both ships' itinerary options, accommodations and pricing including any promotions or discounts? If so, give Pavlus Travel a call today."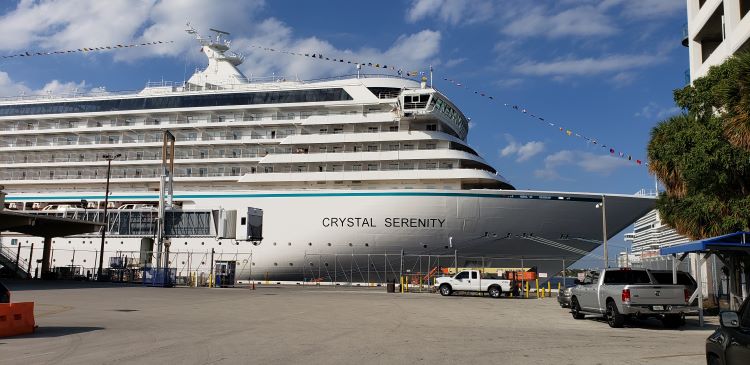 New Culinary Appointment 
Crystal is also making "culinary waves" by appointing Dalila Roglieri as Crystal's head nutritionist. In her new role, Roglieri will collaborate with the onboard culinary teams for a culturally minded approach to gastronomy — one that will develop balanced menus that cater to a variety of dietary preferences and requirements.
In addition to her role with Crystal, Roglieri has her own practice, DaRò Wellness, located in Bari, Italy; it specializes in dietetics, sports nutrition and culinary nutrition.
Roglieri will sail on Crystal Symphony during an October 9, 2023, voyage from Athens, Greece, to Dubai, U.A.E., and a March 12, 2024, sailing from Singapore to Mumbai, India.
While aboard, guests will learn more about Roglieri's approach to wellness, nutrition, and gastronomy. Contact your personal travel advisor for more information about the itineraries, accommodations and pricing (including promotions or unadvertised deals) for these voyages. 
2. Top Cruise Development: Silver Nova is Delivered 
One of most environmentally conscious, ultra-luxury cruise ships ever built, the 728-passenger Silver Nova, has been delivered to Silversea Cruises. The handover took place on July 19 in Eemshaven, the Netherlands.
Jason Liberty, president and CEO, Royal Caribbean Group, joined Barbara Muckermann, president and CEO, Silversea Cruises, as well as executives from Meyer Werft (the German shipyard) and other esteemed guests to officially welcome the ship.
Silver Nova is the 12th ship in Silversea's fleet, the first built at this shipyard.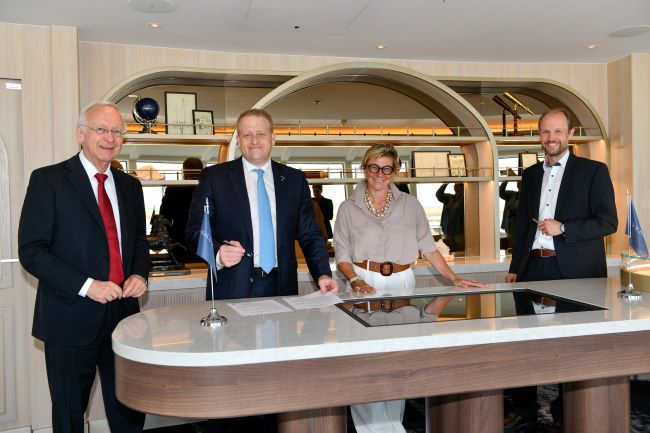 What's on board? Guests will discover 10 bars and lounges, eight restaurants, and an array of additional public venues. Most notably, Silver Nova will debut a new structural approach — an asymmetrical design and horizontal layout.
"The thought is that it should heighten the ship's sense of spaciousness and create a natural flow between venues on entire decks," explains Pavlus Travel's Steudle. Silver Nova's seven-night maiden voyage will be August 14, 2023, sailing roundtrip from Venice.
3. Top Cruise Development: Seabourn Pursuit's Design
Ultra-luxury Seabourn revealed gleanings about the design details for its second expedition ship, Seabourn Pursuit. A sister to Seabourn Venture, this 264-passenger ship will launch in August 2023.
We'd suggest reading The Meandering Traveler's "first look" Seabourn Venture blog of late last year. Or if you're interested in a Seabourn expedition voyage within the Arctic, check out our recent Heimaey Island, Iceland, shore excursion blog. 
As for the nine-deck Seabourn Pursuit, guests will find a richly designed interior. Look for textured fabrics, leather and a custom furniture collection by Tihany Product Design.

For example, atop the ship, the Constellation Lounge (see photo above) will offer 270-degree views and a constellation-inspired interior. Guests can expect interior design consisting of a dark blue and red palette; silver and bronze metals; intricate stone floors; lighting that creates a shimmering star-like pattern across the ceiling; velvet banquettes and sling-back chairs.
For the ship's 132 oceanfront suites, Tihany has created lighter bedding design elements. That's in tribute to the ship's schedule of many warm-water itineraries in tropical destinations.
"However, suites will also be outfitted with lush blankets and faux fur pillows for the ship's inaugural year," explains Pavlus Travel's Steudle. Why so? From late November 2023 to late March 2024, the ship will operate Antarctica voyages. 
4. Top Cruise Development: Port Everglades in 2024
For many North American cruise travelers, Port Everglades, FL, is an easy choice. This "Greater Fort Lauderdale" port offers a plethora of voyages to enticing Bahamas and Caribbean destinations as well as longer options.
One plus is the port's direct access via Interstate highways and three international airports (MIA, FLL and PBI). For summer cruisers in 2024, there are also new reasons why the world's third busiest cruise homeport is a good choice.
Next summer, the port will host five cruise ships from Celebrity Cruises, Disney Cruise Line, Princess Cruises and Royal Caribbean International.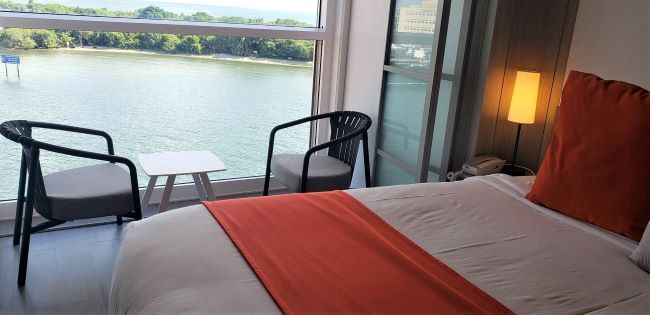 The new kids on the block will include Celebrity Beyond, sailing year-round (and for the first time to Perfect Day at Coco Cay), Enchanted Princess.
Royal Caribbean International's Freedom of the Seas will also sail from Port Everglades in 2024. Two other ships — Celebrity Reflection and Disney Magic — will also sail shorter itineraries.
In addition, Balearia Caribbean offers a ferry service multiple days a week from Port Everglades.
Also of interest for some cruise guests is that Crystal Serenity will be back homeporting at Port Everglades for the winter 2024-2025 sailing season.
Earlier Departures?
Don't desire to wait until 2024? Then Steudle suggests contacting a Pavlus Travel personal travel planner today.
For example, homeporting at Port Everglades this summer are Celebrity Cruises' Celebrity Equinox, Princess Cruises' Caribbean Princess and Royal Caribbean International's Adventure of the Seas.
Port Everglades is in the midst of South Florida, which has soft sandy beaches, a vibrant art scene, savory restaurants, craft breweries, entertainment, shopping, casinos, and family-friendly activities including the Florida Everglades.
For details on the latest cruise offerings, visit PortEverglades.net and check out Visit Lauderdale for extended vacation options.
5. Top Cruise Development: Solar Eclipse or Bust! 
Holland America Line is expanding programming for its spring 2024 Solar Eclipse Cruises. It's bringing astronomy experts aboard Koningsdam and Zaandam for viewing of the first total solar eclipse in North America in seven years. That occurs April 8, 2024.
Guests booking the line's solar eclipse cruises will have exclusive access to lectures, demonstrations and firsthand tips on how to make the most of the eclipse viewing.
For example, Professor Adam Burgasser of the University of California San Diego will join guests on Koningsdam as the ship sails off the coast of Mexico for the solar eclipse. He's a professor of astronomy and astrophysics, an observational astrophysicist, and the principal investigator at the university's "Cool Star Lab."
Expert Commentators
Professor Burgasser will educate guests through special lectures on the ship's World Stage. He'll help them create their own eclipse viewers. Also, during the eclipse itself, he'll guide guests to safely view and understand the rare occurrence from unique positions on the ship.
"We're positioning our ships in the perfect location for guests to see the eclipse," says Bill Prince, vice president of entertainment, Holland  America Line. "For many, this is a once-in-a-lifetime experience. So, being able to receive the guidance of a renowned physicist like Dr. Burgasser is an exciting opportunity for our guests."
For that experience, Koningsdam will embark April 5, 2024, on a 22-day"Solar Eclipse and Circle Hawaii" itinerary. Departing from San Diego, CA, the ship will first sail southward to Cabo San Lucas, Mexico.
Then on April 8, 2024, the vessel will position along Mexico's coast for viewing of the total solar eclipse. The next day, Koningsdam will call at Puerto Vallarta, Mexico, before sailing across the Pacific Ocean to Hawaii.
Finally, the ship will head for Vancouver, B.C., Canada, where guests will disembark.  This voyage is priced from $2,779 per person double, for an inside cabin, and $4,029 per person, double occupancy, for a veranda stateroom. For more accommodations options including suites, contact your travel advisor at Pavlus Travel.
Another Solar Outing
In addition, Zaandam will depart March 30, 2024, on a 14-day "Solar Eclipse and Mexican Riviera" itinerary roundtrip from San Diego. The ship will be positioned for a total view of the eclipse while in Mazatlan, Mexico. Jim McParland, a guest presenter, will lend his expertise to the eclipse experience on Zaandam. 
To learn more about these and many other Holland America Line voyages, one great resource for readers is a professional travel advisor (see Pavlus Travel's contact details below).
Important Information from Pavlus Travel
If anything tweaks your interest in this blog and you'd like to talk about a future vacation, please DO call us at 800-528-9300.
Definitely, if you have questions about specific pricing, brochures, savings, itineraries, dates of travel, accommodations, accessible options and so on, please contact us.
Again, call us at 800-528-9300 or visit and "live chat" at Pavlus Travel's official agency Web site.