Viking christened its newest river ship, Viking Aton, with a special celebration in Aswan, Egypt. The new river vessel is the fourth Viking ship now sailing the Nile River.
In a time-honored tradition, Richard Riveire, the ship's ceremonial godfather, named the ship — asking for good fortune for the vessel and all who sail on her. The ceremony is a modern evolution of the naval tradition dating back thousands of years.
(Viking just launched its fourth river vessel on Egypt's Nile River. Photo above by Viking.)
Riveire, founding principal of Rottet Studio, an acclaimed Los Angeles interior design firm, is well-known to many loyal Viking guests. How so? He has designed many of Viking's other river, ocean and expedition vessels.
Among those is Viking Aton's sister Nile River ship, Viking Osiris. Both are state-of-the-art vessels specifically built to navigate the Nile. "Today, we are pleased to welcome Viking Aton to our growing fleet," said Torstein Hagen, Viking's chairman.
"With extraordinarily strong interest in Egypt among our guests, we are proud to bring another state-of-the-art vessel to this region, and we look forward to introducing even more curious travelers to the country's rich cultural treasures," he stressed.
Viking Aton: Riveire's Perspective
Hosting 82 guests in 41 staterooms, the new Viking Aton is now operating the line's popular "Pharaohs & Pyramids" itinerary. Guests are served by 48 crew members aboard.
Inside, this 236-foot-long vessel offers elegant Scandinavian design, a signature feature of all Viking ships for well over a decade. But it also showcases the destination.
"I've been proud to work alongside Tor, Karine and the Viking team to help design how the Viking brand comes to life on board," emphasized Riveire. During his 30-plus-year career, Riveire has been honored with design excellence awards from the American Institute of Architects, Interior Design Magazine and the International Interior Design Association.
Riveire has also managed such high-profile hospitality and entertainment projects as the Presidential Bungalows at The Beverly Hills Hotel, the Four Seasons Hotel Chicago, and The Ritz-Carlton Hotel & Residences at LA Live.
"Pharaohs & Pyramids" on Nile River 
For those sailing on the new Viking Aton or other Viking vessels operating the 12-day "Pharaohs & Pyramids" itinerary, how will the trip unfold?
First up, you'll begin with a three-night stay at a first-class hotel in Cairo, Egypt. There, you can visit such iconic sites as the Great Pyramids of Giza, the necropolis of Saqqara (or Sakkara) and the Mosque of Muhammad Ali, built in 1265.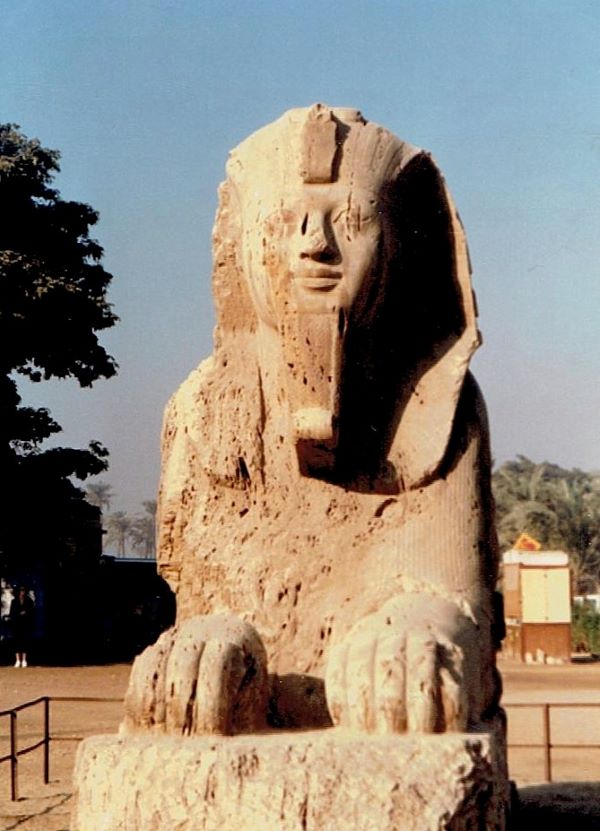 Guests then will take an included flight to Luxor, Egypt. There, they'll explore the magnificent Temples of Luxor and Karnak. Next, it's on to their Viking river ship to enjoy an eight-day roundtrip cruise on the Nile River.
With Viking, you'll have the line's "Privileged Access" to both Nefertari's tomb in the Valley of the Queens and Tutankhamun's tomb in the Valley of the Kings. Guests will also set out on many excursions. Among them are Esna's Temple of Khnum, Qena's Dendera Temple complex, Abu Simbel's temples and Aswan's High Dam.
One highlight is a visit to a Nubian village. There guests will visit a traditional elementary school. The journey concludes with a flight back to Cairo for a final night in that ancient city.
If readers opt to consider a 2025 sailing, for instance, the 12-day "Pharaohs and Pyramids" itinerary starts at $6,499 per person, double occupancy. That includes 11 complimentary tours. Talk to your travel advisor about all the accommodations and pricing options.
Nile River: Pre- and Post-Cruise 
"For those seeking a bit lengthier vacation, Viking also offers several appealing pre- and post-cruise extensions," notes Shelby Steudle, president, Pavlus Travel. "Those also provide 'Privileged Access' to archives and exhibits."
For example, guests taking Viking's five-day British Collections of Ancient Egypt extension will begin their journey in London. There, they'll meet their Viking tour director and an expert Egyptologist.
They'll then experience "Privileged Access" to two museums. First, they'll make a private, early morning visit to the British Museum's Egyptian Collection before it opens to the public.
Next, they'll visit the home and personal museum of Sir John Soane, a world-renowned architect. Illuminated by candlelight, that visit will re-enact how Soane entertained guests here as he showcased his Egyptian antiquities collection.
One highlight? That's the Soane collection's 3,000-year-old Egyptian sarcophagus!
Viking Aton: More Extension Highlights
Guests on this "British Collections of Ancient Egypt" extension will also visit London's Petrie Museum of Egyptian Archaeology. It's famed for its 80,000+ artifacts from ancient Egypt and Sudan.
In Oxford, England, guests will visit the Ashmolean Museum, one of the world's oldest. It's home to Egyptian mummies and art.
Viking's guests will also go behind the scenes at Oxford University's Griffith Institute. There, they'll enjoy a "Privileged Access" visit to see Howard Carter's archives, detailing his discovery of Tutankhamun's tomb.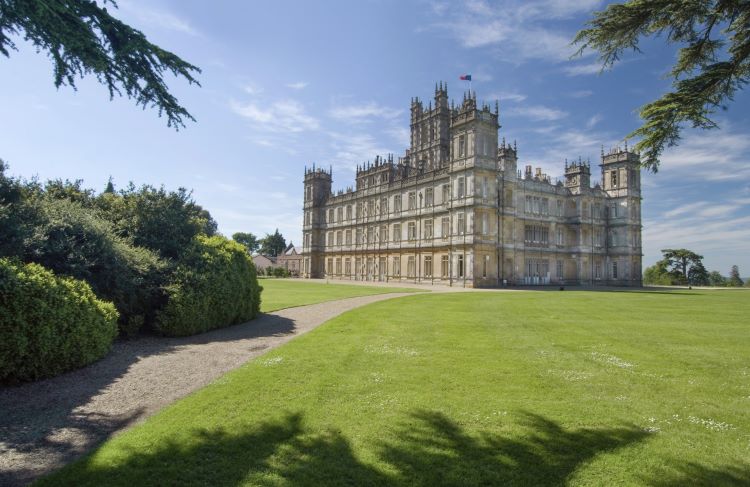 Finally, guests on this "British Collections of Ancient Egypt" extension will enjoy an exclusive visit to Highclere Castle. They'll view a magnificent private collection of Egyptian artifacts. Plus, they'll see archives and exhibits not normally accessible to the public.
New, Istanbul Pre-Cruise Extension
Viking also offers a new three-night, pre-cruise extension in Istanbul, Turkey. Guests can visit the timeless city and important religious sites including the Blue Mosque and the legendary Hagia Sophia.
Before their "Pharaohs and Pyramids" voyage, guests can also choose to extend their journey in Jerusalem, exploring the ancient history and vibrant culture of Israel's capital city.
"And after the river cruise itinerary, guests also can extend their journey with a four-night, post-cruise extension, 'Jordan – Petra, Dead Sea & Amman,' notes Pavlus' Steudle. "That includes viewing Roman antiquities at Jerash and Crusader-era castles at Kerak or Shobak. Also, a highlight for many is the opportunity to explore Petra, a UNESCO World Heritage Site."
New Nile River Vessel
Owned and operated by Viking, the new Viking Aton offers comfortable outside staterooms. Those range from Standard Staterooms to Veranda Staterooms, plus more spacious Veranda Suites and Explorer Suites.
Veranda Suites have two full-sized rooms with a veranda off the living room. The bedroom has a separate French balcony. The top-end Explorer Suites offer two full-size rooms, a veranda off the bedroom, and a spacious bathroom with separate bathtub and glass-enclosed shower.
To enjoy fun in the sun, or alternatively, a shaded sitting area with great 360-degree views along the Nile, the Pool and Sun Decks await.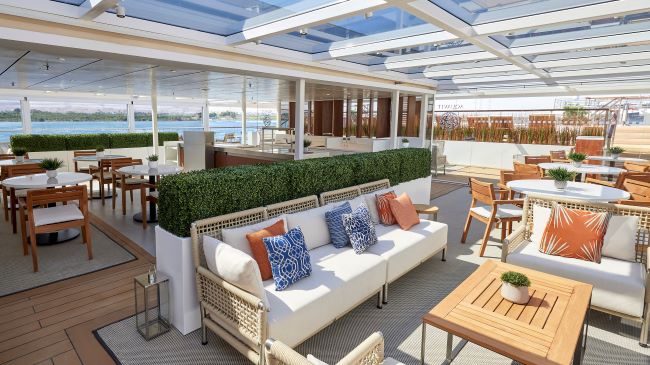 As on other Viking river vessels across the globe, Viking Aton also has an Aquavit Terrace and Lounge. That's an indoor/outdoor viewing area for al fresco dining.
Other Viking Aton Spaces
Inside Viking Aton, it's "relaxation central." Guests can head to the ship's lounge and bar, sporting floor-to-ceiling glass doors. The ship's restaurant also offers floor-to-ceiling windows for panoramic views.
For those ready to settle down with a good book, the ship's library awaits. Also, Viking Aton has an onboard shop.
If you're wondering about elevator service, here's the scoop. Guests will find an elevator from the Main Deck to the Pool Deck, but there's no elevator access to the Sun Deck.
As for creature comforts, all guests will enjoy free Wi-Fi and laundry service. Accommodations all have a flat-screen TV with infotainment system. Guests can enjoy live TV channels, complimentary movies and more.
Nile River: More Ships Coming
In addition to the Viking Aton and the Viking Osiris, identical sister ships, Viking Hathor and Viking Sobek, are now under construction. They'll be delivered in 2024 and 2025, respectively.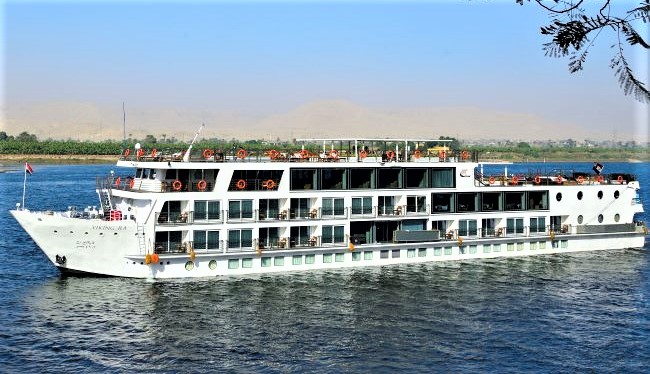 The line also has other vessels on the Nile right now — Viking Ra and Antares. "So, by 2025, Viking will have a total of six ships sailing the Nile River," says Pavlus' Steudle.
"Our clients definitely will have many options, so give us a call to discuss the river vessels, itinerary, accommodations, pricing including special discount or amenity, and more," she emphasizes.
Hot tip? Right now, Pavlus Travel is offering new $400 discounts per couple off all Viking river cruises in 2023 and 2024. So, it's a great time to plan a Nile River cruise!
If anything does tweak your interest in the story and you DO have questions about specific pricing, brochures, savings, accommodations, accessible options and so on, please contact us at  800-528-9300.
Or visit us online at Pavlus Travel's official agency Web site; there you can "live chat" with us online too!
This blog site is designed for "basic, general information" about travel. It's not staffed by travel advisors.
Any price examples used in the above blog are subject to change. They also do not represent the full range of options; a travel advisor can assist with additional information.
Please don't use the Reply Section below if you are asking for pricing, travel dates, accommodations, brochures or other specific requests. Please use the 800 number or online link.