After spending four nights aboard Silversea Cruises' new, 728-passenger Silver Nova, we can truly say this new ultra-luxury beauty is stunning. Here are our "Top Five Reasons why Silver Nova is a "Game Changer."
1. New Look and Feel 
Thanks to a new, first-ever asymmetrical design for Silversea, Silver Nova has a new look and feel from other ships in the fleet.
What's unique? On Deck 10, the pool deck sports an elongated pool close to the starboard side of the ship — not in the center as is usually found on cruise ships.
So, guests can swim and then when they rest poolside, they'll have "close up" views of the ocean. Plus, when the ship is in port, it's a bit better perch for viewing cities and landscapes.
Loungers were prolific in the pool area, and, in particular, we liked the comfortable cushioned seating areas. Up one level, the exterior, infinity Cliffside Whirlpool awaits too.
Here are some photos we snapped of the Deck 10 and Deck 11 exterior areas.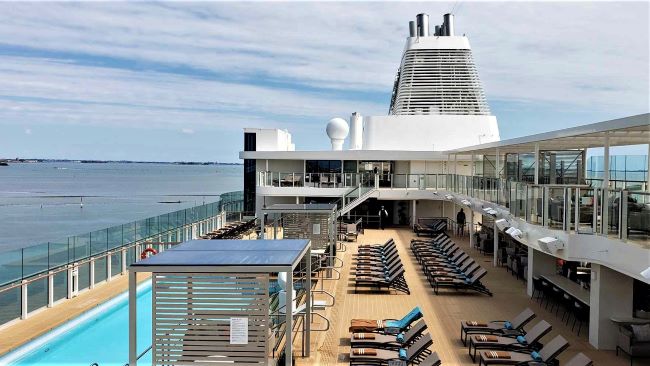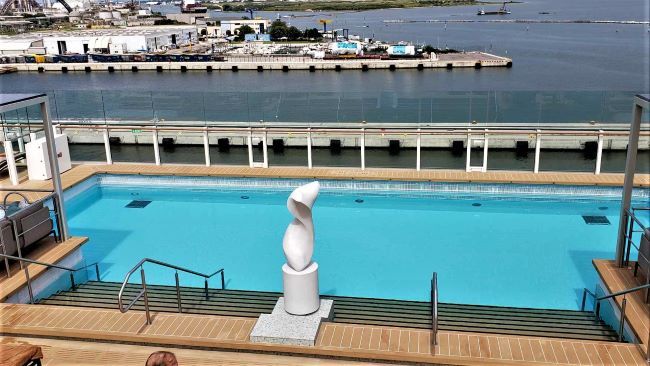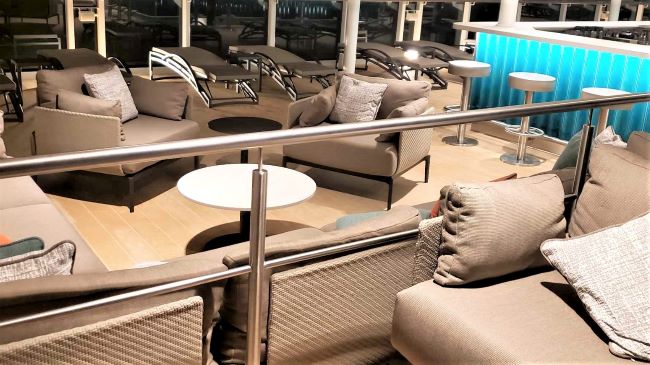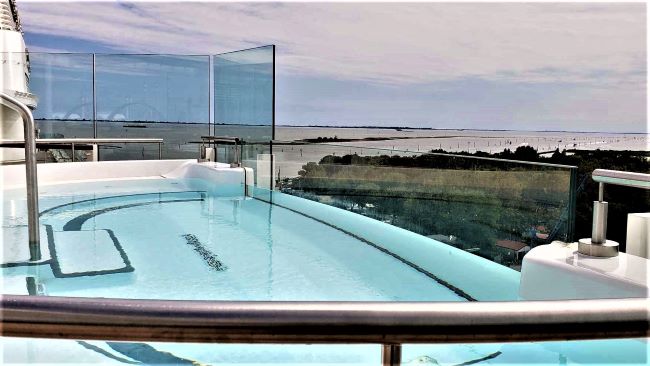 2. A Proper Theater
Silversea has theaters on its other ships, of course. But executives say this is the first with a "proper" height that the ship's new design allows. That's because Silver Nova's public decks don't have staterooms and vice versa.
That allows the public decks (which are stacked atop each other) to have higher ceilings in some venues.
In addition, the ship's asymmetrical design allows for many windows or expanses of glass in public venues. So, for instance, one wall of the theater has multiple windows.
Of course, windows certainly aren't needed during a production show. But during the day, it's nice to have a bit of natural light during an enrichment talk. So, check out the ship's theater in these quick snaps below: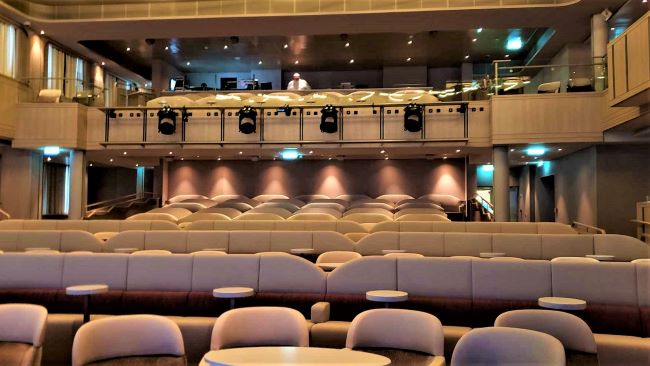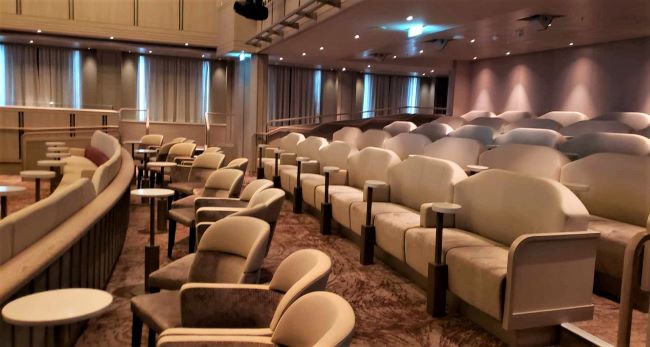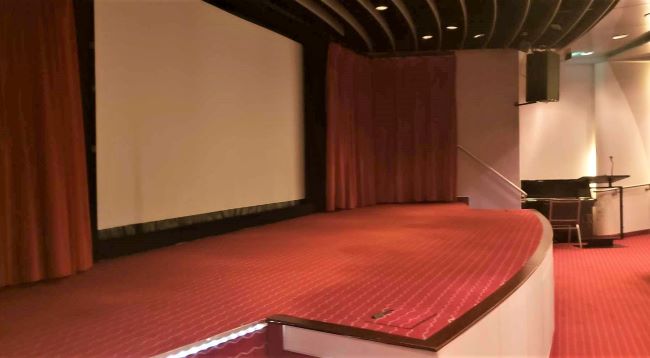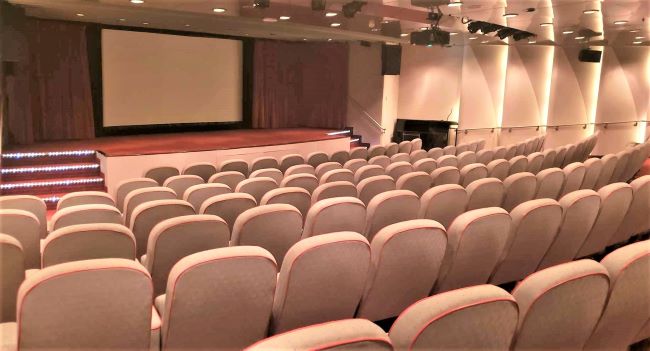 3. New Options for "Digs"
Guests can choose from 13 different suite categories on the new Silver Nova. Seven of them are new categories. For example, the new Master Suite is one.
Nestled into an aft corner of the ship, this stately suite is also spacious. It offers 721 square feet to 826 square feet of space. That includes a private balcony of 233 square feet to 330 square feet.
Both the living room and bedroom have expanses of glass. So, while relaxing inside, you'll have 270-degree views to the destination or ocean outside.
In addition, by adding the adjoining suite, this can become a two-bedroom unit of 1,078 square feet to 1,183 square feet.
Deluxe Veranda Suite
That said, while aboard Silver Nova, The Meandering Traveler stayed in a Deluxe Veranda Suite. Here are a few photos of that suite, which we found plenty spacious for our needs. It also had a walk-in closet and private veranda.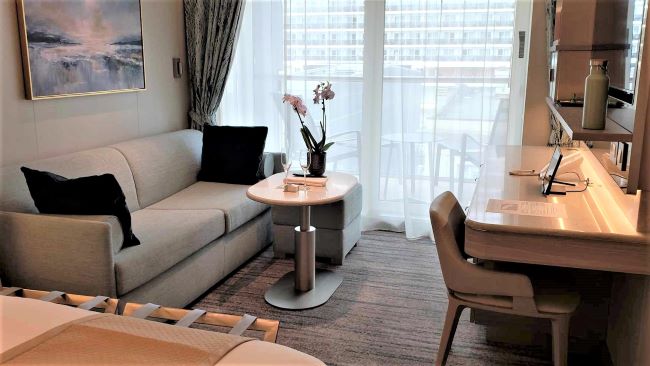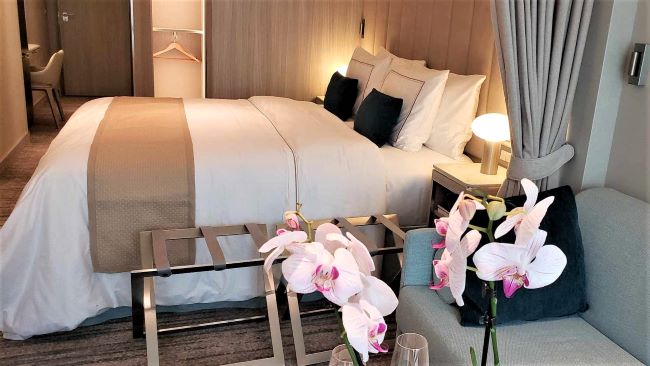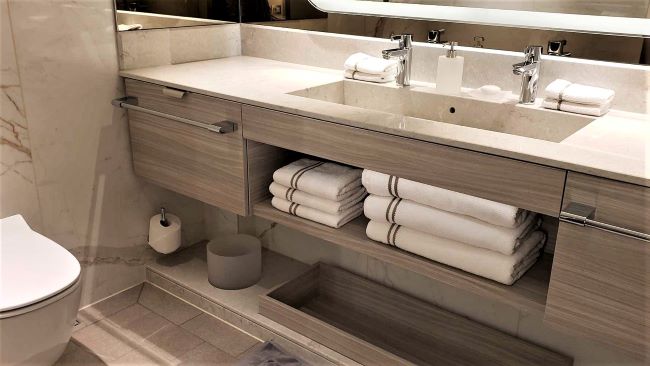 4. Light-Filled Nooks and Crannies
Silver Nova offers an aura of light on board, as the design has added a huge amount of glass. Did you know that the new ship has an exterior that's 40 percent glass, according to the line's officials? That's correct.
It's noticeable around every turn. And while the capacity of Silver Nova is 728 passengers, more than the 596-passenger Muse-class ships, guests don't feel  that it's any more crowded. In fact, we felt the opposite. That's because the guest-to-space ratio on this new ship is the highest in the Silversea fleet.
So, while our voyage was nearly full, to be frank, we never felt that. It seemed open, airy and spacious. Here are some of the spaces aboard the ship that show that perspective — and the glass.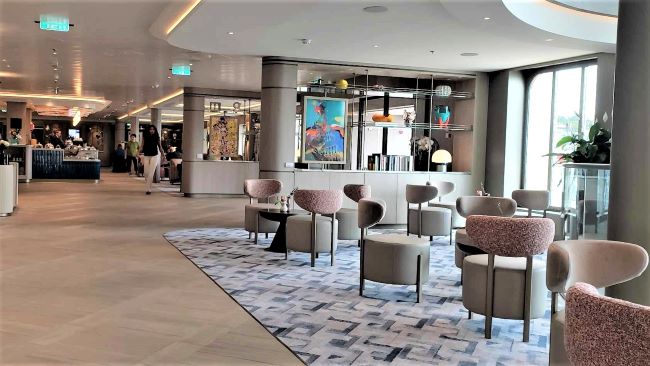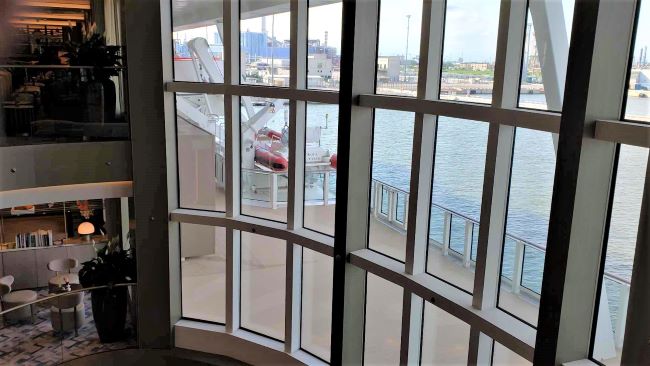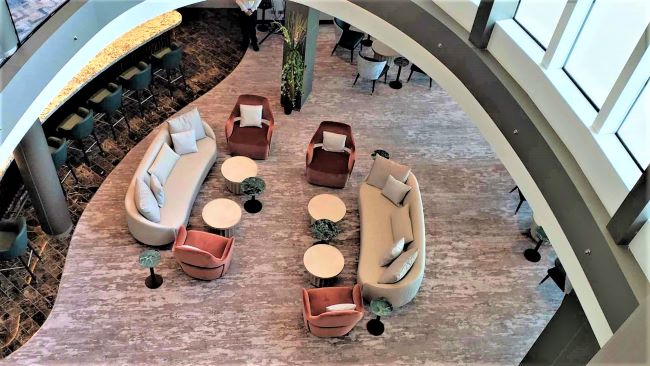 5. The Cuisine is VERY Good! 
"Silversea is known for creating and delivering high-quality cuisine," says Shelby Steudle, president, Pavlus Travel. "That continues this year on the new Silver Nova."
Check out our blog of last week about the enhancements on Silver Nova for the popular S.A.L.T. (Sea and Land Taste) program. For instance, we dined in the redesigned S.A.L.T. Kitchen.
Personally, we most loved Kaiseki, a Japanese specialty dining venue aboard Silver Nova. It offers tasty sushi, sashimi and other Asian fare too. Here's one shot of our tasty Dragon Roll below.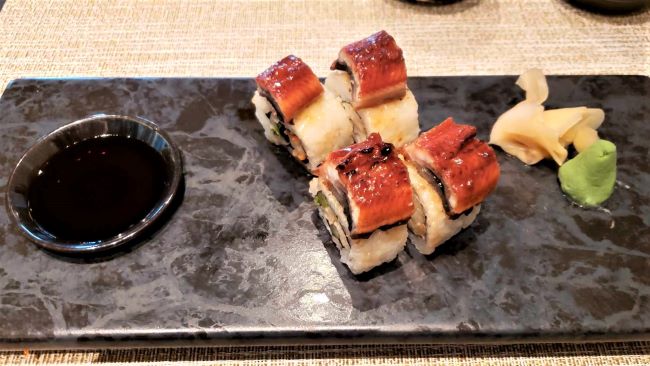 But we found the cuisine tasty in many other restaurants aboard too including Atlantide, the main dining room. We particularly enjoyed the lite fare in Arts Cafe.
Plus, the canapes delivered to our suite each day were creative and tasty. Here's a photo of two plates of canapes (one hot, one cold) served together by our butler one evening.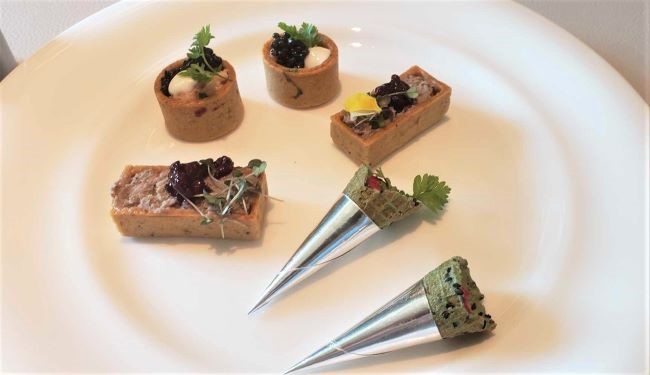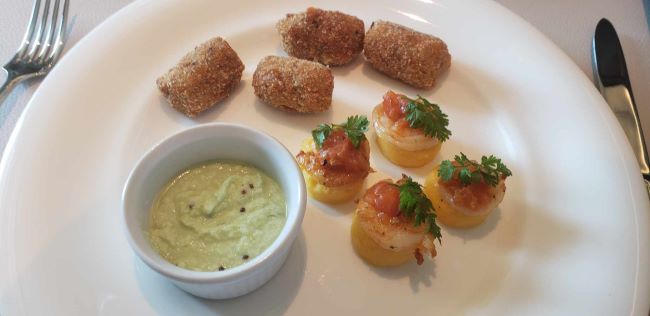 Parting Thought about Silver Nova
Silver Nova is a crowning achievement in ship design. In particular, the asymmetrical approach provides better views from the pool area.
In addition, a new horizontal layout — with suites NOT on public space decks — also provides more height for many public spaces.
The new, multi-level atrium with light streaming in is a first for Silversea. Plus, the theater's height now allows for guests to sit on multiple levels and for the line to possibly develop more robust production shows.
New suites beckon too, and the dining is better than ever.
Simply put, we have visited seven different cruise ships this year alone, many of those new. But this one is an absolute stunner.
We started today's blog with this same photo (see below) of the pool deck. But we're opting to end the piece with it too. It's one scene that shows the beauty of the Nova-class design.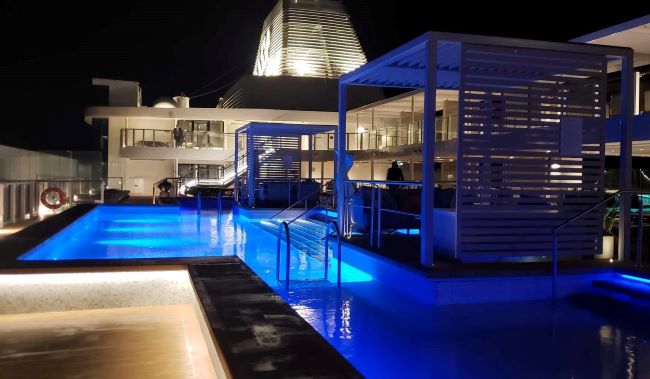 Desire more information about Silver Nova? Here's a link to Silversea's website page on Silver Nova. It offers a complete look at itineraries, accommodations, interior spaces, pricing and more.
Once you've mulled that over, talk with your personal travel planner for more details and any questions.
Don't have an advisor? Pavlus Travel sells millions of dollars in Silversea cruises annually and offers unadvertised discounts. So, you'll get a great deal and superb service too.
Here's more from the agency about the best ways to reach one of its experienced personal travel planners.
If anything does tweak your interest in the story and you DO have questions about specific pricing, brochures, savings, accommodations, accessible options and so on, please contact us at  800-528-9300.
Or visit us online at Pavlus Travel's official agency Web site; there you can "live chat" with us online too!
This blog site is designed for "basic, general information" about travel. It's not staffed by travel advisors.
Any price examples used in the above blog are subject to change. They also do not represent the full range of options; a travel advisor can assist with additional information.
Please don't use the Reply Section below if you are asking for pricing, travel dates, accommodations, brochures or other specific requests. Please use the 800 number or online link.