It's official! Crystal is back on the high seas with two luxury ships! On Friday, the 606-passenger Crystal Symphony re-entered service for its new owner, A&K Travel Group. Fully revitalized, it's the second of Crystal's oceangoing vessels to return to service.
Currently, the ship is sailing on an inaugural voyage from Athens, Greece, to Istanbul, Turkey.
(Crystal Symphony is shown in the photo above. Photo by Crystal.)
Sister Crystal Serenity returned to cruising earlier this summer. In fact, The Meandering Traveler sailed on that 740-passenger ship during July 2023. We revealed some on-site tidbits within our recent "Top 10 Things to Know about Crystal Serenity" blog.
Luxury Ships Return
Crystal Symphony's re-entry to service is an impressive feat by new owner A&K Travel Group. "We're so proud that Crystal Symphony has officially joined Crystal Serenity back in the water, signaling an exciting new chapter for Crystal," says Cristina Levis, CEO of A&K Travel Group. Achieving "two ships refurbished and back in service in under a year is completely unprecedented."
Crystal's Former Crew Members are Back!  
Even more impressive? In just one year, the new Crystal has re-hired many former, beloved crew members. In fact, more than 80 percent of the crew members aboard the two ships formerly worked for Crystal Cruises.
Thus, we found it touching during our recent Crystal Serenity sailing to watch guests and crew members fondly reunite. Many who'd sailed the world together in the past affectionately greeted and hugged one another.
Levis emphasizes that Crystal Symphony offers "nearly one staff member per guest and an impressive space-to-guest ratio."
The ship also has larger, revamped suites; multiple dining venues including the return of Umi Uma, a popular specialty dining venue; Aurora, a new spa concept; and many other expansive public spaces.
After the current inaugural voyage, Crystal Symphony will sail eastward. Guests will go ashore to explore such destinations as Santorini, Greece; Abu Dhabi, U.A.E., and Mumbai, India.
Then during the remainder of 2023, the ship will operate throughout the Pacific Ocean region. Crystal Symphony will visit Sydney, Australia; Auckland, New Zealand; Papua New Guinea; Bali, Indonesia; and many other exotic destinations.
Luxury Ships Offer New Accommodations
Collaborating with GEM, a well-known cruise ship architectural firm, Crystal revitalized the interior look of all Crystal Symphony accommodations. They now feature neutral shades and a palette of gentle pastel tones with a few pops of color.
In addition, all accommodations sport new furniture, carpeting, wall coverings and, of course, new bedding, towels, drapes and so on. GEM also refreshed the design of select guest accommodations. Essentially, the ship looks new.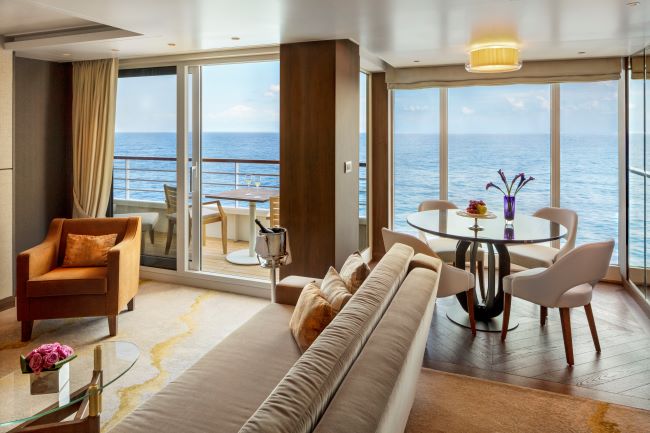 Crystal's guests can book two new stateroom categories. One is the "Junior Crystal Penthouse Suite" category with up 645 square feet of space. Perks include separate living and dining areas, a private veranda and the services of a butler.
Another new suite category has been designed for solo travelers. It's the 215-square-foot "Single Guest Room with Ocean View." This cozy bedroom has an ocean view and butler service.
Sapphire Verandas – Two Types
In addition, Crystal has added more of its highly popular "Sapphire Veranda Suites." Spanning up to 430 square feet of space, they offer a living area, elegant furnishings, a private veranda and butler service.
"Sapphire Veranda Suites are available in both the classic design, which offers a shower as well as a separate tub, and the new design, with no tub but a humongous shower," explains Shelby Steudle, president, Pavlus Travel.
"Talk to one of our personal travel planners about all the accommodations choices aboard Crystal Symphony and Crystal Serenity,"  she suggests. "Definitely ask about how to get the best deal. Our advisors will happily discuss any promotions, unadvertised discounts or guest amenities."
Crystal Symphony's 10 Dining Options
Guests definitely won't go hungry on either of Crystal two luxury ships. For instance, Crystal Symphony offers 10 distinct dining options including 24-hour, in-suite dining service.
Many loyal past guests, in particular, are pleased about the return of Master Chef Nobuyuki (Nobu) Matsuhisa's specialty restaurant Umi Uma. As Nobu's only dining concept at sea, it serves innovative Japanese-Peruvian cuisine.
Our take? Don't miss the melt-in-your-mouth signature Black Cod! Reservations are essential.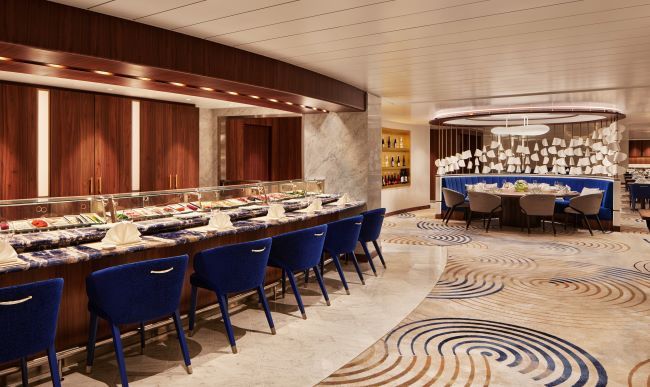 Another specialty restaurant, Osteria D'Ovidio, is named for Manfredi Lefebvre d'Ovidio, Crystal's executive chairman. This eatery specializes in traditional Italian meals. 
Crystal Symphony's main dining room, Waterside Restaurant, also awaits for breakfast, lunch and dinner with open seating. During our time aboard Crystal Serenity, we gravitated to the casual The Bistro, a modern café and coffee bar.
On both ships, The Bistro serves fresh pastries, bagels and fruit in the morning. Throughout the afternoon, you'll find international cheeses, pâtés, prosciutto, smoked salmon and desserts.
For wine enthusiasts, The Vintage Room is the spot for intimate guided wine pairings and dinners. These events feature high-quality wines from the ship's extensive onboard cellar.
Light and Flavorful
Poolside, Trident Grill is the spot for burgers, melts and salads, while Scoops Gelato Bar, is Crystal's sumptuous dessert bar. The latter dishes out authentic Italian gelato with fresh toppings. Guests will also find frozen yogurt and homemade cookies.
Guests can amble over to Tastes Kitchen & Bar for tapas-style cuisine in a casual, family-style dining approach. The buffet-style Marketplace is another place for good eats. Diners will also savor great destination views, given Tastes' floor-to-ceiling windows and open-air dining area.
Wellness, Spa and Pickleball
When it comes to wellness and spa services on Crystal Symphony, here's the scoop. "The revitalized ship now offers a full-sized paddle tennis and pickleball court and also a revamped fitness center," says Pavlus' Steudle.
She also points out that Aurora, Crystal's new spa concept, offers a fresh design. Look for what the line calls "light-bright" neutral colors, an illuminated fiber optic starlight ceiling and such organic materials as natural salt crystal and silk-brushed slate stone.
If you enjoy spa services, here are just a few examples of Aurora's pampering options:
A "SuperTech Facial" taps into advanced technologies and targets multiple signs of aging to resurface, firm and smooth the skin.
The "Chariot of Light Massage" can help reset a person's circadian rhythm, reduce inflammation and increase circulation. It also can improve skin texture using LightStim Pro-Panel LED light therapy.
A "Grown Alchemist Restoration Shave" provides an enzyme exfoliation, deep cleansing mask, and hot towel compress for an expert shave.
Crystal's Two Luxury Ships are Back, More Ahead
In addition to Crystal Symphony and Crystal Serenity returning to service, Crystal recently announced that it's currently working with advisors, lenders and export credit agents to sign a memorandum of agreement with two European shipbuilders.
"The agreement is poised to include building of four new ships in the next six years," says Pavlus' Steudle. "The line is planning two classic ships and two expedition vessels."
For more details about the Crystal brand, itineraries and more, visit the line's website. For the best deal and great service, work with a professional travel advisor. Check out the information below to reach one of Pavlus Travel's skilled personal travel planners.
Important Information from Pavlus Travel
If anything tweaks your interest in this blog and you'd like to talk about a future vacation, please DO call us at 800-528-9300.
Definitely, if you have questions about specific pricing, brochures, savings, itineraries, dates of travel, accommodations, accessible options and so on, please contact us.
Again, call us at 800-528-9300 or visit and "live chat" at Pavlus Travel's official agency Web site.