As river cruisers know, it's intriguing to discover what's around the next bend in the river. Similarly, The Meandering Traveler couldn't wait to catch up with Kristin Karst, co-owner and executive vice president of luxury river cruise line, AmaWaterways. 
During a one-on-one chat with Karst, we gleaned a potpourri of "river line intel" — some business-focused, some guest-focused, some personal. Come along for our snapshot look at a well-known global river line headquartered in Calabasas, CA.
(Photo above shows Kristin Karst and AmaWaterways crew members atop one of the line's European river vessels. Photo by AmaWaterways.)
1. Colombia, Here Comes AmaWaterways!
Seeking a new adventure for 2024? Karst tells us that Colombia's Magdalena River awaits with two new AmaWaterways itineraries, starting in 2024.
"For North American travelers, Colombia is the closest exotic destination we cruise through," she emphasizes. "It's a great opportunity to discover a unique and vibrant culture without having to spend over 10 hours on a plane."
AmaWaterways will offer two seven-night itineraries, "Magic of Colombia" and "Wonders of Colombia," says Karst. "Both will sail between Cartagena and Barranquilla. and take guests down the only river in the Caribbean region to experience sites and cultural traditions recognized by UNESCO for their universal value."
For instance, Cartagena's old city offers cobblestone streets, miles of ancient walls and the impressive Castillo de San Felipe de Barajas.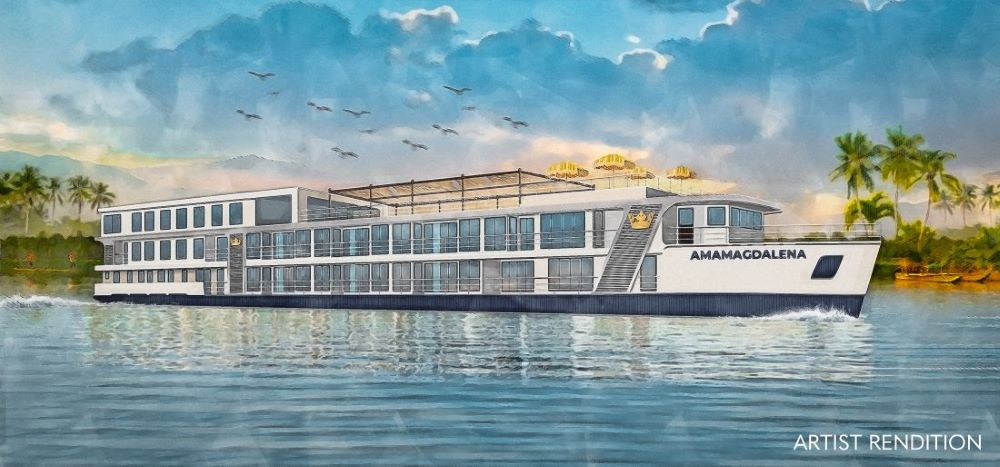 New Vessels for Colombia River Cruisers
The 60-passenger AmaMagdalena, the first of two new AmaWaterways river vessels, will begin sailing in Colombia next year. It's currently under construction in a Colombian shipyard. Sister vessel AmaMelodia will begin sailing in 2025.
If you'd like to learn more about the new Colombian vessels, here's the website link for ship information such as deck plans, accommodations, activities and more. At press time, fares for the "Magic of Colombia" departure on November 13, 2024, started at $3,599 per person, double occupancy.
As always, prices are subject to change and vary by departure date. For all the details, talk with your personal travel planner. We'd also suggest checking out this AmaWaterways' website page to learn more about cruising the Magdalena River region.
2. Celebrations: Authentic, Immersive
We asked Karst about one hot trend that AmaWaterways is seeing in 2023. "When traveling abroad, travelers continually express an interest in authentic cultural immersion and interaction with the local communities," stresses Karst. "That's increasingly the case."
Did you know that Barranquilla, Colombia, is home to the world's second largest Carnaval celebration? Yes, Barranquilla's annual celebration is only eclipsed by the hoopla in Rio de Janeiro, Brazil.
So, for guests on all of its Colombia voyages, Karst tells The Meandering Traveler that AmaWaterways is setting up an exclusive, year-round Carnaval celebration in Barranquilla.
Guests also will be treated to a folkloric cumbia performance of music and dance in El Banco. Since the 1940s, commercial or modern Colombian cumbia has expanded vigorously throughout Latin America. Many countries now have their own variants.
River Cruisers: Celebrating in Europe
Already highly popular with AmaWaterways guests sailing to or from Vilshofen, Germany, is the line's traditional German celebration there. The Meandering Traveler has experienced this dockside event first-hand. Simply put, it's an absolute hoot!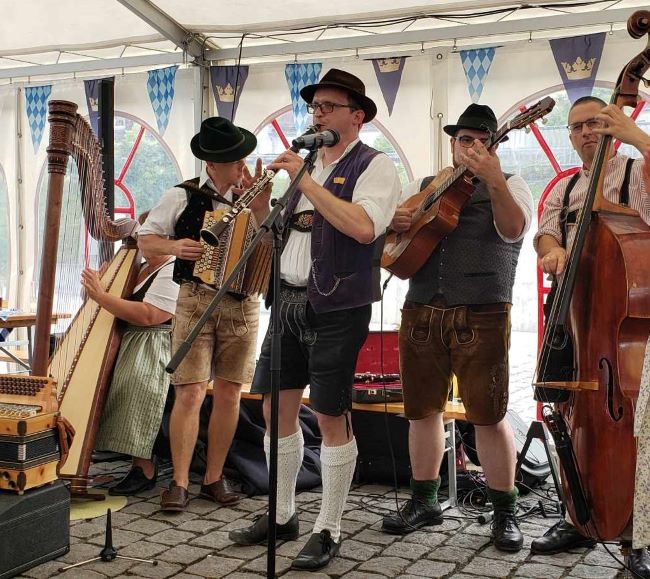 "In 2009, we christened AmaLyra in Vilshofen, and the local city and mayor were so great that we discussed how fun it would be for our guests to enjoy a lively traditional beer festival for every Danube cruise that began or ended in Vilshofen," Karst says.
That came to reality. Now river cruisers sailing on those AmaWaterways voyages are enjoying German heritage and culture (live "oompah" music, plus Bavarian food and brews) at a fun festival.
It's also much more intimate than what travelers would experience at similarly themed festivals across Germany. "You're not with thousands of others," she says.
Folksy Oompah Music
"Our Vilshofen dockside event is an exclusive celebration held every week for us," Karst says. Setting the stage, she notes that "it's hosted by the town and attended by a local Beer Queen. Often, the mayor pops by to share a beer with our guests."
Guests exit the ship's gangway and just steps away enter a large white tent. From there, a festival brimming with German traditions unfolds.
Welcoming guests is a lively Bavarian "oompah" brass band with musicians dressed in traditional lederhosen and dirndl attire. One surprise is that a few fellow river cruisers might show up similarly dressed.
During our cruise, some bought that traditional German clothing on Amazon and then packed it for their vacation. Others acquired the lederhosen and dirndl attire at AmaMagna's gift shop (see photo below)!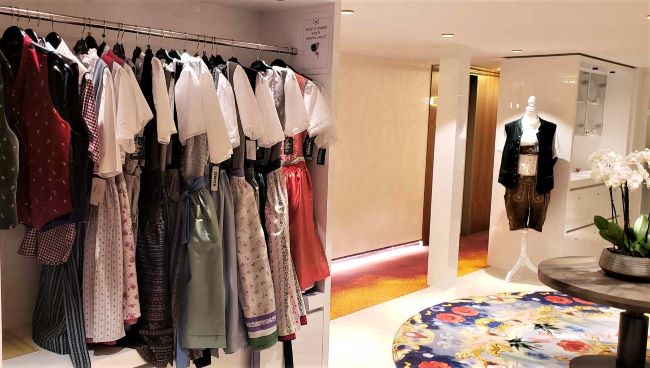 During the festival, guests taste local treats and drinks, toast each other, and head to the dance floor! It's so much fun that we asked Karst about any other types of celebratory events that are now offered elsewhere across the globe.
"Guests choosing our 'Magna on the Danube' itinerary can enjoy an exclusive wine festival in Spitz, Austria," she mentions. "That's another example of working with the local communities to bring to life certain venues and provide employment in the communities."
And, of course, all upcoming Colombian voyages will offer the Carnaval celebration, as we explained above.
3. More New Ships on the Horizon
Fleet-wise, AmaWaterways now operates 29 luxurious river ships total across Europe, Asia, Africa (the Zambezi and Nile rivers), and Colombia. Two new river vessels will set sail in 2024:
As discussed above, the new AmaMagdalena will set sail on the Magdalena River within Colombia.
In addition, the new AmaLilia will launch on Egypt's Nile River.
Then in 2025, Karst reports that the new AmaSintra will join two other AmaWaterways vessels sailing along Portugal's Douro River. And as mentioned earlier in this blog, the line's second Colombia ship will set sail in 2025 too. 
4. Extended Europe Seasons, "Hot Selling" Voyages
In addition, several ships will sail extended European seasons. That means more voyages either earlier or later in the year.
Starting in February 2024 AmaWaterways will begin cruising earlier in the season on the Rhine and Danube rivers. "That will give our guests the opportunity to enjoy Europe starting during the month of love (Valentine's Day!) with lower airfares and fewer crowds," says Karst.

Fourteen additional roundtrip

AmaDouro

sailings are planned from Porto, Portugal later this year too. "Guests can experience the joys of this popular destination in the early winter season," she emphasizes. 
Strong Traveler Interest
What's popular with river cruisers heading to Europe this year and in 2024? Karst cites Rhine River journeys through Germany, France and Switzerland. Lengthier vacations are also desired by many travelers. They're increasingly adding pre- and post-cruise land packages to extend their vacation.
For instance, the 162-passenger AmaSerena sails a seven-night "Rhine Castles and Swiss Alps" itinerary on multiple dates. Those AmaWaterways voyages between Amsterdam, the Netherlands, and Basel, Switzerland, can be coupled with a three-night extension in Lake Como, Italy.
At press time, cruise fares for the May 6, 2024, embarkation (check in on May 3) started at $3,799 per person, double occupancy. The Lake Como extension started at $1,440 per person, double occupancy. 
The 156-passenger AmaMora also sails the same itinerary on multiple dates. For the May 6 embarkation (check in on May 4), fares at press time started at $3,299 per person, double occupancy. A five-night extension (two nights in Amsterdam, three in Lake Como) starts at an additional $2,190 per person, double occupancy. Prices are subject to change.
Other Popular Itineraries
What else is on the "hot list" in terms of traveler bookings? Karst cites AmaKristina's voyages along France's Rhone River; river cruises in Portugal with opportunities to sip and savor port wines and the region's Vino Verde; AmaMagna on the Danube River; and the popular Christmas market cruises.
Be sure to chat with your personal travel planner about itineraries, departure date choices, and options for extensions. As for accommodations, "many of our clients return raving about AmaWaterway's signature twin-balcony staterooms" says Shelby Steudle, president, Pavlus Travel.
"They offer both a French balcony and a full, walk-out private balcony," she explains. "So, this concept provides plenty of fresh air (if desired) as well as much natural light flowing into the stateroom and good flexibility for adjusting to outside weather conditions."
For example, when the weather is great, cruisers likely will want to sit outside and "soak in" all the spectacular river scenery. But if the weather isn't cooperative, they also can sit comfortably inside adjacent to their French balcony, yet still admire the views.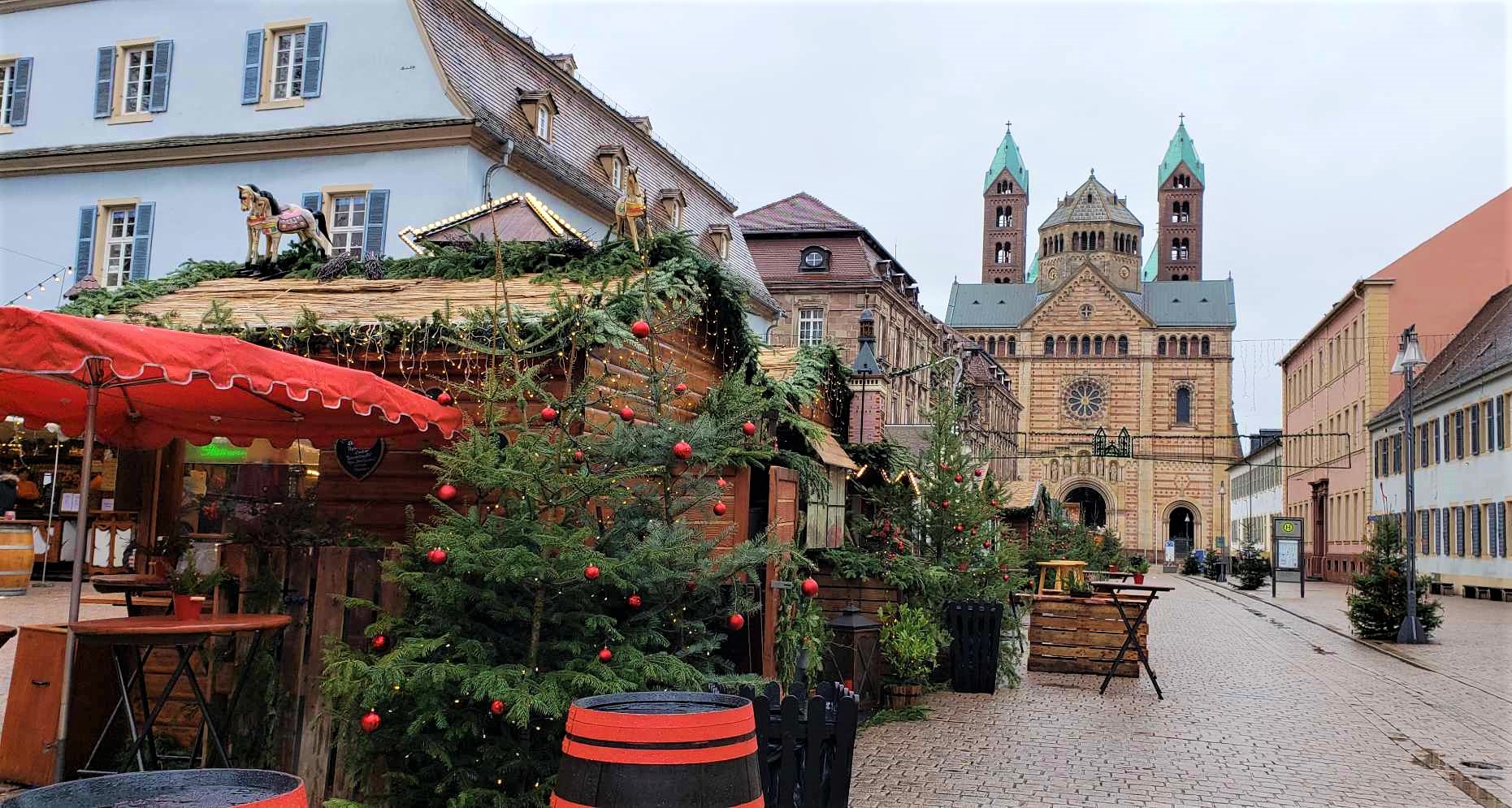 5. River Cruisers: More Diversity in Ages and Activities
"As with many other river cruise lines, AmaWaterways has sizably broadened the scope of its customer base during the past few years," according to Pavlus' Steudle. In addition to mature travelers, the line is now drawing many Baby Boomers, Generation Xers and those from Generation Y.
Regardless of their age, many guests are increasingly focused on wellness. Some desire an active vacation experience.  Others prefer to just kick back, relax and enjoy the fabulous views.
That's why having a wealth of dining, wellness, fitness and activity choices is so important. The goal is to allow each guest to customize his or her river cruise vacation.
Healthy Lifestyle, Fresh Cuisine
"Personally, as an advocate of living a healthy lifestyle, I strongly believe in providing our guests of all ages with a vacation that encompasses physical, mental and spiritual wellness," Karst explains.
Onboard its ships, Karst says AmaWaterways offers healthy cuisine made with fresh seasonal ingredients. Plus, the river line's chefs will be pleased to prepare cuisine that meets guests' dietary needs. That includes dishes that are gluten-free, low-sodium, vegan or vegetarian, for instance.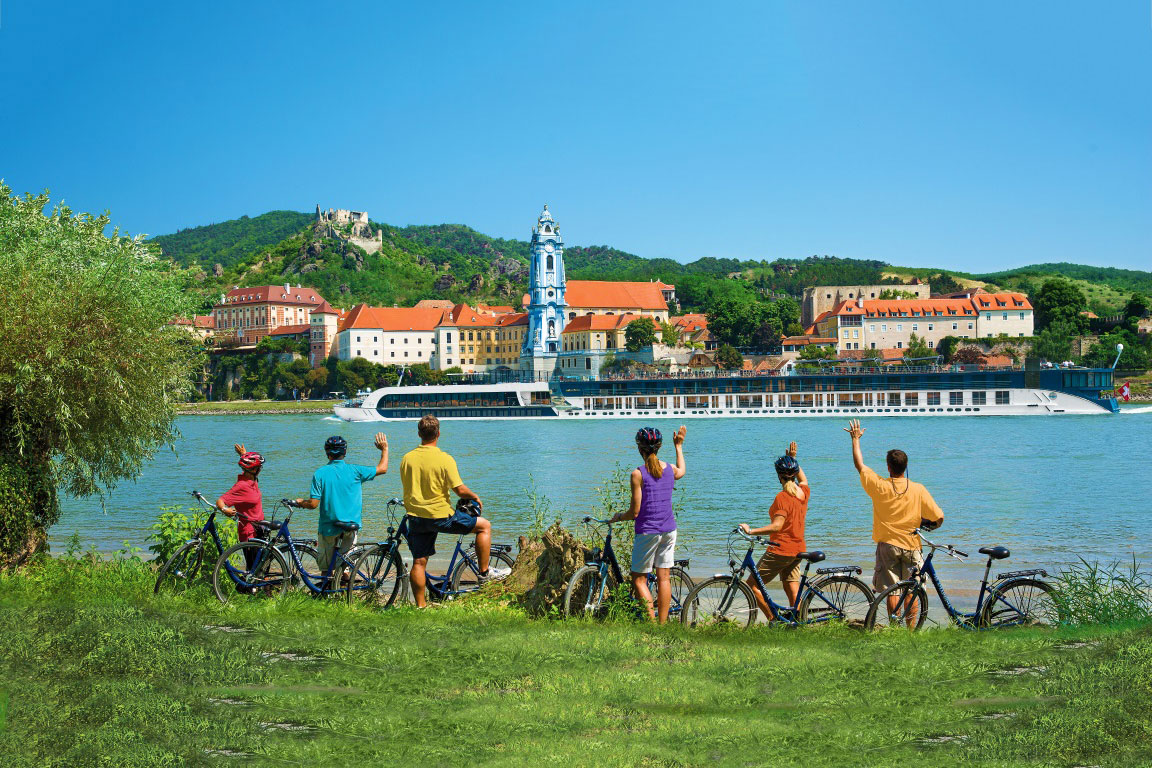 Hiking, Biking and Pickleball
Fitness-wise, AmaWaterways offers fitness rooms with state-of-the-art fitness machines.
"Plus, guests can enhance their best selves aboard our ships with yoga, Pilates, resistance band stretching, cardio and even dance classes," Karst notes.  They're all led by professionally trained wellness hosts. Best of all, those classes are included in the cruise fare, so there's no charge to participate.
As for guests who can't get enough of pickleball at home, here's the great news. Definitely, check out AmaMagna's Danube voyages. Yes, that wider-than-typical river ship has a new, full-size pickleball court!
AmaWaterways also offers hiking and biking shore excursions. Karst explains that it carries bicycles aboard — both adult and children's bikes — for guest use in ports of call. So, guests can head out and explore independently, or join one of the biking excursions.
Active, Regular or Gentle Tours
One of guests' favorite AmaWaterways "differentiators" is that the luxury line offers select shore excursions with three different levels of guest activity. So, guests choose from "active," "regular" or "gentle" when reserving those excursions.
"Having tour choices that adapt to our guests' mobility just seemed like the right thing to do," Karst believes. Here's one example of how it works.
"In Durnstein, Austria, for example, guests on an active city tour might start by first hiking up a nearby mountain," says Pavlus Travel's Steudle. "Then they'll walk back down and into town for touring."
In contrast, those on the regular tour will forego that mountain climb and instead walk — on a level landscape — into town from the vessel. From there, they'll begin their tour.
At the same time, guests on the gentle tour will board a motorized tram for a short ride through a residential area and lovely vineyards. The tram then will enter Durnstein through a different gate. Guests will disembark right in the heart of downtown.
From there, "the gentle-tour guests might take a short walking tour, explore on their own at their own pace, or head for a café, enjoy a coffee and pastry and soak up the local aura, prior to riding the tram back to the ship," says Pavlus' Steudle.
6. Dining Choices Aboard and Ashore
When river cruisers go ashore, they'll find lots of new options too. Among new "special interest tours" are wine tastings in vineyards or a cooking class in a local resident's home. 
What will you find aboard for dining? Here's the line's website page outlining culinary choices that guests will have on all AmaWaterways' vessels. One interesting culinary tidbit is that Rudi Schreiner, the river line's president, is a member of Confrérie de la Chaîne des Rôtisseurs.
Founded in Paris in 1950, the prestigious gastronomic society honors the Royal Guild of Goose Roasters (with origins to the 13th century). Essentially, it's the world's oldest and largest food and wine society. Today, all of AmaWaterways' ships are members.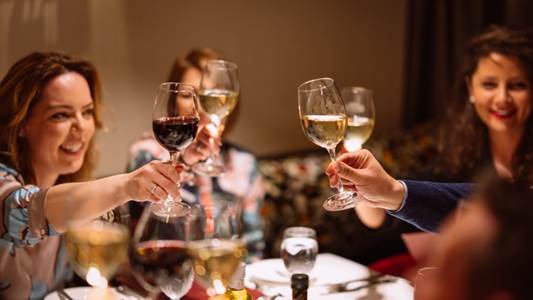 Speaking of wine, Karst says that's a passionate interest for many travelers. Today, AmaWaterways offers 60+ "Celebration of Wine" themed voyages. They're each hosted by a European or North American guest vintner, sommelier, or other wine expert.
Earlier this year, The Meandering Traveler offered a blog update about those "Celebration of Wine" voyages.
7. A Fun Tale from the Early Years 
In chatting with Karst, we asked her to reveal one fun tale from the line's 21-year history. By way of background, AmaWaterways is a family company, founded by Karst, Schreiner and the late Jimmy Murphy.
Today, Karst, Schreiner and Murphy's son, Gary Murphy, are all co-owners. As for fun tales, "there are quite a few but there is one that stands out for both Rudi and me," she tells us:
"When we hosted our Christmas Party for our AmaWaterways team in December 2010, I handed the microphone to Rudi for his usual 'end of the year' talk. But instead of the usual speech, Rudi went down on his knees and proposed to me in front of our entire AmaWaterways family. Everyone was cheering so loudly that Rudi did not hear if I said 'yes'! "
But love prevailed. Four months later in April 2011, the couple got married. But that too unfolded a bit differently than expected.
Since both spouses' birthdays were in April, they had first picked April 10 for their wedding day. "However, then we realized that Cruise Lines International Association's annual Cruise360 conference took place on that date in Fort Lauderdale," Karst says.
"So, of course, we moved our wedding to later in April to make sure we would be present at the cruise conference," she quips. "Talk about priorities in life!"
8. For River Cruisers: Top Perks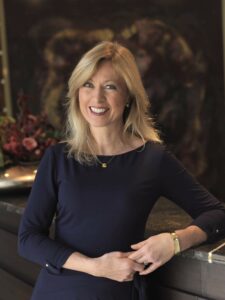 We asked Karst about what she considers the Top Five perks of sailing on a luxurious AmaWaterways cruise. Here's what she had to say:
"Our ships offer the luxury of space.
We offer a wide variety of shore excursions, many included within the river cruise fare.
We pride ourselves on our warm and highly trained crew members who are dedicated to our guests' well-being.
Many top-of-the-line amenities that cater to every type of guest are included in the river cruise fare.
We offer critically acclaimed dining."
As for what's next, "the sky is the limit," she says. So, we can't wait to see what's to come for AmaWaterways. To learn more about an AmaWaterways cruise, definitely talk with your personal travel planner.
If anything does tweak your interest in the story and you DO have questions about specific pricing, brochures, savings, accommodations, accessible options and so on, please contact us at  800-528-9300.
Or visit us online at Pavlus Travel's official agency Web site; there you can "live chat" with us online too!
This blog site is designed for "basic, general information" about travel. It's not staffed by travel advisors.
Any price examples used in the above blog are subject to change. They also do not represent the full range of options; a travel advisor can assist with additional information.
Please don't use the Reply Section below if you are asking for pricing, travel dates, accommodations, brochures or other specific requests. Please use the 800 number or online link.