It's almost here! In November, Regent Seven Seas Cruises debuts the 746-passenger Seven Seas Grandeur. Certainly, the new ultra-luxury ship is expected to dazzle with superb hardware, luxurious suites and interior design. But for foodies, it's all about the fine food and wine, and the ship's seven dining venues will offer guests 130 tasty new dishes.
The savory new dishes and enhanced menus were created by the Regent Seven Seas' culinary teams, led by Bernhard Klotz, Regent's vice president, food and beverage. Here's a snapshot look at what's planned to delight foodies.
(Photo above shows Prime 7's lobster, crab and shrimp. Photo by James Arnold, courtesy Regent Seven Seas Cruises.)
New Dishes, Enhanced Recipes
Tantalizing Tastes at Compass Rose
Loyal past guests love Compass Rose, Regent's signature restaurant. On Seven Seas Grandeur, they'll be greeted by a cascading waterfall sculpture at its entryway. They'll also discover a new look to the eatery, reimagined in its design by Miami's Studio DADO.
For diners, the big draw, though, is that this eatery will serve not one, not two, but 13 new dinner dishes! Among them is a decadent Maine lobster risotto served with a mascarpone-leek fondue.
How about a new roasted Black Angus striploin accompanied by fingerling potatoes and parmesan broccoli stems with a smoky romesco sauce? Or, diners might order a new tuna tataki made with Sichuan pepper, vegetable tartar, miso aioli, radish and sesame.
Compass Rose's tantalizing menu also allows guests to design their own entree. They can choose from preferred sides, sauces, pastas, and main features. And that's in addition to daily specials and a selection of vegan and vegetarian dishes.
Steaks Galore at Prime 7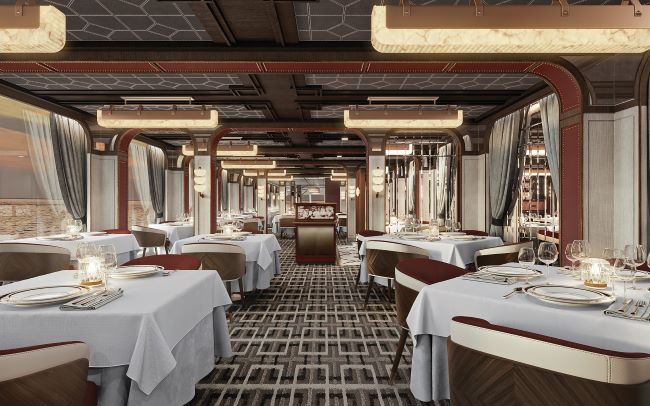 Also designed by Studio DADO, Prime 7, Regent's elegant steakhouse, offers such guest favorites as lump crab cakes, Black Angus Beef steak tartare with truffle-beer bread and jumbo shrimp cocktail. Steak lovers will likely salivate over dry-aged (for 28 days), USDA prime beef steaks from porterhouse to filet mignon.
Most notably, Prime 7 will serve a new lunch menu. Dishes will include:
Black Angus empanadas and salsa cruda;
Country fried chicken, bacon mashed potatoes, scallions, buttermilk biscuit and chipotle dipping sauce; and
Fisherman's platter of panko-breaded shrimp, squid, fish, lemon, French fries, and truffle aioli.
New lunch-time desserts will include bananas foster with dark rum, Mississippi mud cake with chocolate cremeux, and a chocolate-baked blueberry pudding with coconut-vanilla cream. All we have to say is "yum, yum."
Also, "plant-based cuisine has become popular with many consumers, so to cater to all palates, Seven Seas Grandeur's steakhouse will offer a new plant-based option," notes Shelby Steudle, president, Pavlus Travel. "Guests can order an Impossible Salisbury Steak, served with French fries, a roasted tomato and truffle butter."
But, if you're a steak lover, be sure to head to Prime 7 for its new elaborate sharing plate of succulent grilled meats for two. The sharing plate offers clandestine entrecote, d'Artagnan chicken, Galician chorizo and New Zealand lamb chops, accompanied by roasted garlic, tomato confit and chimichurri. "That new option is inspired by James Beard award-winning chef Francis Mallmann's restaurant Los Fuegos," Steudle adds.
New Dishes for Gourmands at Chartreuse
Three of seven new dishes on Chartreuse's menu are inspired by the Michelin three-star L'Auberge du Vieux Puits. That comes following a recent in-depth culinary tour of Narbonne, France, by Regent Seven Seas' hotel, food and beverage teams. They acquired invaluable knowledge and culinary techniques, and the link immediately above details the journey.
So, the new French culinary dishes to be introduced include:
Halibut Viennoise with fennel, porcini, spinach and veal jus;
Soupe de Poissons with brandade, mussels, aioli and seed crisp; and
Veloute de Champignons Consommé, egg yolk confit and truffle cappuccino.
The Chartreuse dessert menu also will be enhanced with a selection of premium petit fours and mignardises.
In addition, Chartreuse's complimentary wine selection will now include four Gerard Bertrand wines, exclusive to Regent Seven Seas Cruises. So. savor a sip of Heritage Kosmos, a full-bodied organic red wine; it's a blend of the Grenache, Syrah and Mourvedre grape varieties.
Another five Gerard Bertrand wines will grace the ship's Connoisseur Wine Menu.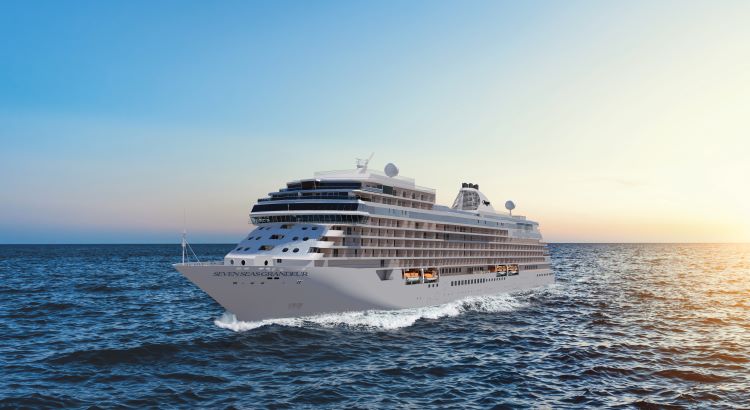 Pan-Asian Delights at Pacific Rim
As the place to go for tantalizing pan-Asian delights, Pacific Rim is creating two new dinner entrees. One is duck confit adobo accompanied by adlai risotto, XO sauce, foie gras and shimeji mushrooms.
Another is the plant-based Pacific Rim poke salad consisting of vegetable crudité, tofu, avocado, wakame, miso and sesame. For those with a sweet tooth, new desserts await too.
Diners might choose a dark chocolate and passion fruit cake with mango-chili sorbet. Alternatively, there's a new green tea matcha cheesecake. Personally, we can't resist anything with coconut, so we'd likely order the new Thai coconut and tapioca pudding with lemon-grass syrup.
More New Culinary Options
Seven Seas Grandeur's Sette Mari at La Veranda will feature a refined menu, focused on heritage and inspired by another culinary discovery trip that the Regent culinary team took to Puglia, Italy. Franco Semeraro, the line's senior vice president of hotel operations, and his family hail from that region.
Drawing inspiration from the area's Masserias (farmhouses) and learning centuries-old cooking techniques, the team has crafted an elevated hot appetizer menu, based on authentic recipes. Guests can order:
Sformato di ricotta, a ricotta-and-parmesan cheese tart with tomato basil sauce;
Cozze alla marinara e pepperoncino, which are black mussels in a sauce of garlic, chili flakes, fresh tomatoes, white wine and parsley; and
Zucchine Ripiene, baked zucchini stuffed with slow-roasted prime rib, herbs and parmesan cheese in a tomato sauce.
At breakfast, guests will also have a choice of more healthy options such as chia yogurt and homemade granolas.
For casual, outdoor dining, head for the Pool Grill. Frankly, we can't wait to try one new dish. It's the Korean-fried chicken burger with gochujang-black garlic mayo.
Parting Thoughts
In addition to enticing foodies with many new dishes and enhanced recipes aboard, Regent Seven Seas has also rolled out new culinary-focused shore excursions.
For more information on Seven Seas Grandeur, please visit RSSC.com/ships/Seven_Seas_Grandeur. To chat about itineraries, accommodations, pricing, shore options and more, contact your personal travel planner.
Your travel advisor can help you create a fabulous, personalized, luxurious vacation with great food and wine on Seven Seas Grandeur or another Regent Seven Seas ship. In search of an advisor? Pavlus Travel sells millions of dollars of Regent Seven Seas Cruises annually and has unadvertised discount prices and many skilled personal travel planners. Check out the contact details below.
If anything does tweak your interest in the story and you DO have questions about specific pricing, brochures, savings, accommodations, accessible options and so on, please contact us at  800-528-9300.
Or visit us online at Pavlus Travel's official agency Web site; there you can "live chat" with us online too!
This blog site is designed for "basic, general information" about travel. It's not staffed by travel advisors.
Any price examples used in the above blog are subject to change. They also do not represent the full range of options; a travel advisor can assist with additional information.
Please don't use the Reply Section below if you are asking for pricing, travel dates, accommodations, brochures or other specific requests. Please use the 800 number or online link.