Whether sailing "the ocean blue" or heading ashore during a port call, luxury cruisers love exploring "traditions." Sometimes, cruise guests simply watch, other times they participate. It's all about taking a deep dive into local culture! So, today's Experiential Pavlus blog focuses on two vastly different, centuries-old  traditions — English Afternoon Tea and The Military Tattoo.
One is calm, serene and tasty, while the other is active, noisy and a fantastic spectacle. Come along as Melissa Pool and Lauren Riesenberger, personal travel planners for Pavlus Travel, chat about these two diverse traditions they experienced recently.
(Shown in the photo atop this page, energetic dancers perform Scottish Highlands moves during The Royal Nova Scotia International Tattoo. Photo by Tourism Nova Scotia / Dean Casavechia and Tourism Nova Scotia / RNSIT.)
Tradition: Afternoon Tea on the High Seas
One British tradition that many Americans love is afternoon tea! How did it originate? Well, drinking tea dates to ancient China and was popularized in the 1660s by Britain's King Charles II and Catherine de Braganza, his Portuguese wife.
That said, today's afternoon tea service — as we know it — was introduced in 1840. Anna, the seventh Duchess of Bedford, is credited with starting this tradition. You can learn more about how and why in this excellent website page by the Historic U.K. website.
Essentially, she felt there was too much time between lunch and an 8 p.m. dinner. She felt that something extra was needed to stem late afternoon hunger pangs.
Over the years, though, taking a "pause" in late afternoon for tea, typically between 4 p.m. and 5 p.m., took on a social cachet. In the 1880s, it became a fashionable way to "see and be seen." Upper class English ladies often dressed in long gowns, gloves and hats.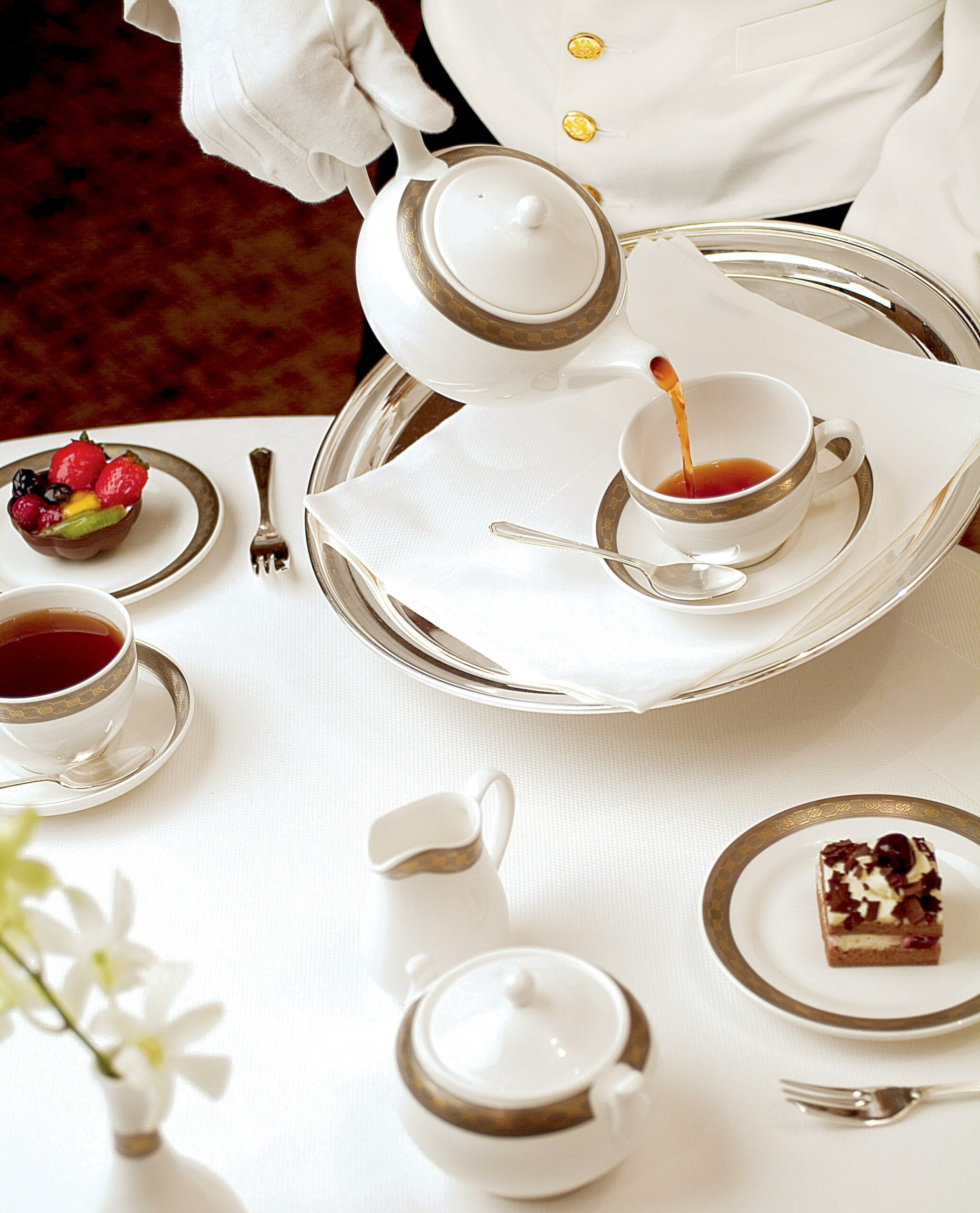 In the modern era, thankfully, afternoon tea on cruise ships isn't about dressing up in long gowns and white gloves. It's much more casual. Cunard, for example, has no dress code for the occasion. You're on vacation so just sip, savor and enjoy.
Today's afternoon tea service typically consists of tea from India or Ceylon. Traditionally, it's been poured from silver tea pots into delicate bone china cups.
People then enjoy small, dainty sandwiches. Cucumber is a particular favorite of many. Also served are tiny cake pieces, pastries and, of course, scones with clotted cream and jams.
White Glove Service, Tasty Delights
We first profiled Lauren Riesenberger in The Meandering Traveler blog in March 2023. We quickly learned what a passionate aficionado she is of everything British and all things royal. Not surprisingly, that extends to the time-honored tradition of English afternoon tea service.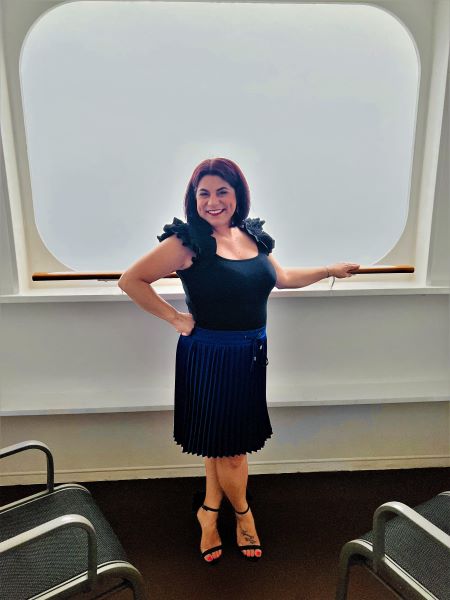 Sailing recently on Cunard Line's Queen Mary 2, roundtrip from New York, it was a "no brainer." Riesenberger and a friend headed to afternoon tea at the Britannia Restaurant! 
This elegant, multi-level space has a grand staircase and a humongous wall painting that depicts the RMS Queen Mary. It's a lovely place for afternoon tea.
Dainty Sandwiches and Scones
"During our afternoon tea service, there was a wide variety of small finger sandwiches," says Riesenberger, citing "egg salad, cucumber and dill, tuna and a seafood of some sort every day to taste. These were delicious."
Simultaneously, "they come around and pour you bottomless English tea," she says, noting that she always asked for a lemon for her tea. But wait, there's more!
"Then came the small desserts and home-made scones," Riesenberger says. "They literally melt in your mouth." She also was a big fan of the homemade butter with clotted cream and mixed honey. "It was sweet and delightful."
"To top things off, we enjoyed the string quartet, which played while we were sipping our tea," she adds. And servers are on hand to also pour Champagne or a Prosecco libation.
High Tea Options
If you're seeking an afternoon tea experience akin to Riesenberger's, Cunard's ships offer that as outlined above for $40 per person. Elsewhere on the high seas, Silversea Cruises, Seabourn, Crystal, Regent Seven Seas Cruises, Cunard and others also field an elegant, fancy afternoon tea service.
For example, The Meandering Traveler savored many afternoon tea delicacies recently on Seabourn's expedition ship Seabourn Venture during a Greenland and Iceland sailing. Many luxury hotels or resorts within the U.S., Canada, Europe and beyond also offer an afternoon tea service.
Tradition: The Military Tattoo
Another very different tradition is the Military Tattoo. It's a rousing, colorful event that unfolds in several countries across the globe. Among them are Canada and the United Kingdom, specifically in Nova Scotia and Scotland.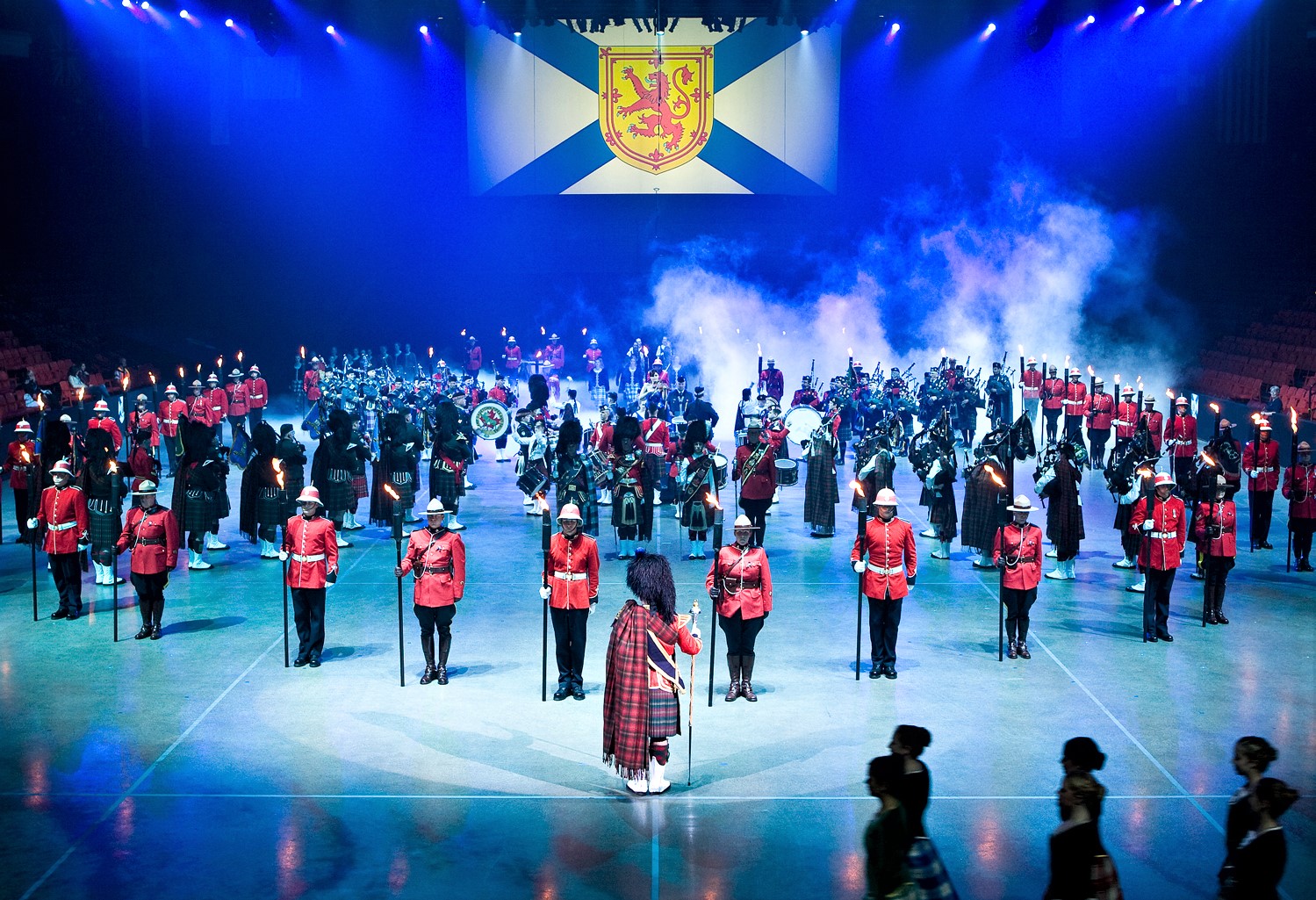 How did it all begin? It's a fascinating tale. In the Dutch language, the word "tattoo" is derived from "doe den tap toe." That means to turn off the taps.
And we're not talking tap dancing. Rather, it means turning off the "ale taps."
During the 17th century, when British soldiers in Holland (now officially The Netherlands) were required to be back at their barracks, trumpeters and drummers from the garrison would march through town playing the doe den tap toe drumbeat. That was a signal for innkeepers to stop serving ale. Soldiers knew it was time to return to their barracks.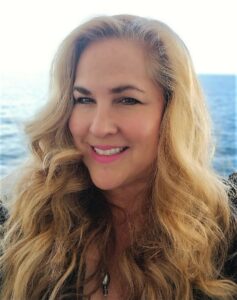 Eventually, tap-toe became tap-too. Later, that was anglicized into tattoo, which then became a word meaning a military musical show. Today, across the globe, a number of military tattoo organizations put on and preserve the heritage of military tattoos.
Reflecting history, they combine sound, light, color and musical energy to showcase modern military bands. And there are many other performers too.
Royal Nova Scotia International Tattoo
During a seven-day Cunard Line voyage from New York, Melissa Pool, personal travel planner, Pavlus Travel, Albuquerque, NM, attended the Royal Nova Scotia International Tattoo. That's presented at the Halifax Metro Center's hockey arena.
"The Royal Nova Scotia International Tattoo is a very interactive experience," Pavlus' Pool explains. "It's enthusiastic, energetic and emotional.
"From our seats, we totally got into the spirit and stomped and cheered," she quips. "There were dancers, acrobats, pipes and drums from many regions, plus a strong focus on military pride from many countries."
Participating were groups from Canada, the United States, Germany, Korea, Switzerland and the United Kingdom. Also entertaining were Scottish Highlands dancers, a choir and trumpeters.
Pool says, "I definitely felt emotional when the Americans played as I'm from the U.S. It gave me chills. I felt a sense of pride and was truly awed by this wonderful experience. I'd highly recommend it."
Pool says the tattoo will be back in Nova Scotia next year; here's the link. At present, Cunard doesn't have the tattoo in Nova Scotia on its 2024 schedule. But guests on a drive vacation, tour or other cruise lines may desire to learn more about the event, if they're planning to be in town.
Royal Edinburgh Military Tattoo, Scotland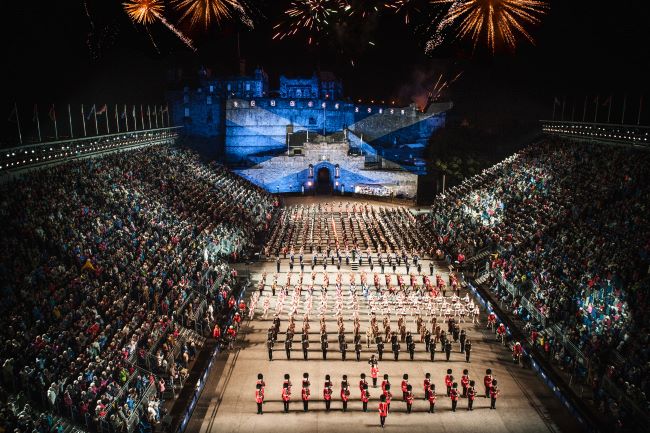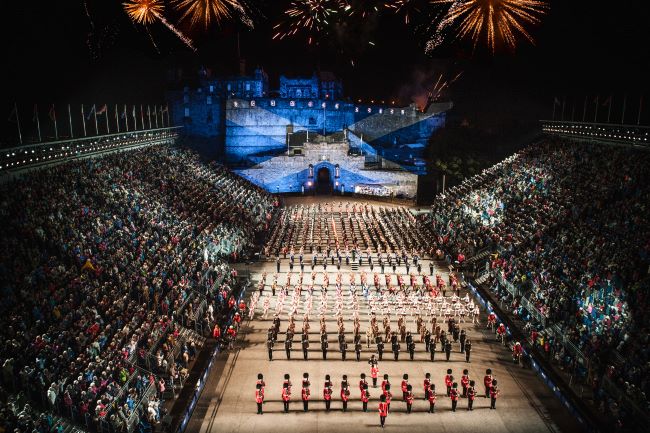 Alternatively, travelers can "ooh" and "aah" at the colorful spectacle of the magnificent Royal Edinburgh Military Tattoo.
One way to experience that is on Tauck. Select August 2024 departures of Tauck's 14-day"England, Scotland and Wales" escorted classic tour will include an evening performance of that Military Tattoo.
Azamara also just announced plans to call at Edinburgh (Leith), Scotland, U.K., during its 2024 sailing season. Guests can experience the annual Edinburgh Military Tattoo on Azamara Quest's 11-night "Scotland Intensive" voyage, departing August 12, 2024. That 702-passenger ship will sail from Oslo, Norway, to Dublin, Ireland. 
More Military Tattoo Options
In addition, Silversea Cruises' 13-day "Northern Europe and British Isles" voyage, operated by the 608-passenger Silver Spirit, will depart August 7, 2024. During the ship's sailing from Southampton, U.K., to Reykjavik, Iceland, it will call at Edinburgh (Leith). Guests will have "privileged access" to experience the pomp and festive aura of the military tattoo. 
Many other lines including Scenic and Princess Cruises also have Edinburgh event options. For example, the annual military tattoo will unfold during Princess' 12-day "British Isles" sailing on August 7, 2024.
Sailing roundtrip from Southampton, U.K., the 3,560-passenger Regal Princess will call at Edinburgh on August 16. Guests can take in the military tattoo event during that port call and also a separate overnight stop in Greenock, Scotland, on August 13-14. Princess will offer shore excursions for the event.
If interested in any of the above opportunities for "tattoo viewing," chat well in advance with your professional travel advisor.  He or she can help identify the best departure date, pricing, accommodations and activities to fit your travel needs, budget and interests.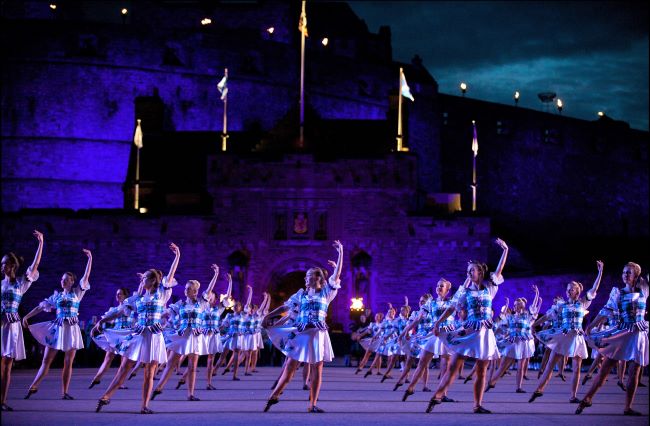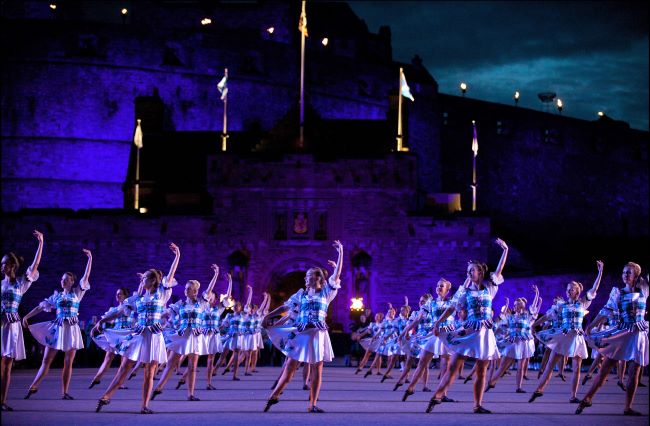 Parting Thoughts
Good to know? The military tattoo in various destinations isn't typically offered year-round, but rather during a specific month or range of dates. Ticket purchases or shore excursion purchases that include those tickets may or may not be required, varying by travel supplier.
Based on Pool's experience at the Royal Nova Scotia International Tattoo, though, you'll encounter an event that's brimming with color, energy, music and fun. But if you prefer a more relaxing, incredibly tasty activity, then head for afternoon tea, which Riesenberger recommends!
Bottom line? Global travel allows consumers to enjoy experiences that appeal to their personal interests. Talk to your personal travel planner today about personalizing your vacation to fit your specific passions. If you're searching for a skilled travel advisor, check out the information below from Pavlus Travel.
If anything does tweak your interest in the story and you DO have questions about specific pricing, brochures, savings, accommodations, accessible options and so on, please contact us at  800-528-9300.
Or visit us online at Pavlus Travel's official agency Web site; there you can "live chat" with us online too!
This blog site is designed for "basic, general information" about travel. It's not staffed by travel advisors.
Any price examples used in the above blog are subject to change. They also do not represent the full range of options; a travel advisor can assist with additional information.
Please don't use the Reply Section below if you are asking for pricing, travel dates, accommodations, brochures or other specific requests. Please use the 800 number or online link.