There's definitely something fishy about this cruise line move! Yep, but it's great news. Holland America Line is launching a new, global fresh fish program — sourcing fresh fish from 60 ports across the globe. In fact, the cruise line plans to serve 80 types of fresh fish aboard its fleet.
"Some readers may recall that Holland America was the first to serve 100 percent fresh, certified sustainable Alaska seafood on board its Alaska ships," says Shelby Steudle, president, Pavlus Travel. "But now, the cruise line is taking its fresh fish efforts globally. The goal? It's for the fish to go from port to plate in less than 48 hours!"
Most notably, Chef Masaharu Morimoto has been tapped as the line's "Fresh Fish Ambassador." Chef Morimoto will bring his signature style to curated dishes served in the ships' dining rooms, starting this fall.  You can learn more about the chef's background and culinary journey here.
Plus, Holland America will introduce "Morimoto at Sea," a new pop-up restaurant by the acclaimed chef. Look for that on all of the line's ships by early 2024.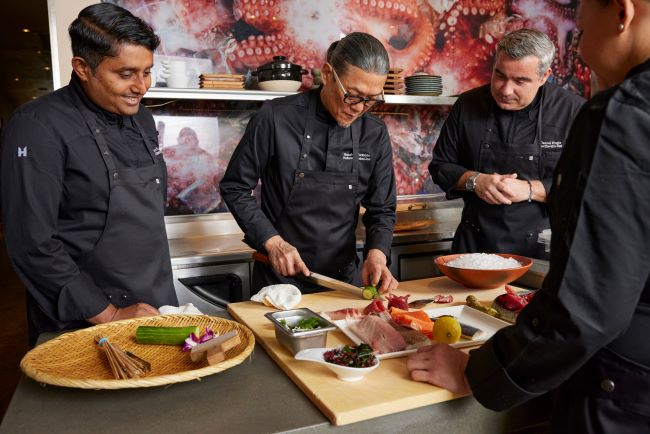 Holland America: Fresh Fish Approach
Under this new program, guests on all ships will be offered fresh fish and locally sourced ingredients, destination-inspired menus and local specialties. So, guests might savor yellowtail snapper in the Caribbean or barramundi in Australia. Holland America plans to immerse guests in regional culture through cuisine.
"We know fresh fish is part of our guests' daily lifestyle, and when they come on board, we are excited to expand their options beyond what they have access to at home," says Gus Antorcha, president, Holland America Line. The program will also include daily fresh fish specials.
In addition, the cruise line's "Savor My Catch" excursion options will be expanded. During these shore excursions, guests will venture out and go fishing. Their fresh "catch" is then brought back aboard, and prepared and served by the ship's chefs.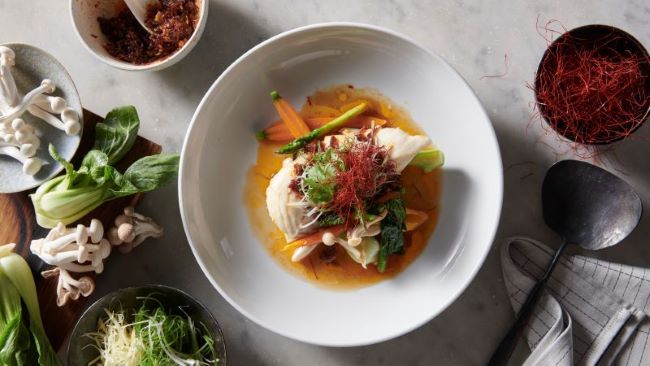 Chef Morimoto's Efforts
"Embarking on this type of culinary journey at sea is a first for me," says Chef Morimoto. "I'm excited to bring my passion for fresh fish and fresh ingredients onto Holland America Line's fleet."
The chef says he chose to partner with Holland America Line because both share a commitment and passion for fresh and regionally inspired foods: "You will see that come to life in the special dishes and pop-up experience we've created together."
Timing? Chef Morimoto's creations are being crafted for the cruise line's main dining room menus starting this week. They'll be available for a supplemental charge — up to $25, varying by dish.
Look for the new dishes to be available fleetwide by early October. Among them, are these:
Fresh Black Cod Yuzu with yogurt miso, pickled vegetables, kimchi eggplant, fried rice and garlic soy.
Morimoto Epice Lobster Tails with lemon foam, seasonal vegetables and Morimoto Epice.
Fresh Halibut XO with Asian vegetables, dried shrimp and scallop XO sauce.
Holland America: "Morimoto by Sea"  
Starting this November and fleetwide by early 2024, Holland America's guests can indulge in a full Chef Morimoto experience with an exclusive pop-up restaurant: "Morimoto by Sea." At least once per cruise, the restaurant and its menu of artfully presented dishes and beverages will take over Tamarind or Pinnacle Grill, depending on the ship.
Offered to guests for a $55 per person cover charge, the experience will include a multi-course menu, along with vegetarian and vegan selections.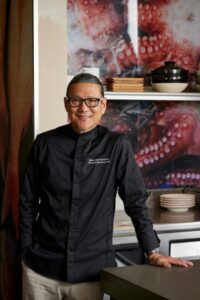 An evening at "Morimoto by Sea" will celebrate the fresh fish program with inspired cuisine. In addition, it's expected to appeal to a broad range of palates.
"Morimoto by Sea" also will showcase Chef Morimoto's exclusive alcoholic beverages including Morimoto Brut Rosé and Sake Junmai Morimoto; they'll complement his fresh dishes.
Morimoto by Sea: Sample Menu Items
For foodies wondering what to expect, here are sample menu items for the "Morimoto by Sea" dining experience.
Appetizers: 
Sushi Plate: (Vegetarian can be requested.) Nigiri with salmon, hamachi, hotate, maki with ebi tempura, Dungeness California, salmon shikai maki.
Morimoto Fresh Tuna Pizza: Anchovy aioli, kalamata olive, red onion, jalapeno.
Tempura Calamari Salad: (Can be served without calamari on request.) Quinoa two ways, white miso dressing.
Pork Gyoza Dumpling: Ginger-scallion sauce.
Tori Paitan Ramen Noodles Soup: Soy egg, bamboo shoot, hot creamy broth poured at the table.
Entrees: 
Crispy Fried Whole Market Fresh Fish: Sweet spicy chili sauce, pickled vegetables.
Ishiyaki Buri Bop: Fresh Pacific yellowtail on rice, cooked at the tableside in a hot stone bowl.
Shrimp Three Way "Morimoto Style": Tempura, panko, arare-age, tartar, tonkatsu and gochujang sauce.
Angry Lobster Pad Thai: Maine lobster, rice noodles, Thai red curry sauce.
Broiled Beef Tenderloin Steak: Japanese-style mushroom sauce.
Jidori Chicken Teriyaki, Chicken Oyster Yakitori: Shichimi togarashi.
Japanese Vegetables Curry: Tofu steak, seasonal vegetables.
Side Dishes:
House fried rice, steamed rice or brown rice.
Wasabi mashed potato.
Wok seared bok choy.
Basket steamed vegetables.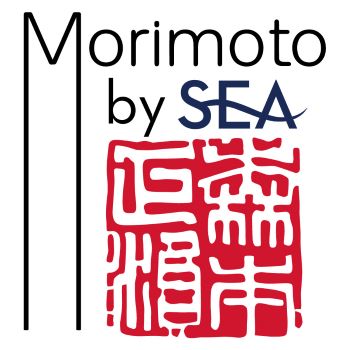 Desserts:
Dark Chocolate Sphere: Ganache, marshmallow, milk hot chocolate sauce.
Tofu Cheesecake: Mango passion, pineapple salsa.
White Chocolate Lime Ganache: Coconut foam, mango sorbet, rice pudding.
Sorbet and Ice cream or Trio: Chef's seasonal selection.
Alcoholic Beverages (by the bottle or glass):
Morimoto Brut Rosé.
Morimoto Grgich Hills Chardonnay.
Morimoto Grgich Hills Cabernet Sauvignon.
Sake Junmai Morimoto.
Sake Junmai Ginjo Morimoto.
Sake Junmai Daiginjo Morimoto.(
Sake Sparkling Nigori.
More Information on Holland America
Looking for more details about the global fresh fish program? Here's a link to Holland America's website page about fresh fish.
"If you're thinking about a Holland America Line cruise, contact your personal travel planner, who can explain the latest itinerary options," suggests Pavlus' Steudle. "Need an advisor? Read below to get in touch with Pavlus Travel.  Soon, you'll be sailing the high seas aboard a Holland America ship, visiting enticing ports of call, and savoring the new fresh fish options aboard."
Cuisine is certainly a big draw for potential cruise customers. Readers can learn about many of the latest culinary options at The Meandering Traveler. For example, a recent blog covered new cuisine planned for Regent Seven Seas' Seven Seas Grandeur.
So, safe travels and bon appetit!
If anything does tweak your interest in the story and you DO have questions about specific pricing, brochures, savings, accommodations, accessible options and so on, please contact us at  800-528-9300.
Or visit us online at Pavlus Travel's official agency Web site; there you can "live chat" with us online too!
This blog site is designed for "basic, general information" about travel. It's not staffed by travel advisors.
Any price examples used in the above blog are subject to change. They also do not represent the full range of options; a travel advisor can assist with additional information.
Please don't use the Reply Section below if you are asking for pricing, travel dates, accommodations, brochures or other specific requests. Please use the 800 number or online link.