Ready for a relaxing Hawaii  or French Polynesia vacation but need more time to plan? Oceania Cruises just may have your ticket to paradise. The upscale line plans seven new summer 2025 sailings in the South Pacific on the 670-guest Regatta. Yes, we can almost hear you singing "Bali Hai"!
Regatta's new itineraries will span 10 to 18 days. During August, September or October 2025, guests will embark in either Papeete, Tahiti, or Honolulu, Oahu, Hawaii.
Weatherwise, by the way, that's ideal. Typically, it's a season of abundant sunshine and pleasant, balmy temperatures. Humidity is also lower than at other times of the year.
Best of all, four of these seven new sailings will visit both French Polynesia and Hawaii. The boutique-style Regatta offers a luxurious, comfortable way to float between the islands. So, your pampering accommodations and fine dining travel with you. It's also a great way to avoid airport/airline hassles.
(Shown in the photo above is photogenic Bora Bora, French Polynesia. Photo by Oceania Cruises.) 
South Pacific Enticements
During these South Pacific journeys, guests will see Bora Bora's blue lagoon and stroll throughout Tahiti on black-sand beaches. Snorkelers will love Raiatea's colorful coral reefs. And it's impressive to view soaring mountains in Nuku Hiva's lush jungles.
Along the way, guests will explore native Polynesian culture, vibrant local communities and natural wonders. And then there's the cuisine!
"One of the highlights of these parts of the world is undoubtedly the food," emphasizes Frank A. Del Rio, Oceania's president. "Whether you're exploring Bora Bora and Nuku Hiva or Nawiliwili and Hilo, the flavors of these islands are meant to be savored and enjoyed just as much as the spectacular scenery."
In fact, Oceania has provided a few culinary tips. The Meandering Traveler has included those tasty tidbits below. 
2025 South Pacific Sailings
Here's a bit of friendly advice for those interested in the new South Pacific sailings. "These voyages will open for public sale on October 4, 2023, but be sure to let your personal travel planner know right now if you have interest," says Shelby Steudle, president, Pavlus Travel. "That way, we can work to assist you, so you'll have the best choice of accommodations when the cruises officially open for sale."
So, here's the line-up of Regatta's new voyages, with departure dates and ports of call. Important Note: Starting prices for cruise fares weren't available at press time. So, The Meandering Traveler has asked Oceania for examples. We'll post those here when received.
"Polynesian Dreams"
The 15-day "Polynesian Dreams" journey sails to islands in both French Polynesia and Hawaii. Sailing from Honolulu, Oahu, Hawaii, to Papeete, Tahiti, Regatta will also visit these other Hawaii ports: Nawiliwili, Lahaina, Kailua-Kona and Hilo, Hawaii.
With a laid-back vibe, Kailua-Kona on the island of Hawaii offers many diversions for travelers. You could roam through a national park, swim or snorkel in the sea, or play a round of golf at one of three courses overlooking the ocean.
One popular activity is to visit the Mountain Thunder Coffee Plantation. There, travelers can learn about different beans and roasts. Plus, they'll sample aromatic fresh brews.
In addition, on this "Polynesian Dreams" voyage, the ship will also call in French Polynesia at Nuku Hiva, Rangiroa, Raiatea, Bora Bora and Papeete. Two departures are offered, one on August 1, 2025, and another in reverse on September 15, 2025.
Magic Sands Beach
Beach lovers often desire to experience Kailua-Kona's Magic Sands Beach. It's a beautiful stretch of turquoise water and white sand – well, when it's actually there! It's named Magic Sands Beach because every so often a big storm will take all the sand out to sea. That exposes rock until the sandy beach is returned by the sea over time.
In French Polynesia, photogenic Bora Bora has two gorgeous peaks — Mount Otemanu and Mount Pahia; they're both more than 2,000 feet high. The island is also known for its shimmering lagoon and a coral reef that encircles the island and teems with exotic fish and turtles 
Guided off-road adventures are popular with many cruise guests going ashore in Bora Bora.  Seeking something a bit milder? Then just head onto a comfortable glass-bottom boat to view sharks and stingrays. 
Here's one of Oceania's dining tips for Bora Bora: "The mahi mahi burger and a mai tai at Bloody Mary's in Bora Bora are not to be missed. The thatched-roof restaurant with sand floors has served well-known faces including the late Jimmy Buffett, Ronnie Wood of The Rolling Stones and movie star couple Goldie Hawn and Kurt Russell. It's an experience to remember."
South Pacific: "Tahitian Legends"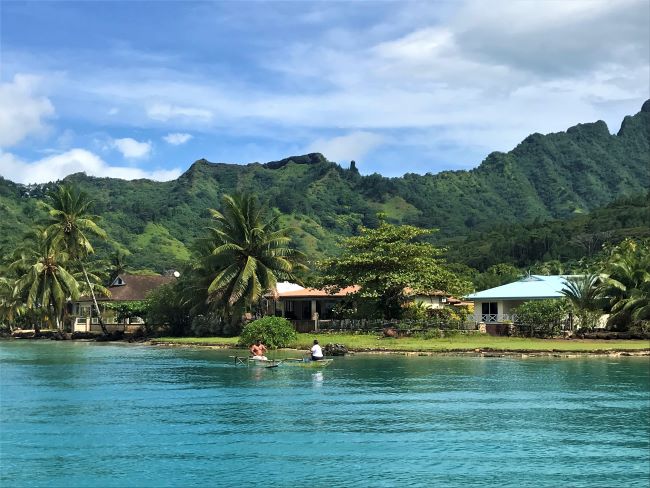 Sailing roundtrip from Papeete, Regatta will operate a 10-day "Tahitian Legends" voyage within French Polynesia. Ports of call will include Moorea, Fakarava, Nuku Hiva, Rangiroa, Bora Bora and Raiatea.
Three departures of this 10-day itinerary will be offered on August 16, August 26 and September 5, 2025.
Papeete, French Polynesia's capital, is known for clear blue waters, swaying palm trees, balmy weather and a rich island culture. Cruisers love to shop and on Papeete, they can look for exquisite hand-carved wooden figurines and bowls. Also look for colorful patchwork textiles called tifaifai, or appliqued quilts.
Feeling energetic? Then be sure to hike inland a couple of miles to Fautaua Waterfall, Tahiti's highest at 443 feet. You might also learn about the iridescence and luster of pearls at the Robert Wan Pearl Museum. We'd also suggest a walking tour to see colorful, creative street art and murals.
As for dining, at a local restaurant or during shore excursion opportunities, guests might order "poisson cru." That's French Polynesia's version of ceviche. It's local raw fish marinated in coconut milk and lime juice, often with vegetables. To learn more about Papeete or other Tahiti destinations, check out the official Tahiti Tourism visitor's guide site.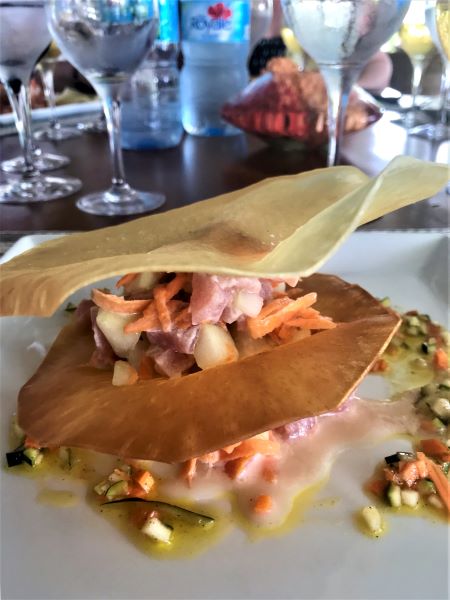 "Divine Pacific Oases"
During the "Divine Pacific Oases" itinerary, Regatta will sail from Honolulu to Papeete. Port calls along the way include Nawiliwili, Kahului, Kailua-Kona, Hilo, Nuku Hiva, Rangiroa, Raiatea and Bora Bora. One departure is planned for September 30, 2025.
You can't visit Hawaii without trying traditional "poke." That's a raw fish bowl favored for its simplicity and freshness.  All sorts of variations have become popular across the globe, but Oceania suggests trying "ahi poke" or "tako poke" (octopus).
Another "must have" dish at luaus is "kalua pork," which is found across the islands. The pork is slow roasted in an "imu" or underground pit and seasoned with local sea salt. The succulent, smoky meat is typically paired with rice and sauteed cabbage or cole slaw.
"Yum, yum," is all we can say. 
South Pacific: "Song of Polynesia"
If you'd like to start your voyage in Tahiti and then sail to French Polynesia and Hawaii before disembarking in Los Angeles, here's how. The 18-day "Song of Polynesia" journey travels from Papeete to Moorea, Rangiroa, Nuku Hiva, Hilo, Lahaina, Honolulu and Nawiliwili, before ending in California. One departure is offered on October 15, 2025.
As for tasting a traditional Tahitian dish, "uru" or breadfruit is a strangely versatile starch. You might see this quintessential French Polynesian dish prepared many ways. In Nuku Hiva, it might be roasted over hot coals and then mashed with coconut milk.
What's to see and do in Hilo, Hawaii? While the isle has lush greenery, it's also a land of volcania activity. Visitors can see how the 2018 volcanic eruption changed the landscape at Hawaii Volcanoes National Park, a UNESCO World Heritage site.
Also on Hilo, adventure seekers might choose a helicopter ride to Kilauea Volcano or zip-lining through a river gorge. A more relaxing option is to explore Richardson Ocean Park, a black-sand beach carved into the rocky shoreline. Of course, it's always fun to stroll through a local farmer's market to see local produce and gorgeous flowers.  
More About Regatta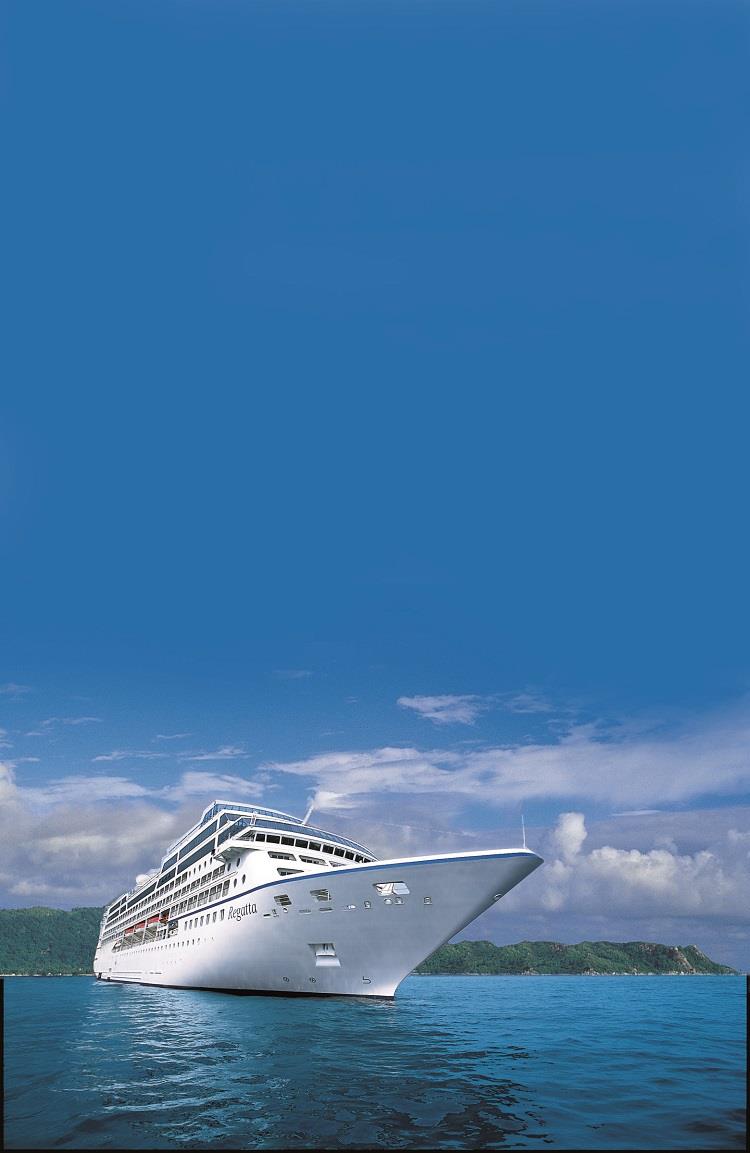 Carrying just 670 guests, Regatta offers a boutique, upscale cruising experience. "Nearly 70 percent of the ship's 340 lavish suites and luxurious staterooms have private verandas," according to Pavlus' Steudle.
Book lovers will find a top-of-ship library. Spa enthusiasts can arrange a pampering treatment at the Aquamar Spa + Vitality Center. In addition, eight lounges and bars are good spots to socialize with long-time and newfound friends.
Guests will enjoy fine dining and eclectic cuisine at Regatta's four gourmet, open-seating restaurants. After-dinner entertainment? Well, that might include a show or casino play.
Start Early 
As Pavlus' Steudle said earlier in this piece: "Contact your personal travel planner now, so that when the reservations for these new French Polynesia and Hawaii itineraries open on October 4, 2023, you'll have the best choice of accommodations."
In addition to the seven new sailings aboard Regatta in 2025, Oceania also offers other itineraries in the South Pacific, Australia and New Zealand, in 2024 and 2025. Earlier this year, the line also announced new voyages in Asia this year and in 2024.
For all itineraries, visit the Oceania Cruises website. To find a travel advisor to answer questions about these new itineraries, check out the tips below. And starting singing, "Bali Hai," as you plan a vacation to paradise on Oceania's Regatta in 2025.
If anything does tweak your interest in the story and you DO have questions about specific pricing, brochures, savings, accommodations, accessible options and so on, please contact us at  800-528-9300.
Or visit us online at Pavlus Travel's official agency Web site; there you can "live chat" with us online too!
This blog site is designed for "basic, general information" about travel. It's not staffed by travel advisors.
Any price examples used in the above blog are subject to change. They also do not represent the full range of options; a travel advisor can assist with additional information.
Please don't use the Reply Section below if you are asking for pricing, travel dates, accommodations, brochures or other specific requests. Please use the 800 number or online link.