There's a big change under way at Seabourn on the specialty dining front. Starting in early 2024, the ultra-luxury line will debut the new Solis specialty restaurant aboard its classic ships. The new dining concept will serve fine Mediterranean-inspired cuisine.
At the same time, the line will end its eight-year culinary partnership with Thomas Keller. He currently offers his specialty dining restaurants aboard those classic Seabourn's ships. Solis will replace those the Keller eateries as a specialty choice.
(Photo above shows a rendering of the look of the new Solis specialty restaurant. Photo by Seabourn.)
Time for Change: Solis Specialty Restaurant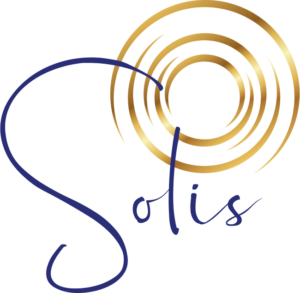 As for the timing of the restaurant "changeover," Seabourn says the new Solis specialty restaurant will first launch on board Seabourn Quest in January 2024.
Seabourn will then introduce Solis on Seabourn Encore, Seabourn Ovation and Seabourn Sojourn by spring 2024.
Calling this "the next chapter" in its enhanced culinary experience, Seabourn says that guests can expect Mediterranean cuisine inspired by the places the line's ships visit within that region. 
So, look for an array of light, modern Mediterranean cuisine bursting with color and character. Seabourn's chefs will craft the dishes by hand and prepare them fresh each day.   
Savory New Dishes
Guests will find flavor combinations that combine both the familiar and an elevated experience too. 
For example, Seabourn provided The Meandering Traveler with this photo below. It showcases one of the many dishes to be served at Solis.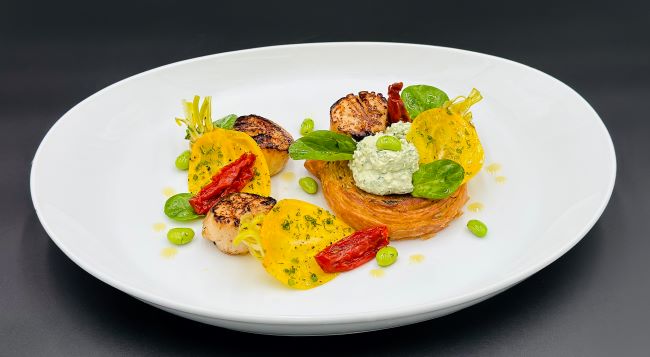 Chefs Egger and Salein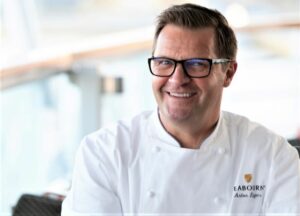 Long-time Seabourn culinary partners, Master Chef Anton Egger and Senior Corporate Chef Franck Salein are the foundation behind Solis' development. Both bring years of Michelin-level experience, a strong passion for travel, and deep knowledge of what Seabourn guests expect.
Chef Egger has opened restaurants in Singapore and Bangkok, Thailand. In addition, he appears worldwide in notable culinary events alongside Michelin-starred chefs.
In turn, Chef Salein's extensive background includes roles as executive chef at several two- and three-Michelin-starred restaurants.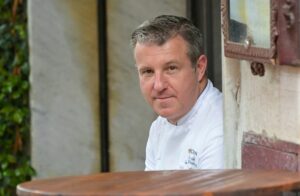 Leahy's Perspective
Since joining Seabourn as its president in early 2023, Natalya Leahy has pored over every aspect of the ultra-luxury product. She's had a careful eye out for any enhancements that could be made.
In just the past few months, for instance, the ultra-luxury line has upgraded its room service menu. Leahy has also brought back some beloved onboard amenities from the past.
In turn, she and her team have introduced many other snazzy enhancements. Those include the spread of the line's sushi concept to some other ships in the fleet and the introduction of more reliable Starlink for high-speed Wi-Fi.
The Culinary Factor
"Culinary is an integral part of our ultra-luxury experiences, and we are committed to continuously innovating to delight our guests with unparalleled dining options," emphasizes Leahy. "The addition of Solis is truly inspired by the voice of our guests and our team has worked hard over the past several months to bring this to life."
She adds: "Solis will showcase a vibrant, chic atmosphere with feel-good background music and a menu reminiscent of our favorite travel memories." With each dish, Seabourn hopes to transport guests via "their senses" to sun-kissed Mediterranean shores.
New Solis Specialty Restaurant: Sample Dishes
Solis will debut an array of dishes that draw inspiration from the French and Italian Rivieras; central Mediterranean areas such as Sicily and the rest of Italy; or eastern Mediterranean lands including Greece and Turkey. Some dishes will also reflect the flavors of North Africa.
Want a few hints of the specific new dishes planned for this specialty restaurant? Seabourn offers these few savory examples to whet your appetite.  
Piquillos De La Mama – Basque piquillo peppers with fresh Murcia goat milk cheese served on country bread crostini;

Branzino – whole sea bass baked in a sea-salt-and-fresh-thyme crust served with artichokes and tomatoes;

Bistecca Alla Fiorentina – Tuscan-style grilled beef porterhouse steak; and

Spiced Lamb Shank – Chargrilled smoked eggplant with tahini, pomegranate, roasted pine nuts, and labneh.
In addition, here below is the new Provencale dish of herbs-crusted red tuna loin with dill, marinated cucumber, pickled radish and shaved coconut with citrus dressing.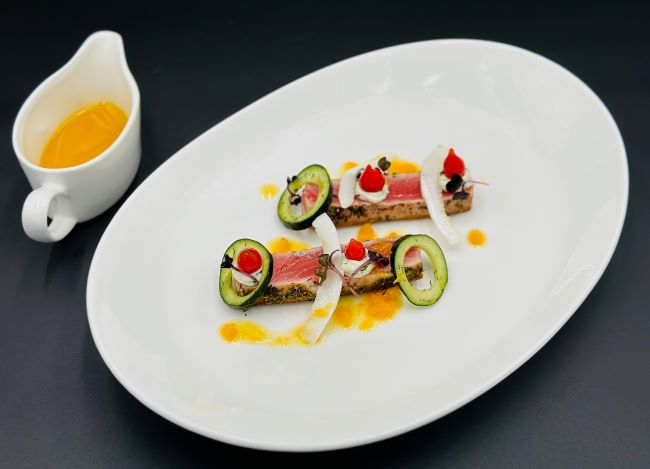 Vegan/Vegetarian and Cocktails
In addition, Seabourn stresses that it will offer an assortment of vegetarian and vegan options throughout the Solis menu.
Plus, Seabourn plans to offer a new, refined vintage cocktail menu. So look for such classics as the Kir Royale or Negroni as well as the ever-popular Aperol Spritz and other beverage delights.
If you're sailing in late spring 2024, you'll likely find Solis has been added to all Seabourn's classic ships (not the expedition ships). The early bird is Seabourn Quest, which as mentioned above, will have the new eatery in January 2024.
Likely in High Demand
"If you want to be one of the first guests to dine at Solis, check out Seabourn Quest's schedules for early 2024," suggests Shelby Steudle, president, Pavlus Travel. "We'd suggest booking February or March 2024 on that ship. Or, alternatively, consider an early summer sailing on the other ships getting the new Solis."
Guests can find the full schedule for upcoming Seabourn Quest cruises at the ultra-luxury line's website. Or, simply contact a personal travel planner right away to discuss the options and secure accommodations.
"These initial sailings with the new restaurant are sure to be popular with the line's loyal past guests eager to dine there," says Steudle.
Preferred "Digs" and Pricing
She adds that calling now will help clients do everything possible to secure their preferred accommodations, plus "consumers can take advantage of Pavlus Travel's unadvertised Seabourn discount prices, coupled with our top-notch service."
What's planned for the new Solis specialty restaurant in terms of interior design? Check out this full Seabourn rendering below (a smaller portion of this was used atop this page). We like this restaurant design look. We're also looking forward to savoring the new Solis dishes in 2024!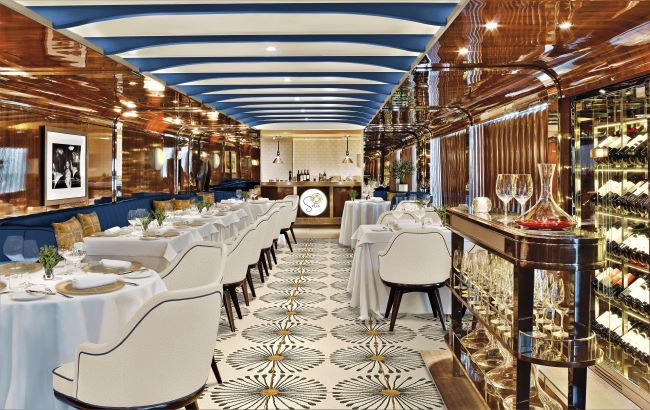 This blog site offers "basic, general information" about travel. It's not staffed by travel advisors.
Any personal views expressed reflect the anecdotal perspective of the author — simply one opinion by a frequent traveler. The views expressed should not substitute in any way for use of a professional travel advisor. And that applies to either advice or booking of any vacation.
Also, please don't use the Reply Section below if you're asking for pricing, travel dates, accommodations, brochures or other specific requests. 
That said, we are most happy and eager to assist you. Here's how…
If anything does tweak your interest in the story and you'd like to talk about a future vacation, please DO call us at 800-528-9300.
Definitely, if you have questions about specific pricing, brochures, savings, itineraries, dates of travel, accommodations, accessible options and so on, please contact us. Again, call us at 800-528-9300 or visit and "live chat" at Pavlus Travel's official agency Web site.