Fine dining is a good reason to look at Oceania Cruises, which prides itself on a strong gastronomy focus. This week, The Meandering Traveler is aboard a 10-day Baltic region cruise on the 1,238-passenger Marina. 
Last week, we talked about the boarding process, lifeboat drill, our Penthouse Suite and a bit more. So, here's a look at two elements of the onboard dining scene – the Grand Dining Room and specialty restaurant, Red Ginger.
Oceania Marina: Grand Dining Room
The Grand Dining Room experience almost seems a "hidden treasure" on our cruise. Why? The ship is about half full, first of all. But mostly, so many guests desire to book dinner at Marina's four specialty restaurants aboard – Red Ginger, Jacques, Polo and Toscana. 
That said, there's a lovely, elegant dining experience with great sea views that awaits them in the Grand Dining Room. We've dined here twice for dinner and once for lunch, and we've enjoyed the experience immensely. Here's our perspective from last night's dinner.
In perusing the menu, guests can choose a trio of specific pairings with pre-set dishes, such as the "Food and Wine Pairing" dinner, a "Global Cuisine" dinner or "Aquamar Vitality Cuisine." All looked quite good, but instead, I and other table mates chose to order from the "a la carte" menu.
A La Carte Dinner Menu
I started off with "Caviar," set on a bed of crushed fingerling potatoes with lemon sour cream. Other a la carte appetizer choices included: "Salt-Roasted Beetroot Carpaccio, Melon Balls," "Porcini Puree," "Chilled Shrimp," and "Serrano Cured Ham."
Soups and salads included traditional "Russian Borscht Soup," "Chicken-Tomato Consomme Madrilene," "Lobster Bisque" (which I ordered, see photo below); "Assorted Green Salad," "Roma Tomato Biais," "Caesar Salad" or "Mixed Greens Salad."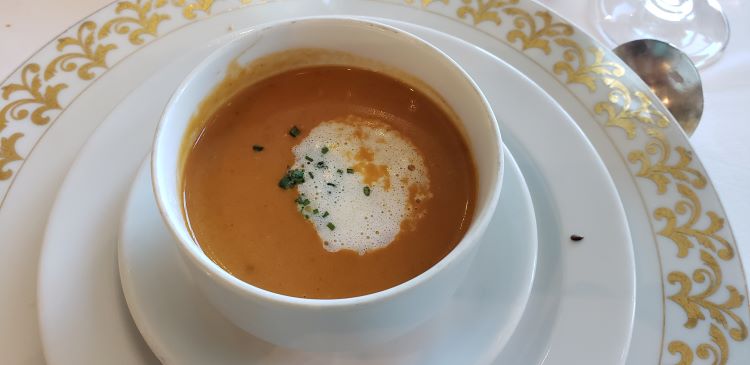 Then for the main event! Main entrees include "Sweet Potato-Oat Tart," "Beef Wellington," "Florida Lobster Tail," "Chicken a la Kiev," "Ricotta and Spinach Cannelloni" and "Creamy Arborio Risotto." In addition, diners could select from several Jacques Pepin Signature Dishes including "Salmon Supreme," "Sirloin Steak," and "Herb-Crusted Rotisserie Chicken."
The Tale of a Tail
I'm from Fort Lauderdale, FL, so it seemed odd to come all the way from Florida and order "Florida Lobster Tail." But alas, it tweaked my fancy, so I plowed ahead and ordered it.
When it arrived, I loved the creative presentation – with the end of the tail shell positioned to the side of the dish and the rice stacked and shaped to look like a lobster body, but the slices of lobster were on top (see the photo below).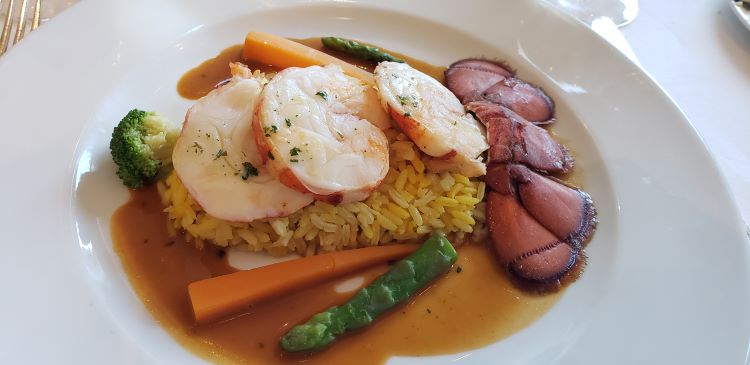 The lobster itself was easy to access (without a server having to remove the shell). Plus, there were a few yummy veggies too.
One observation about staffing in the Grand Dining Room: Servers were plentiful, helpful and eager to please. Plates were cleared quickly when each course was finished. We were continually asked if we'd like more wine or coffee.
On a scale of 1 to 10, the crew members in this venue get a 10, hands down, for highly attentive, friendly service.
Oceania Marina: Savoring Red Ginger
As one of Marina's specialty restaurants, the spacious, upscale Red Ginger offers an inventive menu – taking traditional Asian dishes and putting different twists and tastes on those.
At the start of the meal service, guests are offered a tea menu. What a nice touch! What's to order? Black tea choices included "Orchid Vanilla" and "Estate Darjeeling."
Herbal teas, which take four to five minutes to infuse and are caffeine free, include: "Ginger Lemongrass," "Raspberry Nectar" and "Chamomile Citrus."
If you love green tea, you can choose from "Japanese Green Tea," "Jasmine Green" and "Green Mango Peach." Another option is white tea so to try that, order the "White Ginger Pear" tea.
If you order tea, the server will bring your selection in a tea pot to the table, so you can sip while you savor your meal.
Appetizers and Soups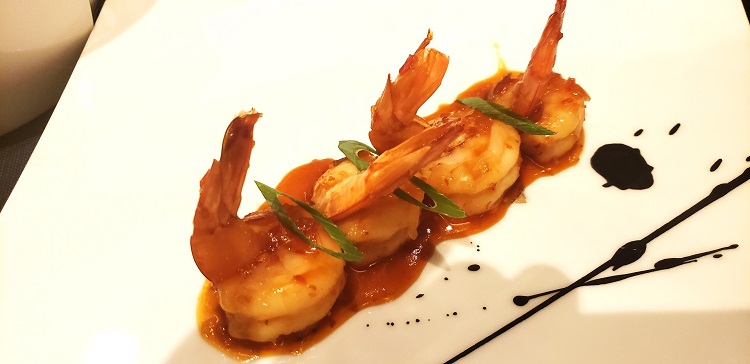 Then, let the meal itself begin! For an appetizer, our choices included: "Seared Salmon with Lobster Ceviche," "Vietnamese Banh Trang Summer Rolls," "Imperial Crispy Potato Roll," "Vegetable Tempura," "Tuna Tataki," "Chicken Satay," a sushi chef's selection and more.
We'd recommend the "Caramelized Tiger Prawns" (see photo above). this dish had a sweet chili sauce with a spicy kick . We also liked the "Crispy Ginger Calamari." 
If you're traveling as a couple or with friends, another appetizer option awaits. You could all share the "Skewers, Sushi and Tempura" appetizer, designed for two to four people.
Soup-wise, we found the "Tom Kha Gai" (shown in the photo below) very tasty, and others said they liked their "Chili Miso Soup." Among the many salad choices were "Sesame Wakame Salad" and "BBQ Baby Back Rib Salad."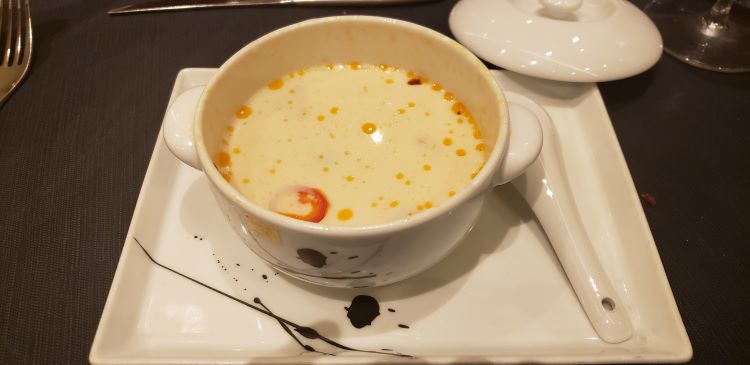 Oceania Marina: Entrees Galore
The restaurant's signature dish, which my butler recommended, is the "Miso-Glazed Black Cod." That said, instead I opted for the "Lobster Pad Thai." It was easy to eat (no shell to be removed), cooked to perfection, mouthwatering, tasty and thus, "going, going, gone."
If you love meat, though, you'll have these Red Ginger entrée options: "Red Curry Chicken" (see photo below), "Twice-Cooked Crispy Chicken," "Beef Teriyaki," "Bulgogi Ribeye Steak," "Seven Spices Crusted Lamb Rack" or "Pork Luc Lac."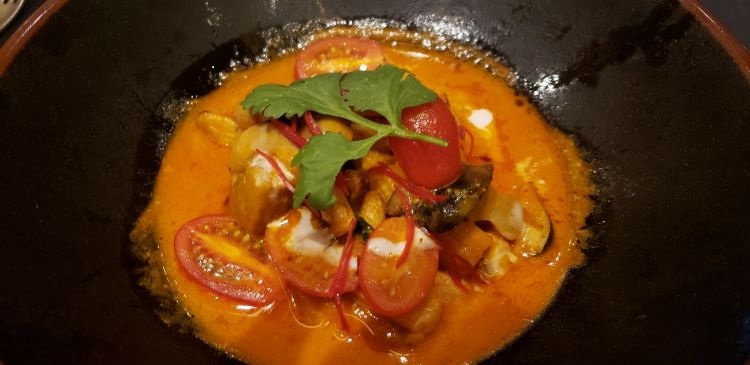 As for sides, diners can choose "Organic Steamed Brown Rice," "Steamed Jasmine Rice," or "Stir-Fried Rice." Or, they might order "Stir-Fried Udon Noodles," "Broccoli and Shiitake Mushrooms" or "Green Asparagus with White Miso."
Two vegetarian entrees also were offered. We'd suggest choosing the "Stir-Fried Udon Noodles." That dish includes broccoli, asparagus, carrots, ginger, bean sprouts and chili garlic sauce.  The other option, "Thai Vegetable Curry," lacked flavor, according to several different guests dining on different nights.
Overall, the Red Ginger offerings were excellent, though. We returned here twice!
Stay tuned next week for a look at our last blog about the Oceania Marina. That will cover the Executive Lounge, Jacques specialty restaurant and more.
Interested in sailing on an Oceania voyage on Marina. If so, then chat with your travel advisor about accommodations options, accessible cabins and other personalized needs.