In 2019, Silversea Cruises' new S.A.L.T. program (Sea and Land Taste) was introduced to The Meandering Traveler during a Silver Moon voyage from Bali, Indonesia, to Manila in the Philippines. Barbara Muckermann, today the line's president and CEO, and Adam Sachs, the former editor in chief of Saveur magazine, revealed "the promise" of S.A.L.T. Fast forward four years, and S.A.L.T. is in full swing on Silver Moon and Silver Dawn, and now the new Silver Nova.
During a voyage in the Mediterranean last week, Muckermann told invited guests that "the S.A.L.T. eco-system is brought to a completely new level on Silver Nova." If you plan to sail on Silver Nova, what will you discover? What's S.A.L.T. all about? And how is it enhanced on the new 728-passenger ship?
Local Foods, Drinks, Experiences
First, for those who aren't familiar with S.A.L.T., here's a quick primer as to the program's basics. If you already know these points, just keep reading. We'll soon talk about how S.A.L.T. is different on the Silversea's newest ship.
Essentially, S.A.L.T. is a program that immerses Silversea's guests in the authentic local foods, local drinks and local lifestyle experiences of destinations visited during their cruise.
For many travelers, it's no longer enough to simply tour a destination. It's also about feeling it, experiencing it, living it. It's about authenticity and immersion.
In particular, it's about discovering what "the locals" love to eat and drink. To do that, Silversea offers several onboard S.A.L.T. venues on Silver Dawn, Silver Moon and now Silver Nova.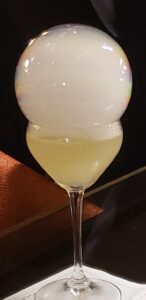 The S.A.L.T. Bar serves popular beverages hailing from the region the ship is visiting and even the specific ports along the guest's current voyage route. For instance, a Selene "puffy" drink (see adjacent photo) features a "collapsing dome" as the guest bends down for a closer look. It was one fun drink offered on our visit to Silver Moon's  S.A.L.T. Bar a few years ago.
A separate S.A.L.T. Kitchen — an "included" dining venue so there's no extra charge — serves up tasty local dishes. Two menus are offered. The Voyage menu is comprised of dishes from the specific cruising region. A Terrain menu offers dishes from the port of call visited by the ship on that specific day.
The onboard S.A.L.T. Lab is a test kitchen with individual cooking stations. So, guests can take complimentary cooking classes throughout the voyage. Then, after returning home, they can replicate local dishes from their cruise's sailing region.
S.A.L.T. Excursions
Guests also can book optional S.A.L.T. shore excursions; these curated day or evening trips carry an added fee. They're typically elevated, curated experiences that dive into the local food, beverage and cultural scene.
For instance, guests might head out to visit with a famed local chef. That experience might include a cooking demonstration or lunch in the chef's local restaurant.
"Alternatively, they might sip wine while talking to a vineyard owner about the fall grape harvest," explains Shelby Steudle, president, Pavlus Travel. "So, they'll learn firsthand about the region's viniculture. Or they might visit an organic farm or chow down on a traditional feast at a local family's home."
Now, you know a bit about what S.A.L.T. is about. So, let's look at what's new or different for S.A.L.T. aboard Silver Nova.
Relocated S.A.L.T. Bar
Relocated to Deck 10 and redesigned, the popular S.A.L.T. Bar is sizably enlarged. It has 42 comfortable seats. Now, it's capable of handling more people than on the Muse-class ships. But it's still not super big, which we appreciated too.
We asked Monte Mathews, a renowned New York food and travel writer, and author of Chewing the Fat, an online culinary blog, for his thoughts. He sailed with us last week on Silver Nova, and was also aboard that 2019 Silver Moon voyage that launched S.A.L.T.
So, throughout the past four years, he's watched with great interest as the program has evolved.
New Location, New Nonalcoholic Options 
On Silver Nova, "the incredibly popular S.A.L.T. Bar too has grown in size and is repositioned at the top of the ship," explains Mathews.
In addition, he tells The Meandering Traveler that the bar's "drinks menu also has been expanded to acknowledge the growing number of non-alcoholic drinkers." So, those who don't want to imbibe will find both nonalcoholic wines and cocktails.
That said, "this bar's regional wine selections are more complete than ever," Mathews adds.
The Meandering Traveler also likes the bar's comfortable, diverse seating areas. Guests can choose to sit on upholstered chairs, soft sofas (see photo below) or stools at the bar.
We found the enlarged bar to be a great spot for enjoying a drink and meeting new folks, or for socializing with family members or friends.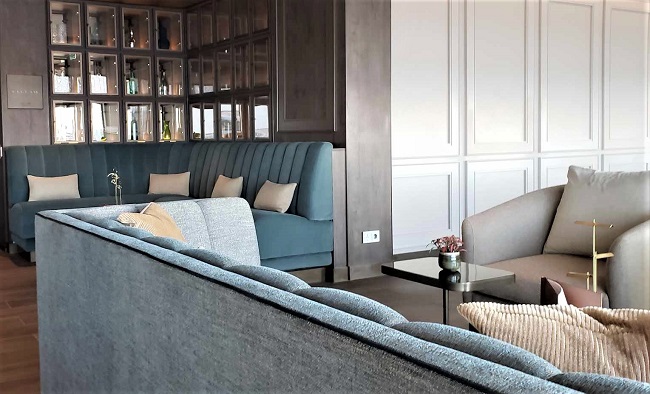 Also new? The S.A.L.T. Bar on Silver Nova now has windows along the outer wall. So, the bar has a bit brighter, more open feel.  
In fact, the new asymmetrical design of Silver Nova allows much more glass everywhere on the ship. It's estimated that 40 percent of the ship's exterior features some glass. That's designed to "bring the destinations closer" for guests sailing aboard the ultra-luxury ship.
The S.A.L.T. Kitchen
On Silver Nova, "S.A.L.T. Kitchen has an expanded presence and style," Mathews emphasizes. "The restaurant is truly a stunner — with both port-specific and regional menus to please every palate." This eatery is a complimentary dining option, nicely included in the guest's cruise fare. 
So, what's new? "A new emphasis on vegetarian and vegan dishes means that whatever your preferences, there's a local specialty made for you," he adds.
Istria, Adriatic, Italian South
The Meandering Traveler had the pleasure of dining in S.A.L.T. Kitchen one evening last week. Our port of call that particular day was Zadar, Croatia.
So, in turn, our menu choices reflected "Istria, the Adriatic and the Italian South." The offerings included both local flavors of the region and — drilling down even more — culinary dishes beloved by locals in Zadar itself.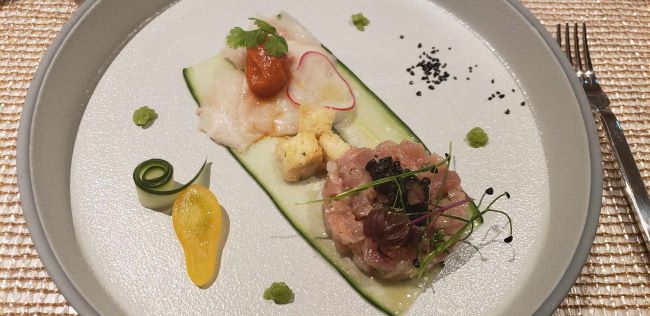 From the Voyage regional menu, we chose the appetizer "Flavors of the Sea: Raw and Cured" (see photo above). It consisted of cured tuna tartare, black salt, lemon gel, Italian sturgeon caviar, toasted crostini, and sea bream crudo with Croatian ajvar sauce.
Ordering an entree from the local Terrain menu, we picked "Grilled Orada" (see photo below). Incredible flavors surfaced in this freshly grilled, lemon-and-herb-marinated sea bream. It was dressed with wilted Swiss chard, cherry tomatoes, sauteed potatoes, and Croatian olive oil. Yum, yum.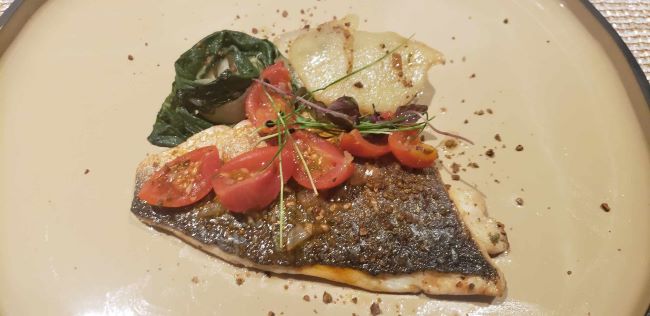 Other Dinner Entrees
Other Terrain menu entrees? "Piletina Na Lovacki" comprised hunter's chicken braised in tomato paprika sauce; it was served with Noklice, herb semolina dumplings. "Dalmatinski Lamb" consisted of grilled lamb medallions, braised purple cabbage, crispy chickpeas and confit onion.
On the Voyage menu, one vegetarian entree was "Mediterranean Stuffed Vegetables." Other choices included "Anatra in Salmi," duck legs marinated in red wine; "Grilled Fish of the Day;" or "Filet of Beef." Multiple sauces were available.
Redesigned, Larger S.A.L.T. Lab
While the enhancements in Silver Nova's S.A.L.T. Bar and S.A.L.T. Kitchen are notable, "the blowout growth of S. A. L. T. is nowhere more apparent than in the stunning new S.A.L.T. Lab," emphasizes Mathews.
Think of S.A.L.T. Lab as a test kitchen with individual cooking stations. "Redesigned and significantly expanded, S.A.L.T. Lab is the go-to spot for learning how to make local dishes," he says.
"In each session, 22  'students' — guests with a culinary passion — take part in hands-on cooking classes," Mathew explains. Guest chefs or the ship's culinary team members lead the classes. Classes are typically complimentary.
Lessons Learned
But presto, "in just an hour during classes on Silver Nova, guests will create delicious regional dishes," Mathews says, "and they'll undoubtedly return home with the recipes so they can later make those same dishes for friends and family."
In addition, "every lesson learned is within a glorious new kitchen that offers floor-to-ceiling views of the sea," he stresses.
Coincidentally, those sea views are an enhancement from the existing S.A.L.T. Lab spaces on both Silver Moon and Silver Dawn. Plus, Silver Nova's S.A.L.T. Lab also has a new outdoor space.
New Chef's Table Experience 
But of all the S.A.L.T. experiences aboard Silver Nova, Mathews is most excited about one new culinary option. It's designed as an elevated specialty dining experience to appeal to true culinary connoisseurs.
"At night, the S.A.L.T. Lab turns into the new 'Chef's Table,' an intimate dining room where regional cuisine is celebrated with an 11-course tasting menu," he reveals. So, we stress again: 11 courses!
Yes, it's a bit pricey at an added charge of $140 per person. But it's also not typical, even in terms of a high-quality specialty dining experience. Those who participated on our cruise told us they absolutely loved it!
Over-the-Top for Foodies
But if you plan to go, be sure to allot enough time. That's because this over-the-top culinary extravaganza unfolds over two to three hours and, on our cruise, even up to 3.5 hours in one case. Guests will savor inventive, high-quality, tasting-menu plates.
The chef creates each tasting course in front of guests while, at the same time, narrates and explains the ingredients and techniques.
As guests watch the chef at work and learn about how the dishes are prepared, they'll sip on incredible wines, spirits or cocktails. From Silversea's perspective, Muckermann calls the Chef's Table "the pinnacle of the S.A.L.T. experience."
So, bring your appetite and your patience. This is an evening to be absolutely savored not rushed!
Authentic, Immersive S.A.L.T.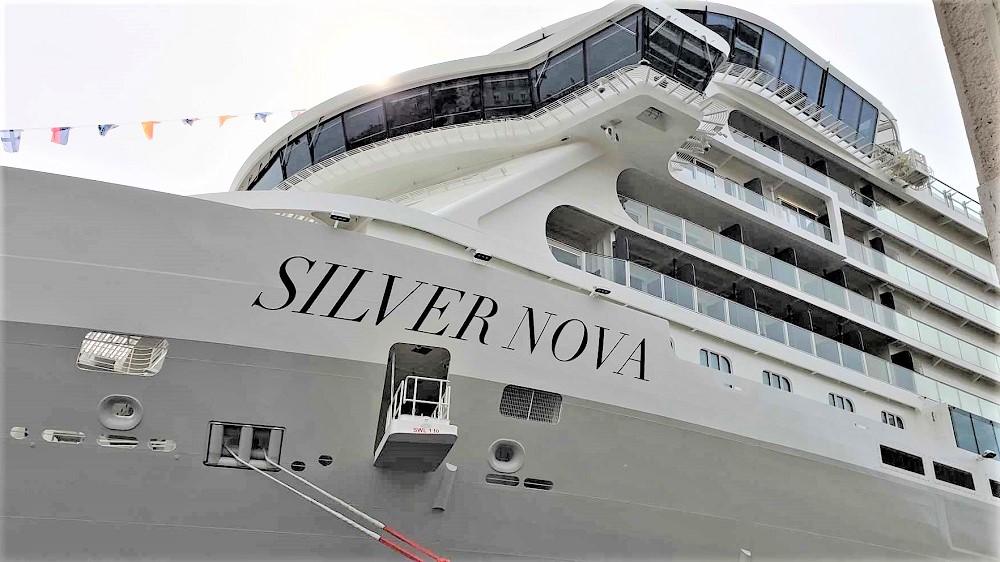 We chatted briefly about the new Silver Nova's delivery to Silversea in a July 2023 blog about five summer 2023 cruise highlights. That's happened and the ship is now sailing the Mediterranean. 
The Meandering Traveler's view is that the S.A.L.T. program on Silver Nova is highly authentic, immersive and bigger and better than ever. 
From a foodie's and culinary expert's perspective, Mathews tells us: "Now four years into the program, despite COVID-19 and other challenges, S.A.L.T. is an unqualified success. And to think, it all started on Silver Moon just four short years ago."
He credits Adam Sachs and the entire Silversea team for a fabulous local culinary and beverage effort. The goal was to bring the destination closer. And from our four-night stay aboard Silver Nova last week, it appears the line has achieved that.
New Suite Choices
Desire to sail on any of the three Silversea ships that offer S.A.L.T. programming? Then chat with a skilled professional travel advisor. Pavlus Travel is a top seller of Silversea, so its team members know the product well.
If interested in Silver Nova specifically, ask the personal travel planner about new accommodations choices. This new Nova-class ship offers 13 categories of accommodations. Seven of them are new suite categories!
Here's a link to Silversea's website page about Silver Nova's suites.
Alaska or Bust!
For the rundown on all itineraries operated by the new Silver Nova, visit the line's website page. One option we'd consider is Alaska for summer 2024.
Silver Nova will sail a full season of seven-night voyages to "The Great Land" between Vancouver, B.C., Canada, and Seward (Anchorage), AK. Port calls will include Ketchikan, Sitka, Juneau and Skagway. Guests will also enjoy scenic cruising to Hubbard Glacier.
At press time, "port-to-port" cruise fares for the ship's June 13, 2024, departure started at $4,950 per person, double occupancy. More inclusive, "door-to-door" fares started at $6,900 per person, double occupancy. Prices are subject to change.
When talking to your travel advisor, ask about departure dates, promotions and any perks or amenities that the agency itself offers. Then sit back, relax and let a skilled professional handle all the nitty-gritty booking details.
For example, see below for how to get in touch with Pavlus Travel. Also, stay tuned for a second blog — with much more about the new Silver Nova — next week!
If anything does tweak your interest in the story and you DO have questions about specific pricing, brochures, savings, accommodations, accessible options and so on, please contact us at  800-528-9300.
Or visit us online at Pavlus Travel's official agency Web site; there you can "live chat" with us online too!
This blog site is designed for "basic, general information" about travel. It's not staffed by travel advisors.
Any price examples used in the above blog are subject to change. They also do not represent the full range of options; a travel advisor can assist with additional information.
Please don't use the Reply Section below if you are asking for pricing, travel dates, accommodations, brochures or other specific requests. Please use the 800 number or online link. 
Thanks for reading!