Unbelievably, 2023 is half over, and the holiday season is just five months away. So, if you haven't thought about a holiday cruise, why not celebrate Christmas in July by planning a December voyage through the heart of Europe.
One great option is AmaWaterways' seven-night "Christmas Markets on the Rhine" itinerary between Amsterdam, the Netherlands and Basel, Switzerland.
In fact, The Meandering Traveler is focusing on this delightful voyage as we've experienced it first-hand. We love the holiday season, so we combined back-to-back voyages of the same itinerary for a more robust, 14-day journey roundtrip from Amsterdam.
Since the line offers multiple options for exploring daily, often in different destinations, we didn't repeat experiences. Instead, we had the gift of time and new experiences daily.
Another way to extend your trip is to book AmaWaterways' package that includes two nights pre-cruise in Amsterdam, two nights post-cruise at Lake Lucerne, Switzerland, and two nights post-cruise in Zurich, Switzerland.
Memories for a Lifetime
Nothing puts one in the holiday spirit in quite the way that a Christmas Markets voyage does. On board the river vessel, travelers will enjoy hot mulled wine, caroling, a celebration of local traditions, freshly baked gingerbread cookies, hot chocolate, holiday entertainment and more.
In fact, river cruise guests traveling during Christmas week might even encounter St. Nick himself traveling aboard!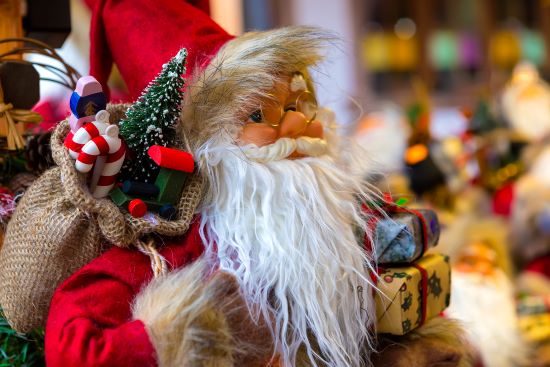 As for the shoreside experience, throughout the holiday season, typically from late November through at least the third week of December, colorful European Christmas Markets await locals and visitors alike.
Essentially, they're collections of festive outdoor stalls and booths, often set up in town squares and along downtown streets. Cruisers can browse and buy everything from freshly baked gingerbread cookies to hand-crafted ornaments, clothing, gift items, household goods, mulled wine, holiday decor and much more.
While shopping is certainly fun, we've found it equally rewarding to chat with local vendors. Most will happily explain any holiday traditions associated with their goods.
Twinkling Lights
Throughout destinations along the Rhine, twinkling holiday lights, garlands, Hanukkah menorahs and Christmas trees decorate buildings, streets and town squares. It's a sensorial experience as guests soak up the holiday season's aromas, tastes, sights and traditions.
River lines also will assist with directions for those guests desiring to attend religious services ashore. In addition, on Christmas Eve and Christmas Day during our cruise, AmaWaterways provided a shuttle for guests to a local church or cathedral.
So, it's an immersive holiday experience.
"But, if you're interested in sailing in late 2023, definitely contact your professional travel advisor as quickly as possible," suggests Shelby Steudle, president, Pavlus Travel. "We're on the downward slope for 2023 and these holiday season voyages are popular and can fill up quickly.
"So, now's the time," she adds. "And, if you prefer to take plan ahead for a 2024 holiday voyage, our advisors can assist there as well." 
AmaWaterways: "Christmas Markets on the Rhine"
So, let's take a bit closer look at AmaWaterways' week-long "Christmas Markets on the Rhine" itinerary. First, it's good to know that it's offered on multiple dates between late November and late December.
Second, this popular itinerary is operated by four different AmaWaterways river vessels. They are the 162-passenger AmaCerto and AmaPrima, and the 156-passenger AmaSiena and AmaLucia.
Pricewise, at press time, fares for this week-long cruise on most departure dates started at $3,499 per person, double occupancy (with a discounted option of $2,499 per person, double occupancy, for one December 19 departure). But be sure to check with your Pavlus Travel advisor about any discounts, promotions or unadvertised discounts.
In addition, if guests opt for the six-night, pre- and post-cruise package (two nights each in Amsterdam, Lake Lucerne and Zurich), that's an additional fee that starts at $2,430 per person double. All prices are subject to change.
Holiday Cruise: Four Countries
We particularly like this "Christmas Markets on the Rhine" itinerary because it touches four different European countries — France, Germany, the Netherlands and Switzerland. So, cruisers can get a taste of holiday traditions in each country.
Heading out on shore excursions or independently, if preferred, guests will enjoy some of Europe's most iconic cities and attractions. They'll cruise along the storied canals of Amsterdam and gaze at the magnificent, UNESCO-designated Gothic cathedral in Cologne, Germany.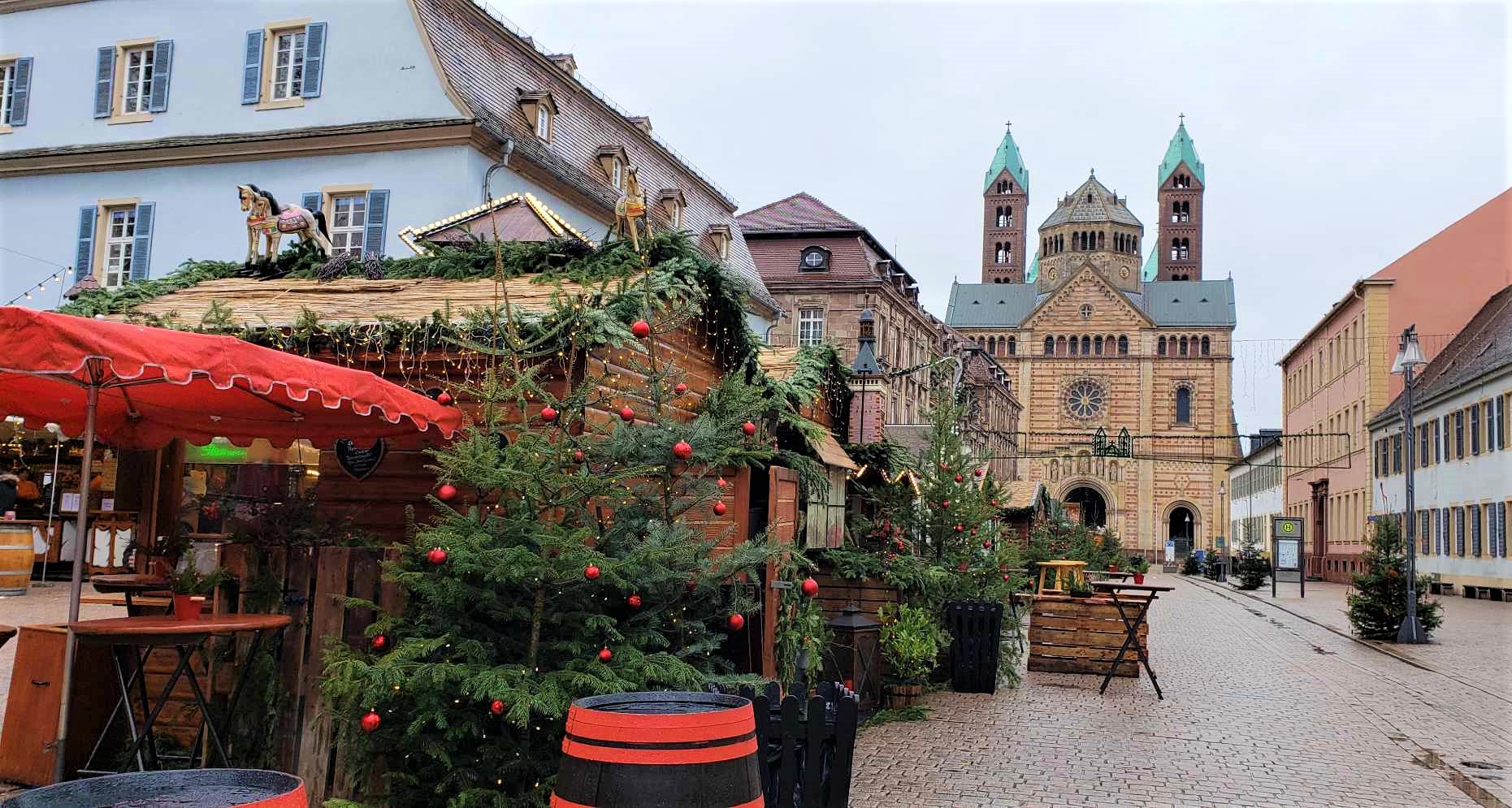 In Strasbourg, France, they'll stroll through France's oldest and largest Christmas Market. They'll also have the opportunity to visit the Christmas Market in Speyer, Germany (shown in the photo above). Plus, plenty of other Christmas Markets are on tap during this cruise.
AmaWaterways guests have a choice of complimentary excursions. Those typically range from city tours and visits to holiday markets, as well as bike tours, hikes or special interest tours. In addition, depending on the destination and specific excursion, some tours may be split into "easy," "regular" or "active" options.
Holiday Cruise: Days 1-4
Day 1 and 2 are in Amsterdam, the Netherlands – Guests will embark the ship in Amsterdam, overnight there, and then spend more time in Amsterdam before the ship sets sail.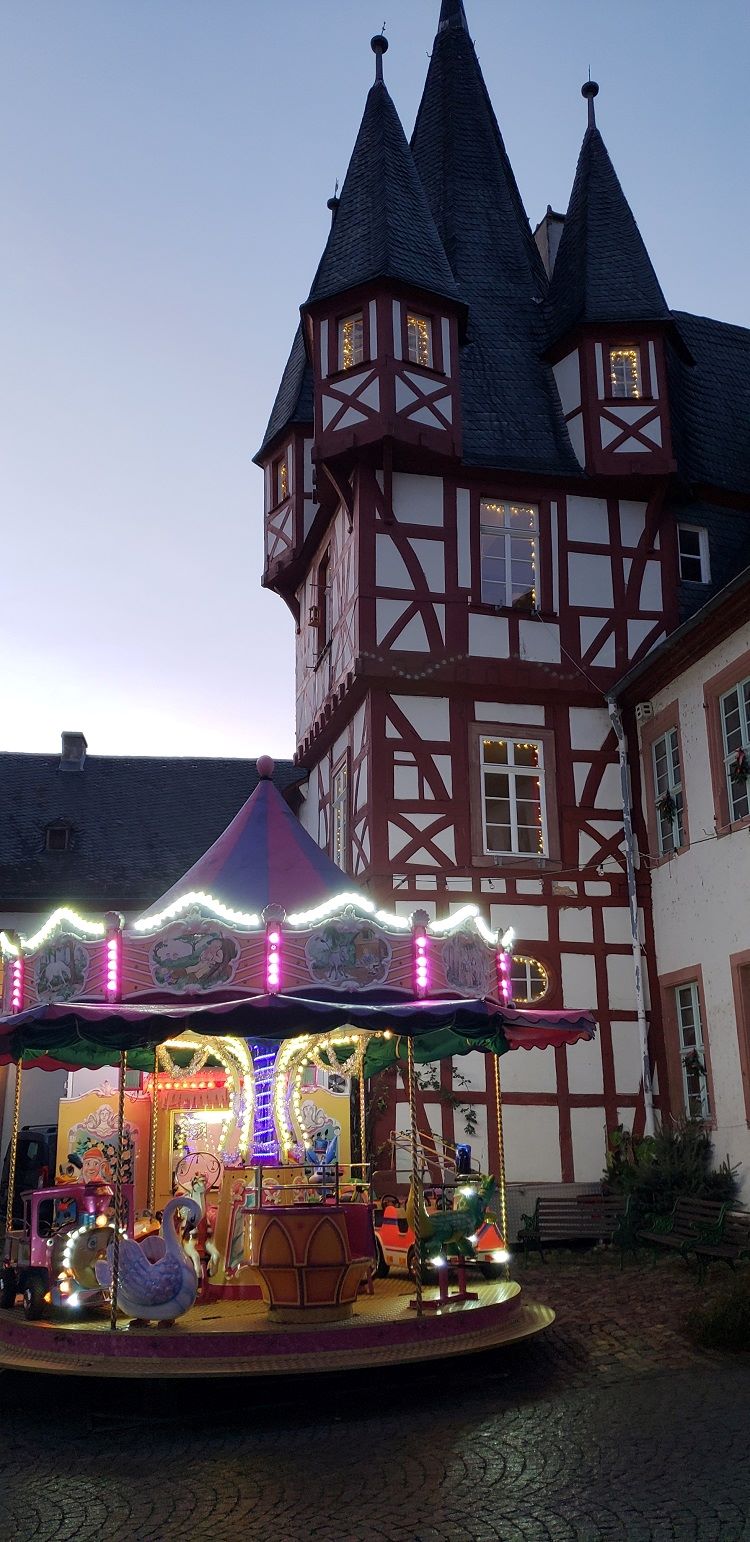 Day 3 is in Cologne, Germany, where guests can choose from three different AmaWaterways complimentary touring options. First is a Cologne walking tour, cathedral visit and Christmas Markets.
Second is Kolsch beer tasting — also giving travelers a chance to sample a local treat, potato pancakes with applesauce. The third excursion choice is a Cologne bike tour.
Rudesheim on the Rhine
Next up on Day 4 is a scenic sailing through the Rhine Gorge, followed by arrival at Rudesheim, one of the prettiest towns in Germany. Guests can head out during the morning on one of four AmaWaterways excursions:
Wine tasting and Christmas Market excursion
Gondola ride and Christmas Market tour
Vineyards hike (It's impressive to hike through vineyards that cascade down to the river, providing great scenic Rhine views.)
Guided bike tour of the Rheingau and Christmas Market
For many travelers, Rudesheim is a favorite spot along the Rhine. So, adding a second round of Rudesheim exploring later in the day, AmaWaterways offers guests a visit to Siegfried's Mechanical Music Museum.
That museum displays an amazing array of self-playing musical instruments. It's truly unusual and really has to be seen to be believed.
Alternatively, the line provides a chance for guests to experience traditional Rudesheimer coffee. Among the ingredients are Asbach brandy or, at times, cognac or Armagnac.
The Meandering Traveler found this shore trip culturally enriching and quite tasty too.
Heidelberg and Speyer
On Day 5, the ship will call at Ludwigshafen, Germany, which lies across the Rhine from Mannheim, Germany. Guests will have the flexibility of shore excursions in three different destinations — Heidelberg, Speyer or Ladenburg.
In Heidelberg, guests can choose a tour and Christmas Markets visit. Active travelers might opt for a different "Heidelberg Philosopher's Path Hike and Christmas Markets" excursion.
During our trip, The Meandering Traveler opted for the line's third choice — "Medieval Speyer and its Christmas Market" (not far from Europe's largest Romanesque Cathedral).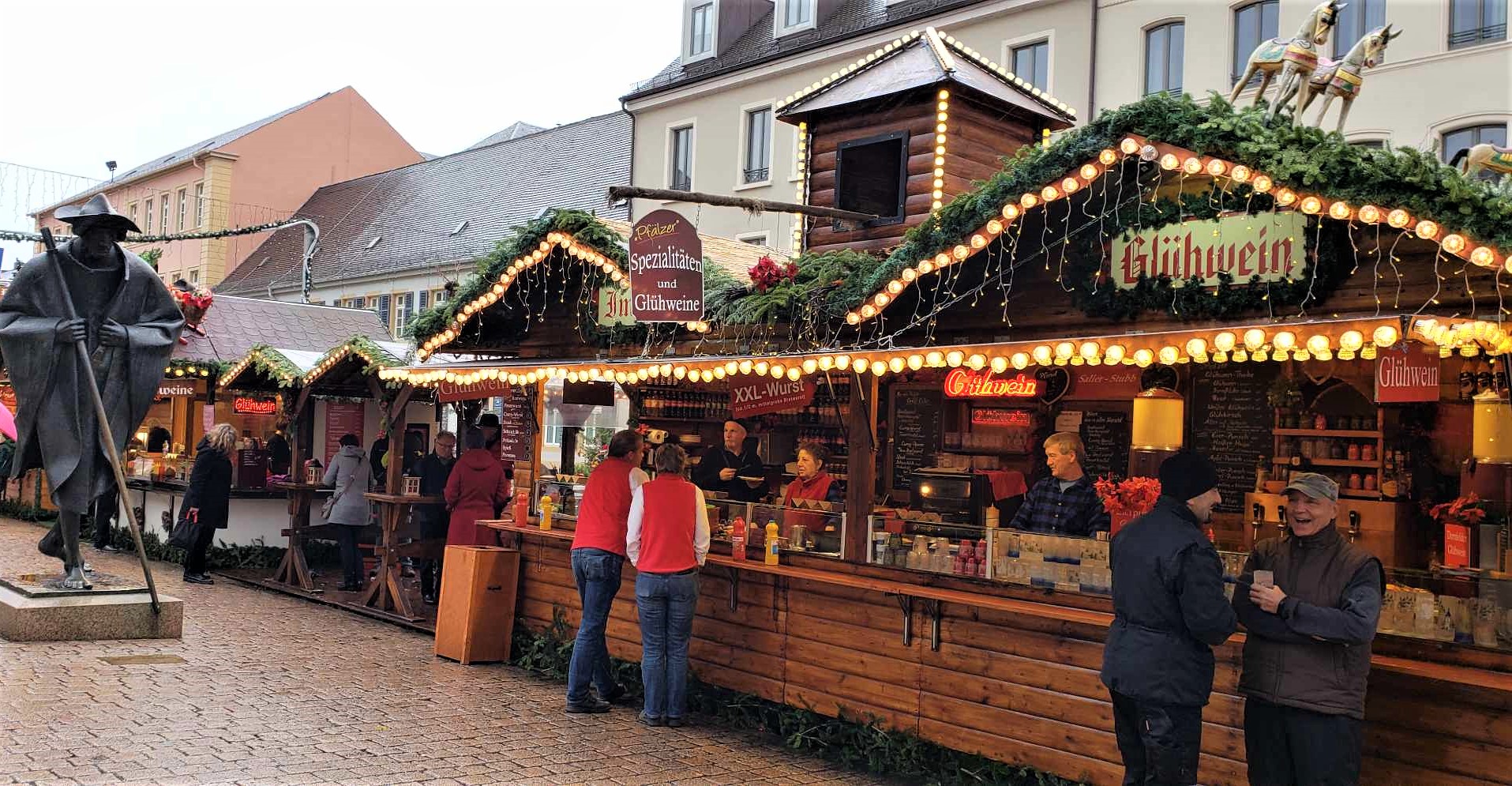 We loved seeing the magnificent cathedral, strolling through the square in front of that cathedral to the nearby Christmas Market, and enjoying a sweet treat in a nearby cafe.
A tip for aviation enthusiasts? Just a few blocks from where the river line's coach typically drops guests in Speyer is the Technik Museum Speyer. One can't miss it. Mounted on the rooftop is a former Lufthansa Boeing 747 jet.
If you opt to tour the museum instead of the cathedral and Christmas Market, though, be sure to let the guide know and ask when to be back on the coach. Leave plenty of time for that.
In addition, during the Ludwigshafen call, AmaWaterways offers a Ladenburg bike tour.
Holiday Cruise: Days 6 and 7
For many travelers, Strasbourg, France, is a top highlight of their Christmas Markets cruise. On Day 6 of  the "Christmas Markets of the Rhine" itinerary, AmaWaterways' guests will spend the day at this Alsatian region destination.
Shore excursion choices include the line's "Gem of the Alsace" tour and Christmas Market visit, or a Strasbourg bike tour.
Construction began on Strasbourg's stunningly gorgeous cathedral in the 11th century. It offers some Romanesque-era design touches and a crypt. But today it's more recognized as a 15th-century Gothic masterpiece with one dramatic spire.
Don't miss popping inside. This religious structure displays an incredible array of stained-glass windows from the 12th to 14th centuries. During the holiday season, a bustling Christmas Market is just outside.
On Day 7, the river vessel then calls at Breisach. From the highest point in the city, cruise guests will have panoramic views of the Rhine, the historic, charming city center and the Black Forest beyond. Breisach's cathedral is from the 12th century, old towers and gates are viewable, and a history museum is based within the Rhine Gate (Rheintor).
One shore trip option is AmaWaterways' "Riquewihr Excursion and Christmas Markets" tour. Or, guests could take a Freiburg and Christmas Markets excursion or the "Breisach Wine County Bike Tour."
Holiday Cruise: The AmaWaterways Experience
If you'd like to spend time with your spouse, special someone, family members or friends within the heart of Europe for the holiday season, a Christmas Markets voyage is a great option.
Guests will float along the Rhine or another river to multiple enticing destinations. Pampered on board by the professional crew, guests will enjoy fine dining, enrichment programs, entertainment and luxurious accommodations.
But at the same time, they'll also soak in the sounds, aromas, sights and traditions of the season.
Certainly, we liked this AmaWaterways voyage for many reasons including the multi-country holiday itinerary. We also liked our comfortable double balcony stateroom. A signature design element for AmaWaterways, those staterooms feature both a full exterior balcony and a French balcony.
It's the best of both worlds. We could slide open our door and sit outside, if desired. But on a cool day, we could also sit adjacent to the French balcony in our upholstered chair with a small table nearby. It was a comfortable perch for viewing the scenery.
Most importantly, though, we liked this holiday voyage because, above all, AmaWaterways proved to be a river line with a heart. Crew members truly cared about guests. Yes, they were professional, but they also treated us as family in many ways.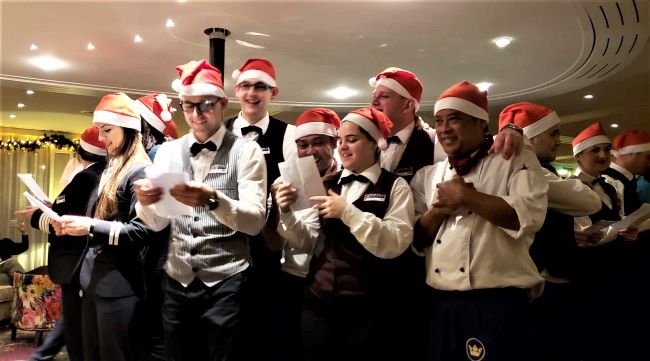 In terms of that "family feeling," they greeted us by name, shared stories about their families and also asked about our family traditions. They asked what we enjoyed during our day's outing ashore and suggested activities aboard that might fit with our interests.
The crew also joined together to sing Christmas carols for (and with) guests in the lounge. And on one occasion, our hotel director joined the crew member group — servers, cabin stewards, technical and maintenance crew members, bridge staffers and others — to form a conga line with guests.
Everyone wore Santa's hats as we rocked around the Christmas tree in the lounge. Crew and passengers hugged. It was a memory to last a lifetime.
While most guests on our holiday cruise were adults, there were a few kids aboard too. They were well-behaved and seemed engaged in activities, and not bored. Their exuberance added to the holiday season activities.
But if travelers prefer to travel on AmaWaterways at other times of the year, not during the holidays, here's a recent Meandering Traveler blog about the line's wine-themed cruises and wine hosts. 
Holiday Cruise: Parting Thoughts
That said, "we believe many Meandering Traveler readers may be interested in this AmaWaterways 'Christmas Markets on the Rhine' itinerary or another holiday cruise on European rivers with that line or another river line," says Steudle. "If so, definitely contact one of our personal travel planners at Pavlus Travel."
In addition to AmaWaterways, Pavlus also sells many holiday cruises on Viking, Tauck, Scenic, Avalon Waterways, Uniworld Boutique River Cruises and others.
In fact, Pavlus is the world's top seller of Tauck and sells millions of dollars in other river cruises annually. So, the advisors know the options for travelers seeking to travel during December.
So, why not celebrate Christmas in July by planning your holiday vacation? Call today to inquire about possibilities or even book a 2023 or 2024 holiday cruise.
Simply put, "a holiday season voyage is unforgettable, highly sensorial and delivers memories to last a lifetime," says Pavlus' Steudle. "Many of our clients return and say, 'We absolutely should have done this sooner.'" 
Important Information from Pavlus Travel
If anything tweaks your interest in this blog and you'd like to talk about a future vacation, please DO call us at 800-528-9300.
Definitely, if you have questions about specific pricing, brochures, savings, itineraries, dates of travel, accommodations, accessible options and so on, please contact us.
Again, call us at 800-528-9300 or visit and "live chat" at Pavlus Travel's official agency Web site.