In exciting news for luxury rail fans, Tauck has expanded its partnership with Rocky Mountaineer to introduce two new North American journeys. Offered in 2024, each will feature a scenic, two-day rail component.
Frankly, we can't wait to experience one of these two new guided trips. Hands-down, rail travel is a great way to relax and "soak in" the spectacular scenic views within the western U.S. and Canada.
Jaw-dropping panoramic vistas await around every curve. Bottom line? It's Mother Nature at her best. (Photo atop this story shows the Rocky Mountaineer traversing gorgeous terrain in western Canada. Photo provided by Tauck.)
So, let's look at Tauck's two new offerings that include rail travel close to home.
Two New Luxury Rail Trips
First, Tauck has introduced a new eight-day "Salt Lake City to Denver by Rocky Mountaineer" journey, starting from $7,590 per person, double occupancy, plus airfare.
Second, it's also unveiled a 10-day "Best of Western Canada and Rocky Mountaineer," priced at $10,990 per person, double occupancy, plus airfare.
Luxury Rail and Tauck Escorted Touring
The train segments of these new itineraries will pair the ease, relaxation and romance of rail travel with the comfort and amenities of full-service hotel accommodations along the way.
Did you know that Tauck and Rocky Mountaineer already partner on a third itinerary? Some of our readers may have experienced that lovely scenic journey. It's entitled "Vancouver and the Rockies by Rocky Mountaineer."
As a leader in luxury train travel, Rocky Mountaineer was recently honored as the world's top train by readers of Travel + Leisure in the magazine's annual "World's Best Awards."
Tauck too has been consistently honored in the Travel + Leisure awards; it's been named to the "World's Best Tour Operators" list or "World's Best River Cruise Lines" list (and often both lists) for each of the past 26 years.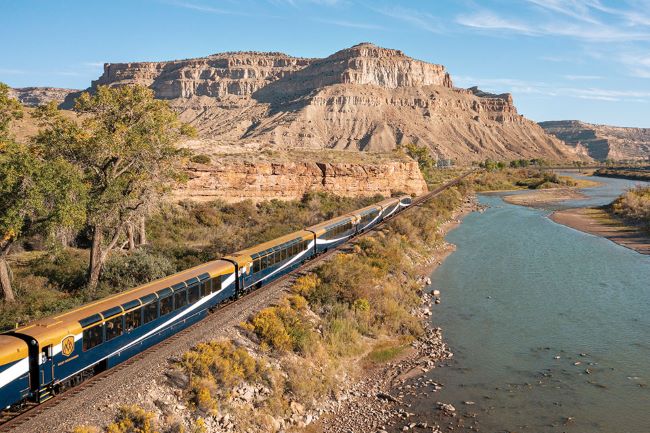 Luxury Rail: "Salt Lake City to Denver by Rocky Mountaineer"
Guests traveling on Tauck's new "Salt Lake City to Denver by Rocky Mountaineer" trip will begin with two nights at the Grand America Hotel in Salt Lake City, UT.
On tap is "included" sightseeing and a visit to nearby Park City, UT, once a bustling mining town. Now Park City is a year-round resort area nestled in the heart of the Rockies.
During a subsequent two-night stay in Moab, UT, guests will visit Dead Horse Point State Park. They'll also take a flightseeing excursion over Canyonlands National Park.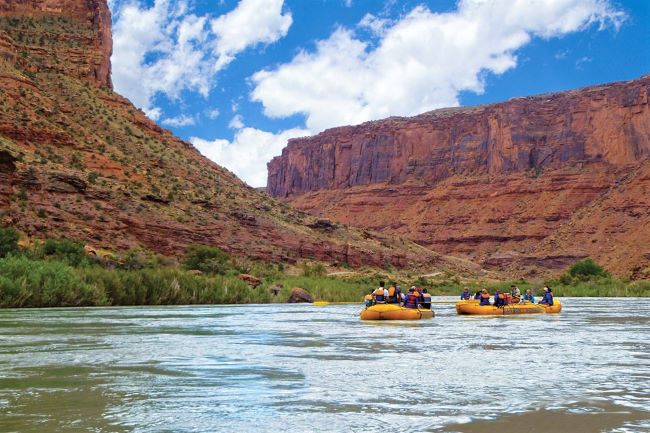 Plus, they'll have the choice of either a gentle whitewater rafting adventure on the Colorado River or a 4×4 off-road tour. Another touring highlight is exploration of Arches National Park.
Luxury Rail: The Train Ride Begins
Then on Day 5 of Tauck's itinerary, guests will board their Rocky Mountaineer train. They'll head via rail to Glenwood Springs, Colorado, where they'll settle into hotel accommodations for the night.
The following day, guests will re-board the Rocky Mountaineer and travel to Denver, CO. Certainly, a top highlight is traversing the Continental Divide by traveling through the 6.2 mile-long Moffat Tunnel outside the city.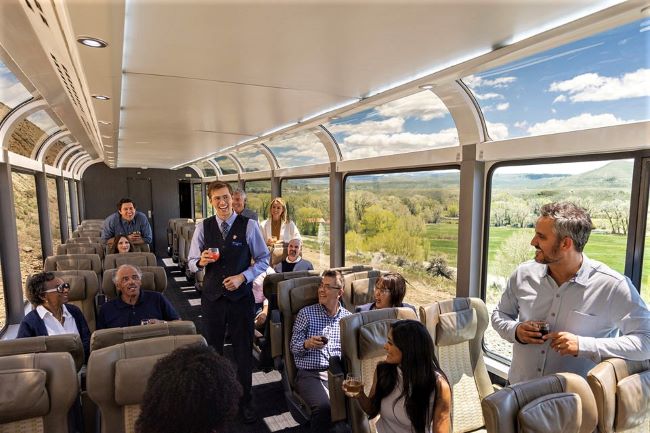 Luxury Hotel Stay in Denver
For the remainder of the Tauck journey, guests will enjoy a pampering two-night stay at The Four Seasons Hotel Denver. Think of it as an urban retreat in the midst of the Mile High City.
For example, this luxury hotel offers 24-hour room service and a full-service spa. In addition, guests can enjoy handcrafted cocktails at the EDGE Restaurant and Bar, and tasty cuisine crafted by classically trained chefs.
Travelers will also enjoy Tauck's included touring in Denver. That, for example, includes exploration of both the city and the Rocky Mountain foothills to the west.
Good to know? "Westbound departures of this new itinerary from Denver to Salt Lake City are also available," says Shelby Steudle, president, Pavlus Travel. "So, chat with your personal travel planner about the itinerary options, accommodations, tours, inclusions and available air travel options that could save you money."
Luxury Rail: "Best of Western Canada and Rocky Mountaineer"
The second new Tauck luxury tour-and-rail offering is the 10-day "Best of Western Canada and Rocky Mountaineer." That includes a two-day Rocky Mountaineer train ride from Lake Louise, Alberta, to Vancouver, B.C.
Along with enjoying the scenic train journey, luxury travelers will stay at four upscale Fairmont properties, including the iconic Fairmont Chateau Lake Louise. There, guests will begin their Tauck experience with a three-night stay.
During that land stay, guests will head out for an included Tauck float trip on the Bow River. Afternoon tea at the Fairmont Banff Springs Hotel will follow.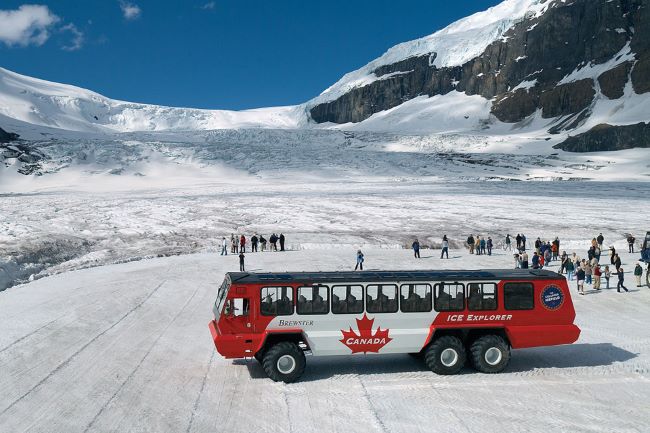 In addition, Tauck's guests will set out on a breathtaking drive along the Icefields Parkway. A plus is a memorable Ice Explorer trip atop the Athabasca Glacier.
Riding the Canadian Rails: Rocky Mountaineer
On Day 4 of this itinerary, guests will board their Rocky Mountaineer train for the two-day rail trip to Vancouver, B.C.
Seeking an upscale experience as the train motors along? All Tauck guests will receive premier Gold Leaf seating and panoramic window views in the upper level of their glass-domed train coach. Plus, they'll savor a tasty lunch in the train's lower-level dining area.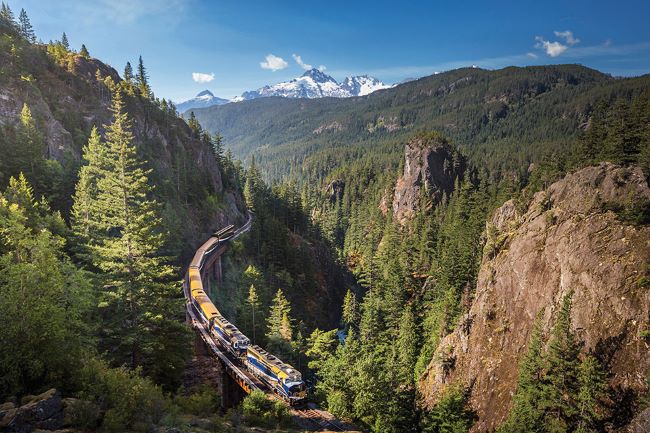 After an overnight stay in a Kamloops, B.C., hotel, guests will re-board the Rocky Mountaineer for the final leg of their trip to Vancouver.
Luxurious Fairmont Hotel Stays
Reaching Vancouver, guests will stay overnight at the Fairmont Hotel Vancouver. The following day they'll set out on a guided orientation tour of the city. Next up is a flightseeing flight from Coal Harbor to Victoria, B.C, where they'll stay two nights on Vancouver Island at The Fairmont Empress.
"On the sightseeing front, they'll head out on a private whale watching cruise with a marine naturalist," adds Pavlus Travel's Steudle. "Then the journey concludes with a ferry ride to Horseshoe Bay, two-night stay at the Fairmont Chateau Whistler and a visit to the Squamish Lil'wat Cultural Center."
Luxury Rail, Touring and Hotels
She continues: "All in all, we believe this new option will have great appeal — not only for the luxury rail on Rocky Mountaineer and Tauck's fabulous touring inclusions but also for the luxurious Fairmont hotel stays."
Desire more information or have questions? Contact your personal travel planner from Pavlus Travel, who will lay out all the options and inclusions. Ask about any discounts, amenities or contract air ticket savings!
Then get set to ride North America's rails, admire the scenic views, and enjoy Tauck's arrangements and touring.
Did You Check This Out?
On a totally different subject, don't miss the extensive profile blog about Craig Pavlus, founder and CEO, Pavlus Travel. Published earlier this week, it's an interesting, revealing "read" about his 55-year career in travel. He talks about his years at TWA, how Pavlus Travel was founded, and his philosophy about selling travel — a combination of incredible pricing and great customer service from an experienced caring team!
If anything does tweak your interest in the story and you DO have questions about specific pricing, brochures, savings, accommodations, accessible options and so on, please contact us at  800-528-9300.
Or visit us online at Pavlus Travel's official agency Web site; there you can "live chat" with us online too!
This blog site is designed for "basic, general information" about travel. It's not staffed by travel advisors.
Any price examples used in the above blog are subject to change. They also do not represent the full range of options; a travel advisor can assist with additional information.
Please don't use the Reply Section below if you are asking for pricing, travel dates, accommodations, brochures or other specific requests. Please use the 800 number or online link.