If there's no place like home, then a vacation that's closer to home can be a great option. In fact, many consumers tell their travel advisor they desire such a getaway as their second or third trip of the year.
"I feel there's so much to see and do right here in North America where I live," emphasizes Shari Bazzoni, personal travel planner. With more than 41 years of travel industry experience in vacations, groups and corporate travel, she's been a valuable member of the Pavlus Travel team since 2021.
Working and living in the St. Louis, MO, area, Bazzoni is eyeballing one enticing Mississippi River cruise for her own personal "to do" list. That's Viking's nine-day "Heart of the Delta: New Orleans to Memphis" journey, which includes the value-added perk of seven guided tours.
At press time, this Viking trip through the U.S. heartland started at $4,299 per person, double occupancy, or $7,525 for a solo traveler. She urges people to always ask their personal travel planner about any value-adds, amenities or promotions that may be available at the time of booking.
Travel Advisor: Top Accounts Team 
Bazzoni is a valuable member of Pavlus Travel's "Top Accounts" team. So, she spends her work days planning trips for clients on luxury cruises and tours, or for stays at all-inclusive resorts.
On global waterways, "the companies that I sell the most of are Oceania Cruises, Regent Seven Seas Cruises and Viking," she tells The Meandering Traveler. "I love working with all three of these vendors. Their cruise products are almost all-inclusive. Plus, the voyages are geared to luxury travelers, many of whom are experienced cruisers.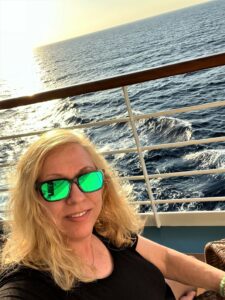 Recently, Bazzoni experienced the perks of such a luxury voyage first-hand as she sailed on a seven-night Regent Seven Seas Cruises voyage roundtrip from Miami. She describes the 746-passenger Seven Seas Splendor as "a gorgeous ship with very luxurious staterooms."
Certified by Cruise Lines International Association (CLIA), Bazzoni strives to be the best she can be for her clients. "That Seven Seas Splendor voyage provided an invaluable opportunity for me to experience so many elements of that ultra-luxury cruise product. Now when my clients ask about this ship, I have first-hand knowledge to impart."
Golden Sands and Sunsets
As for Oceania Cruises, one voyage she suggests to those seeking an upscale voyage close to home is the 10-day "Golden Sands and Sunsets" voyage. Sailing roundtrip from Miami, the line's newest ship, the 1,200-passenger Vista, will operate this Caribbean cruise on December 1, 2023.
Plus, two other departures are offered in early 2024. At press time, one sample price for a B3 category accommodation was $7,098 per person, double occupancy. But Bazzoni suggests asking your personal travel planner about all accommodations choices. In addition, talk with the advisor about any special discounts or value-added perks that may be available.
On that Oceania cruise, guests will go ashore in an eclectic mix of appealing Caribbean destinations including: St. John's, Antigua; Bridgetown, Barbados; Castries, St. Lucia; Gustavia, St. Barts; San Juan, Puerto Rico; and Puerto Plata, Dominican Republic. In addition, they'll spend three relaxing days at sea.
So, they'll have plenty of time for socializing with family, friends or new acquaintances met aboard. During those sea days, they also can enjoy a pampering spa treatment, savor a hands-on cooking lesson, read a book, attend an enrichment lecture, enjoy wine tasting and more.
Best of the Canadian Rockies
Another appealing North American vacation? Bazzoni suggests Tauck's eight-day "Best of the Canadian Rockies" escorted tour. At press time, that started at $5,590 per person, double occupancy.
When she travels for personal time off, Bazzoni most enjoys "relaxing on a beach or on a cruise," finding the ocean itself "a mystery."
She's enjoyed cruising to the Dominican Republic, Mazatlan and Cozumel in Mexico, as well as Puerto Rico, Belize and Roatan, Honduras. She loves to sit on a cruise ship private balcony or on the top deck and just watch the ocean and relax.
Travel Advisor: Personal Travel Dreams
"Another place that's piqued my interest to go some day would be the Greek Islands, with their stunningly gorgeous deep blue waters," she says. Many cruise lines ply the eastern Mediterranean with plenty of options.
In addition, she would love to travel to Bora Bora in French Polynesia or the Maldives in the Indian Ocean and stay in a luxurious bungalow over the water. "They always look so beautiful and relaxing away from the noise and chaos of the world," she adds.
And there's the U.S.A. too. "I do love eastern Tennessee and the Smoky Mountains, along with Colorado and its mountains," Bazzoni says. But she likes those spots best in summer, "because I'm not a fan of cold."
She also enjoys "glamping" in her RV and says that "one of my goals is to travel the U.S. in my RV. I want to see all the beauty and meet interesting people along the way."
Travel Advisor: A Simple Approach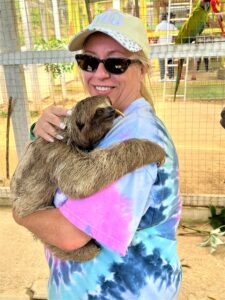 Honestly, Bazzoni says: "I am a pretty simple person so when it comes to travel, I just enjoy seeing new things – mainly the land and the views."
After raising her children, she's now at a point where she hopes to get out and do more. In fact, she recently headed to Los Angeles to celebrate her daughter's 21st birthday. "We did Rodeo Drive and Hollywood Boulevard. For me, it's all about the experiences that I can share with those I love."
About 10 or so hours a day, she assists Pavlus Travel's luxury travelers in creating "bucket list" trips. When off from work, she enjoys spending time with her family including three grandchildren who live close by.
Other favorite personal activities include cooking ("when I have time") and diving into crafts of all kinds. "I also love cheesy reality shows to relax because they are mindless," she jokes.
When it comes to her valued clients, "I love that I can assist others in being happy in this crazy world, sharing the excitement that they have when planning their trip, and hearing about what a wonderful time they're having while on that vacation."
Travel Advisor: Treating Guests with Respect
"I make sure my guests are treated with the utmost respect," Bazzoni emphasizes. "I follow the 'Golden Rule' when working with them – treating them as I'd like to be treated. So many people forget about this."
Currently, she's working a complex trip to Europe for a family of 11, working to assure their needs are met all along the way.
Her top tip for any people planning to travel in 2023? "Make sure you plan," she stresses. "Don't just fly by the seat of your pants."
That means having a passport that isn't simply valid for your dates of travel but for beyond that — and covers whatever the country's requirement is. That could be six months later.
Take Passport Photos
She also advises people to take a photo of their ID or passport. Leave one photo at home, take the other along on vacation. Then, if the passport is lost, it's easier to replace.
Also, she urges her clients to "study up" on the places they'll visit. "Make the most of the trip," she says. "Make every moment count on vacation in a 'bucket list' destination."
No Regrets
Also, she keeps what's important in life close to her heart. "Always remember to tell others you love them and have no regrets," she stresses. Aptly, she's named her personal RV, "No Regrets."
Her philosophy for success in life? "Love your family, be happy, value life, do what you love (work-wise), be the best you can be, and look at tomorrow as a gift," says Bazzoni. "If you do all that, life is wonderful."
Did you enjoy this travel advisor profile? If so, check out another recent one on Lauren Riesenberger.
Important Information from Pavlus Travel
If anything tweaks your interest in this blog and you'd like to talk about a future vacation, please DO call us at 800-528-9300.
Definitely, if you have questions about specific pricing, brochures, savings, itineraries, dates of travel, accommodations, accessible options and so on, please contact us. Again, call us at 800-528-9300 or visit and "live chat" at Pavlus Travel's official agency Web site.
Note to Readers: Please do not use the reply section of this site to ask questions about potential vacation options. Instead, call the number above or visit the Pavlus Travel website. This blog site offers "basic, general information" about travel; it's not designed to provide specific pricing nor is it staffed by travel advisors. Any personal views expressed reflect the anecdotal perspective of the author — simply one opinion by a frequent traveler. The views expressed in the blog above should not substitute in any way for use of a professional travel advisor.